Sunday, March 24, 2019
Read More
1)
Martyr's Day: 23rd March
•The nation is observing Shaheed Diwas or Martyr's Day on 23rd March. Each year, March 23, homage is paid to the great revolutionary fighters Bhagat Singh, Rajguru and Sukhdev who sacrificed their lives for the country.
•In the year 1929, on 8th of April he together with his companions threw bombs over the Central Legislative Assembly reading slogan "Inquilab Zindabad". It was on March 23, 1931, three young freedom fighters were hanged to death in the Lahore Central Jail (Now in Pakistan).
2)
President Administers Oath Of Office to Justice PC Ghose As Lokpal Chief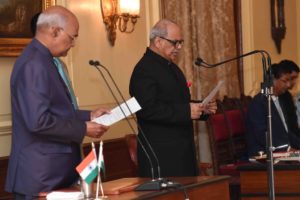 •President Ram Nath Kovind administered the oath of office to Justice Pinaki Chandra Ghose as the country's first Lokpal. The oath was administered at a ceremony held at Rashtrapati Bhavan.
•Justice Ghose, a former Supreme Court judge, was named the country's first Lokpal, the anti-corruption ombudsman. The Lokpal and the Lokayukta Act, which envisages appointment of a Lokpal at the Centre and Lokayuktas in states to look into cases of corruption against certain categories of public servants, was passed on 2013.
3)
7 Indians Marked In "World's 100 Most Influential People in Climate Policy for 2019"
•The "100 Most Influential People in Climate Policy" list is comprised of seven Indian names including Union Ministers Piyush Goyal and Dr Harsh Vardhan, who took important measures to combat climate change. The list is prepared by Apolitical, a peer to peer learning platform for governments. The list has been topped by Alexandria Ocasio-Cortez (Congresswoman, US Congress).
•Here are the other 5 names from India:
1.Mukta Tilak– Mayor of Pune.
2.Jyoti Kirit Parikh- Executive director of Integrated Research and Action for Development.
3.Sunita Narain- Director of the Centre for Science and the Environment.
4.Vandana Shiva- Founder of the Research Foundation for Science, Technology, and Natural Resource Policy.
5.Upendra Tripathy- Director general of the International Solar Alliance.
4)
Vice Admiral Karambir Singh To Take Over As Next Chief of Naval Staff
•The Government of India has appointed Vice Admiral Karambir Singh, presently Flag Officer Commander-in-Chief (FOC-in-C) Eastern Naval Command as next Chief of the Naval Staff with effect from May 31, 2019. The present Chief of Naval Staff Admiral Sunil Lanba retires on the same day.
•Born on November 03, 1959, Vice Admiral Karambir Singh was commissioned on July 01, 1980 into the Executive Branch of the Indian Navy. Vice Admiral Karambir Singh is a graduate of the Defence Services Staff College, Wellington. Vice Admiral Karambir Singh has been decorated with the Param Vishisht Seva Medal (PVSM) and the Ati Vishisht Seva Medal (AVSM).
5)
In a 1st, SpiceJet Joins International Air Transport Association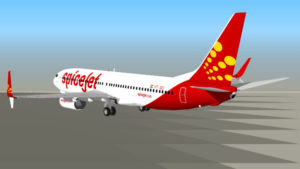 •Indian low-cost airlines SpiceJet has joined the International Air Transport Association (IATA). SpiceJet is the first Indian budget carrier to join the IATA,which has over 290 airlines as members.
•The membership of IATA will allow SpiceJet to explore and grow its collaborations with international member airlines of IATA through interlining and code shares and also enables to seamlessly expand the network options for its passengers in future.
6)
India Clinch SAFF Women's Championship For 5th Time
•India has lifted South Asian Football Federation SAFF Women's Championship fifth time in a row. Keeping its winning streak India defeated host Nepal in the final by 3-1 in Biratnagar, Nepal.
•India's Dalmia Chhibber scored first goal of the match in 26th minute. India's Indumathi Kathiresan and Sabitra Tamang of Nepal remained top scorer of the tournament, both scored four goal each.
Read More
Saturday, March 23, 2019
RRB ALP Tech Stage 2 Final Answer Keys Released, Download Here
The 2nd Stage CBT for ALP & Technician Posts against CEN 01/2018 was conducted on 21.01.19, 22.01.19, 23.01.19 and 08-02-19. All the candidates who appeared in this CBT were given an opportunity to view their question papers, responses and answer keys and to raise objections if any from 18-02-2019 to 20-02-2019.
After scrutiny of the objections raised by the candidates, the answer keys for all the questions of Part A and Part B have been finalised and the responses of the candidates in the 2nd Stage CBT have been evaluated.
RRBs are in the process of preparing the shortlist for Aptitude Test. In the meanwhile, it has been decided to publish candidate responses along with the final answer key; number of questions answered; questions ignored if any; provisional actual, prorated and normalised score for both Part A and Part B for information of candidates. Accordingly, candidates are advised to login to the link provided on the websites of RRBs and view their details. The link will be available from
18.30 hrs of 23-03-19 to 23.59 hrs of 25-03-19.
The result containing shortlisted candidates for Aptitude Test for the post of Assistant Loco Pilot is likely to be published on or before 06-04-19. The Computer Based Aptitude Test is provisionally scheduled on 16-04-19.
Click Here
to Download RRB
Notice
Regarding ALP Tech Stage 2 Final Answer Keys
Click Here
to Download RRB ALP Tech Stage 2 Final
Answer Keys
Read More
Friday, March 22, 2019
GK Question for RRB NTPC 2019
Click Here
to download GK Question for RRB NTPC 2019
Click Here
to
Like our Facebook page for latest updates and free ebooks
Read More
Click Here
to download Employment News 23 March - 29 March 2019 – Download pdf
Click Here
to
Like our Facebook page for latest updates and free ebooks
Read More