Saturday, May 25, 2019
Vision IAS PT 365 Supplement Current Affairs for Prelims 2019 PDF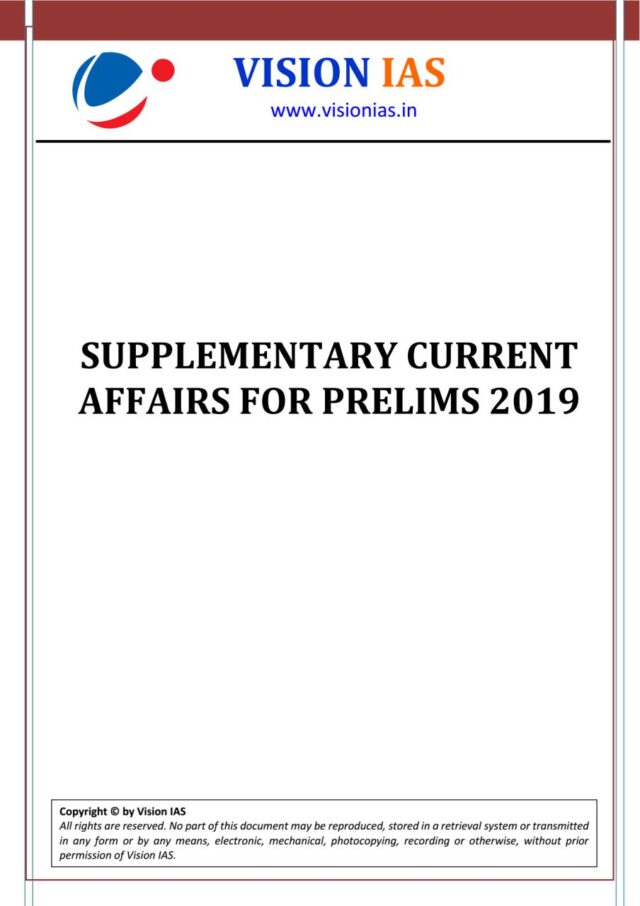 Click Here
to
Download
Vision IAS PT 365 Supplement Current Affairs for Prelims 2019 PDF
Click Here
to
Like our Facebook page for latest updates and free ebooks
Read More
Friday, May 24, 2019
Result of 17th Lok Sabha Election 2019
What is Lok Sabha?
The Lok Sabha or House of the People is the lower house of India's bicameral Parliament, with the upper house being the Rajya Sabha. Members of the Lok Sabha are elected by adult universal suffrage and a first-past-the-post system to represent their respective constituencies, and they hold their seats for five years or until the body is dissolved by the President on the advice of the council of ministers. The house meets in the Lok Sabha Chambers of the Sansad Bhavan in New Delhi.
Read More
1)
Jagan Mohan Reddy To Be Sworn In As CM of Andhra Pradesh
•In Andhra Pradesh, YSR Congress Chief Jagan Mohan Reddy will be sworn in as chief minister of Andhra Pradesh on 30th of May at Vijayawada. Mr Jagan Mohan Reddy has announced this following his party achieving inching towards a landslide victory in the legislative elections for Andhra Pradesh Legislative assembly. Once sworn in, he will replace N Chandrababu Naidu has resigned as Andhra Pradesh CM.
2)
Volodymyr Zelenskiy Sworn In As Ukraine's New President
•Volodymyr Zelenskiy took the oath of office as the president of Ukraine and immediately announced that he is dissolving the Verkhovna Rada, the country's parliament. In his inaugural speech, Zelenskiy called for the dismissal of several top security officials. He has replaced Petro Poroshenko.
3)
SCO Meeting Of Council Of Foreign Ministers Held In Bishkek
•External Affairs Minister Sushma Swaraj represented India in the meeting of Council of Foreign Ministers (CFM) of Shanghai Cooperation Organisation to be held in Bishkek, Kyrgyz Republic. During the meet, she discussed several pressing issues including the threat of terrorism are expected to be discussed. Pakistan Foreign Minister Shah Mehmood Qureshi also attended the meeting.
4)
India's Economy To Grow 7.5% By 2020: OECD Report
•As per the Organisation for Economic Co-operation and Development's (OECD) Economic Outlook, India's economic growth will regain strength and approach 7.5% by 2020 buoyed by rural consumption and subdued inflation.
•As per the report, Gross domestic product (GDP) growth in India is projected to strengthen to close to 7.25% in FY19. This growth will come from higher domestic demand due to improved financial conditions, fiscal and quasi-fiscal stimulus, including new income support measures for rural farmers, and recent structural reforms.
5)
RBI Allows Modern Currency Chests To Hike Service Charges
•The Reserve Bank of India has announced that it will allow large modern currency chests to increase the service charges on cash deposited by non-chest bank branches from the existing rate of Rs5 per packet of 100 pieces to a higher rate subject to a maximum of Rs8 per packet.
•For this, only a currency chest (CC) that fulfils the minimum standards will be eligible to be classified as a large modern CC. The increased rates can be charged only after such classification by the issue office concerned.
6)
4 Judges Elevated To Supreme Court of India
•The Centre has cleared four names recommended by the Supreme Court Collegium for elevation as judges of the apex court. The four appointed judges are Justice Aniruddha Bose, Justice A S Bopanna, Justice B R Gavai and Justice Surya Kant.
•Law Ministry has issued the notification after President Ram Nath Kovind signed their warrants of appointment. Supreme Court will reach its full sanctioned strength of 31 judges after the appointment of four new judges. As of now, the apex court is functioning with 27 judges including the Chief Justice.
7)
MoU Signed Between DBT And DAE On Cancer Research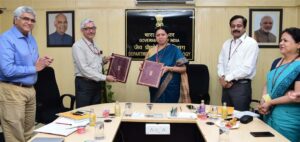 •The Department of Biotechnology (DBT) under Ministry of Science and Technologyand Department of Atomic Energy (DAE), under Prime Minister of India, has signed an MoU for supporting joint collaborative research programmes in the area of Cancer. The DAE was represented by its Tata Memorial Centre, which also functions as coordinating centre on behalf of The National Cancer Grid of India.
Read More
📰

 
Study pinpoints source of ozone-depleting gas
Emissions of banned chemical CFC-11 traced to eastern China
•Rogue emissions of a gas that harms the ozone layer are coming from eastern China, primarily from two heavily industrialised provinces, an international team of researchers said on Wednesday.
•The findings confirm what many scientists, environmental groups and policymakers had suspected after an initial study a year ago reported new global emissions of the gas, CFC-11, but could only locate the source generally as East Asia.
•The new research will add to international pressure on the Chinese government to curtail the illegal use of CFC-11. It also confirms the results of several investigations, including one by The New York Times , which found evidence that factories in Shandong, one of the provinces specified in the study, were still making or using the gas to manufacture foam insulation.
•CFC-11 is one of a class of compounds called chlorofluorocarbons that destroy atmospheric ozone. They are also potent greenhouse gases that contribute to atmospheric warming.
•Chlorofluorocarbons were outlawed for almost all uses by the Montreal Protocol, an international pact negotiated decades ago to preserve the layer of ozone that blocks ultraviolet radiation from the sun. Excessive amounts of some types of UV radiation can cause skin cancer and eye damage in people and are harmful to crops and other vegetation.
•After the initial study last year, China denied that there were serious violations of the ban on the chemical, but also promised to eradicate any illegal production.
•The Chinese Ministry of Ecology and Environment said on Wednesday that it was preparing answers to questions about the new findings.
•In a statement, Joyce Msuya, acting executive director of the U.N. Environment Programme, which administers the Montreal Protocol, said that action on CFC-11 "is being taken by all parties at the international level and by China domestically."
•"All parties appreciate the urgency to ensure the ongoing protection of the ozone layer," she added.
📰

 
WHO unveils plan to tackle snakebite
Read More