1)
25th Edition of Partnership Summit Held in Mumbai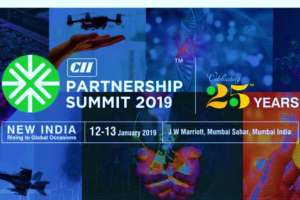 •The 25th edition of Partnership Summit 2019, a global platform for dialogue, debate, deliberation and engagement among Indian and global leaders on economic policy and growth trends in India was held in Mumbai.
•The two-day event was inaugurated by the Vice President of India, M Venkaiah Naidu. The Summit was organized by the Department of Industrial Policy and Promotion, Ministry of Commerce & Industry, Government of India, State Government of Maharashtra and Confederation of Indian Industry.
2)
Centre launches 5-yr Plan To Combat Pollution In 102 cities
•The Environment Ministry launched the National Clean Air Programme (NCAP)aimed at reducing toxic particulate matter in 102 Indian cities by 2024.
•The NCAP will be a mid-term, five-year plan with 2019 as the first year, while 2017 will be the base year for comparison of concentration. An amount of INR300 crore has been sanctioned for this purpose.
3)
India's Longest Single Lane Steel Cable Bridge Opened in Arunachal Pradesh
•India's longest 300-meter single lane steel cable suspension bridge was inaugurated by Arunachal Pradesh Chief Minister Pema Khandu. He also laid the foundation stone for a district secretariat building.
•The bridge across the Siang river at Yingkiong in Upper Siang district has been named Byorung Bridge. It is built at a cost of ₹48.43-crore provided by the DONER (Department for Development of North Eastern Region) Ministry. The Bridge will reduce the distance from Yinkiong to Tuting by almost 40 km.
•The Centre had sanctioned 268 road projects worth ₹3,800-crore under the Prime Minister's Gram Sadak Yojana (PMGSY). Mr. Khandu also announced ₹10-crore for a project to check river erosion at Yingkiong and Tuting.
4)
29th Indian Paint Conference 2019 Started in Agra
•The Indian Paint Association (IPA), the apex body of the country's paint industry announced that the 29th biennial Indian Paint Conference started in Agra, Uttar Pradesh.
•The theme of the Conference is 'Paints Pe Charcha – Naye Aayaam'. This is the largest trade show of the estimated INR 500 billion (50,000 Crore) Indian Paints & Coatings industry.
5)
Maduro Sworn In As Venezuela President for 2nd Term
•Nicolás Maduro was sworn in for a second term as Venezuela's President amid the economic and humanitarian crisis faced by the Latin American country. Maduro was re-elected last year. The US, EU and 13 other countries have stated that they would not recognise Maduro's Presidency.
6)
IWF President Named As Chef de Mission for Tokyo Olympics
•President of the Indian Weightlifting Federation (IWF), Birendra Prasad Baishya,has been named Chef de Mission for the 2020 Tokyo Olympics.
•It is for the first time that the Weightlifting has been accorded with the honor of Chef de Mission for the Olympics. Baishya is also one of the Indian Olympic Association Vice Presidents.