1)
World Kidney Day 2019: 14th March

•World Kidney Day (WKD) is observed annually on the second Thursday in March to create awareness on the importance of the kidneys and reducing the frequency and impact of kidney disease.
•The theme of WKD 2019 is Kidney Health for Everyone Everywhere, which calls for universal health coverage for prevention and early treatment of kidney disease.
2)
India Extends USD 250 million To Nepal for Reconstruction of Infrastructures
•India has extended a grant assistance of up to USD 250 million to Nepal for the reconstruction of infrastructures in the areas of housing, education, health and cultural heritage that was destroyed during the devastating April 2015 earthquake which saw the death of over 9,000 people.
•During the India-Nepal Joint Project Monitoring Committee meeting, officials from the two countries reviewed the progress of post-earthquake reconstruction projects.
3)
President Confers Gallantry And Distinguished Service Awards
•The President and Supreme Commander of the Indian Armed Forces Ram Nath Kovind conferred 3 Kirti Chakras and 15 Shaurya Chakras to Armed Forces Personnel for displaying conspicuous gallantry, indomitable courage and extreme devotion to duty at a solemn ceremony at the Rashtrapati Bhawan. 2 Kirti Chakras and 1 Shaurya Chakra were given posthumously.
•The President also conferred 15 Param VishishtSeva Medals, 1 Uttam Yudh Seva Medals and 25 Ati Vishisht Seva Medals to senior officers of the Armed Forces for distinguished service of an exceptional order.
•Kirti Chakra Winners:
1. SEPOY VRAHMA PAL SINGH, THE RAJPUT REGIMENT (POSTHUMOUS): ARMY
2. SHRI RAJENDRA KUMAR NAIN, CONSTABLE, 130 BN, CRPF (POSTHUMOUS): MHA.
3. MAJOR TUSHARGAUBA, THE JAT REGIMENT: ARMY.
4)
Indo-Oman Joint Ex Al Nagah 2019 Begins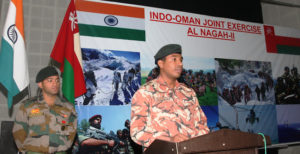 •Indo Oman Joint Exercise Al Nagah III 2019, a joint military exercise between Indian and Royal Army of Oman (RAO), commenced this morning at HQ Jabel Regiment, Nizwa, Oman.
•The opening ceremony saw the unfurling of the national flags of both countries with Omani and Indian soldiers standing side by side signifying the growing cooperation, synergy and understanding between both the countries.
5)
United States To Set Up Six Nuclear Power Plants In India
•The 9th round of the India-US Strategic Security Dialogue was held in Washington DC. Both sides reaffirmed to deny Weapons of Mass Destruction to non-state actors and work towards setting up US nuclear plant in India agreement.
•The two sides committed to strengthen bilateral security and civil nuclear cooperation, including the establishment of 6 U.S. nuclear reactors in India.
6)
India Ranks 11th In Gold Holding: WGC Report
•India, which is the world's largest consumer of gold, has the 11th largest gold reserve, with the current holding pegged at 607 tonnes, as per the latest report by the World Gold Council (WGC).
•India's overall position in terms of total gold holding would have been tenth had the list included only countries. Whereas, the International Monetary Fund (IMF) is included and is third on the list with total gold reserves of 2,814 tonnes. The top spot is occupied by the US with gold reserves of 8,133.5 tonnes, followed by Germany with 3,369.7tonnes.
7)
SBI Launched Doorstep Banking Service For Senior Citizens Over 70
•State Bank of India (SBI) has launched doorstep banking service for senior citizens over 70 years of age and differently-abled customers. Eligible customers can avail this service at a nominal fee of 100 rupees per transaction for financial transactions and 60 rupees for non-financial transactions.
•Doorstep banking services are available to KYC- compliant account holders, with a valid mobile number registered with the bank and residing within 5 kilometers radius from their home branch. This service will not be available for accounts operated jointly, minor accounts, and accounts of non-personal nature.
8)
Special Olympics World Games 2019 in The UAE Makes History
•Special Olympics World Games 2019 which is being held from March 14 to March 21 in the UAE has made history by welcoming a record-breaking 200 nations ahead of the Games. Of the 200 nations, 195 will compete in the Games and five will observe.
•It is being held in West Asia for the first time. 7,500 athletes will take part in 24 Olympic-style sports over seven days. With the highest number of women taking part and the largest number of Unified teammates on board, the World Games will capture the attention of the globe.