1)
National Maritime Day: 5th April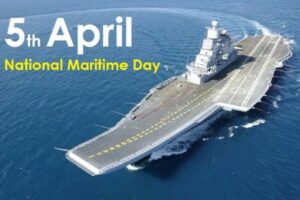 •In India, the National Maritime Day is celebrated every year on April 5. The day was first celebrated on April 5, 1964. The theme of the 56th edition of the National Maritime Day is "Indian Ocean-An Ocean of opportunity".
•Hundred years ago, on this day in 1919, navigation history was created when SS Loyalty, the first ship of The Scindia Steam Navigation Company Ltd travelled to the United Kingdom.
2)
Phayeng Village Becomes India's 1st Carbon-Positive Settlement
•Phayeng Village in Imphal West district of Manipur has become India's first carbon-positive settlement. A village is given carbon-positive tag if it sequesters more carbon than it emits, slowing accumulation of greenhouse gases (GHGs) and mitigating effects of climate change. Phayeng Village is scheduled caste village of the Chakpa community.
•National Adaptation Fund for Climate Change (NAFCC) is a Central Sector Scheme launched un 2015-16 to support concrete adaptation activities which mitigate the adverse effects of climate change. It provides 100% funding to activities under it which are implemented in project mode. National Bank for Agriculture and Rural Development (NABARD) nodal implementation agency for these projects.
3)
David Malpass Named World Bank President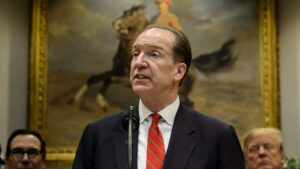 •David Malpass has been appointed as the President of the World Bank. He was US President Donald Trump's nominee and won unanimous approval from the institution's executive board.
•He has replaced Former World Bank President Jim Yong Kim who left in January 2019. Malpass was former Bear Stearns and Co chief economist who advised Trump's 2016 election campaign.
4)
CCI Approves L&T's Proposal To Acquire Up to 66.15% Stake in Mindtree
•The Competition Commi¬ssion of India (CCI) approved engineering and construction major Larsen & Toubro's (L&T's) proposal to acquire up to 66.15% stake in Mindtree. With this nod, L&T has overcome the first major regulatory hurdle in its bid for 'hostile' takeover of the Bengaluru-headquartered IT services firm.
5)
Praful Patel Becomes 1st Indian In FIFA Executive Council
•Praful Patel, president of All India Football Federation (AIFF), has become the first Indian to be elected as a member of FIFA Executive Council. Patel got 38 votes out of the total 46 votes, which only shows how highly he is regarded by the fellow Asian nations.
•Patel, who serves as a Senior Vice President at the Asian Football Confederation (AFC), was one of the eight candidates vying for the spot in the election, which was held during the 29th AFC Congress in Kuala Lampur in Malaysia.