1)
Astronomers Capture First-ever Image of A Black Hole
•Astronomers have taken the first-ever image of a black hole, which is located in a distant galaxy known as 'Messier 87' (M87). The image which has been captured by a network of eight telescopes across the world shows an intensely bright 'ring of fire' surrounding a perfectly circular dark hole. The 'Event Horizon Telescope' captured the image from the galaxy that is 50 million lightyears away.
2)
India's Population Grew At 1.2 % Average Annual Rate Between 2010 And 2019: UN Report
•India's population grew at an average annual rate of 1.2% between 2010 and 2019 to 1.36 billion, more than double the annual growth rate of China, according to a report by the United Nations Population Fund (UNPFA).
•India's population in 2019 stood at 1.36 billion, growing from 942.2 million in 1994. In comparison, China's population stood at 1.42 billion in 2019, growing from 1.23 billionin 1994. The UN sexual and reproductive health agency stated in the State of World Population 2019 report.
3)
Abdelkader Bensalah Appointed As Algeria's New President
•Algeria's parliament confirmed Abdelkader Bensalah as the new interim president of the country, following resignation by the ailing Abdelaziz Bouteflika. Bouteflika's resignation, fuelled by protests that have lasted over a month, means Algeria has a new president for the first time in 20 years.
4)
India, Sweden Ink Pact To Collaborate On Solutions For Smart Cities
•India and Sweden launched a joint programme that will work towards addressing a range of challenges around smart cities and clean technologies among others. The programme was co-funded by Indian Department of Science and Technology (DST) and Swedish agency Vinnova.
•Vinnova will provide funding to Swedish participants up to 2,500,000 Swedish Krona (around Rs1.87 crore) as a grant. On the Indian side, a conditional grant of up to 50% (with a limit of Rs1.5 crore) per project will be provided to the Indian partners.
5)
Government Retains Interest Rate For General Provident Fund at 8%
•The government has retained the interest rate for General Provident Fund (GPF),Contributory Provident Fund and other related schemes at 8 per cent for the first quarter of the current financial year.
•The interest rate on these funds was at 8% in January-March quarter of 2018-19 and government kept it unchanged for April to June for 2019-20. The interest rate will be applicable on provident funds of central government employees, railways and defence forces.
6)
1st of Its Kind, SBI and PAISALO Digital Limited Signed Agreement
•PAISALO Digital Limited signed the first co-origination loan agreement with State Bank of India, the first agreement of its kind in the country that State Bank of India has signed. Introducing a platform for the last mile customer, the loan ticket is designed at Rs 10,000 to 2 lakh. The company expects to disburse 200,000 loan applications in FY20.
•PAISALO Digital Limited is a leading systemically important non-deposit taking NBFC registered with the Reserve Bank of India, in operations since 1992. The agreement was signed with a vision of empowering the AGRI, MSME segment and small businesses.
7)
Vikram Nath Appointed As First Chief Justice of New Andhra Pradesh High Court
•Justice Vikram Nath, the senior most judge of Allahabad High Court, was appointed as the first Chief Justice of the newly-constituted Andhra Pradesh High Court.
•The Collegium of Supreme Court comprising of Chief Justice of India Ranjan Gogoibesides Judges S A Bobde and N V Ramana recommended the name of Justice Vikram Nath.
8)
Smriti Mandhana Named Wisden's Leading Women's Cricketer Of The Year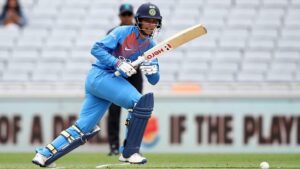 •Team India opener Smriti Mandhana has been named as the Wisden Almanack's 'Leading Women's Cricketer of the Year'. The 22-year-old is currently the top-ranked player in women's ODIs and third in T20Is. In 2018, Mandhana scored 669 runs at an average of 66.90 in 12 ODIs and 622 runs at a strike-rate of 130.67 in 25 T20Is.