1)
India's First Foreign Interactive Bird Park Launched In Mumbai
•India's first exotic Bird Park 'Essel World Bird Park' was launched by EsselWorld Leisure Pvt. Ltd, the entertainment arm of the $6-billion Essel Group in Mumbai.
•The Park is spread over 1.4 acres of land and surrounded by flora and fauna. It is home to over 500 exotic birds from more than 60 species of flying, terrestrial and aquatic birds and has 200 species of special plants and trees for the birds.
2)
Rongali Bihu Festival Celebrated In Assam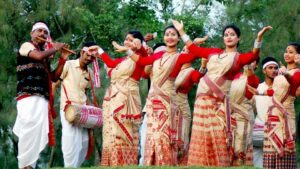 •Assam's most awaited festival – the Rongali Bihu, also known as 'Bohaag Bihu' which marks the beginning of the new Assamese calendar year started. Assam celebrates major agricultural events as the festival of Bihu.
•In Assam, three Bihu festivals are celebrated in a year called as Rongali Bihu or Bohag Bihu, Bhugali (Magh Bihu) and Kangali (Kati Bihu) for marking the distinctive phase in the farming calendar.
3)
China Develops World's First Armed Amphibious Drone Boat
•The world's first armed amphibious drone boat named 'Marine Lizard' and guided by China's BeiDou Navigation Satellite System, has been successfully tested by China. It possesses the capability of forming a combat triad with aerial drones and other drone ships.
•The drone ship has been built by Wuchang Shipbuilding Industry Group under China Shipbuilding Industry Corporation (CSIC). The drone ship has a maximum operation range of 1,200 km and can be remotely controlled with the help of satellites.
4)
Home Expo India 2019 Begins in Greater Noida
•The 8th edition of Home Expo India 2019 opened at India Expo Centre and Mart, Greater Noida. The three-day exhibition has been organized by the Export Promotion Council for Handicrafts (EPCH). Home Expo India covers sectors with maximum thrust and growth potential in home décor, furnishing, furniture, flooring, and textiles.
5)
Wa Lone and Kyaw Soe Oo To Receive 2019 UNESCO/Guillermo Cano Press Freedom Prize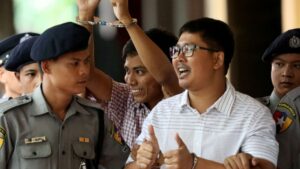 •Reuters journalists, Kyaw Soe Oo, and Wa Lone have been selected for UNESCO/Guillermo Cano Press Freedom Prize 2019. Currently, they are serving 7-year prison sentences in Myanmar.
•They collected classified military records that revealed extrajudicial assassinations of Rohingya Muslims by the army in Rakhine State. The UNESCO/Guillermo Cano World Press Freedom Prize will be given on May 2 as part of the observance of World Press Freedom Day (3 May) in Ethiopia.
6)
NY Times, Wall Street Journal Win Pulitzers For Trump Probes
•The New York Times and The Wall Street Journal were awarded Pulitzer Prizes for their separate investigations of President Donald Trump and his family. The Times won the prestigious journalism award for a probe of the Trump family's finances that debunked his claims of self-made wealth and revealed a business empire riddled with tax dodges.
•The Journal won for its coverage of Trump's secret hush money payments to two women during his 2016 presidential campaign who claimed to have had affairs with him. The Associated Press won a Pulitzer for international reporting for its coverage of the war in Yemen. Reuters was honoured for international reporting for its coverage of atrocities committed against Rohingya Muslims in Myanmar.
7)
IDRBT Sets Up 5G Lab For Banking, Financial Sector
•The Institute for Development and Research in Banking Technology (IDRBT), an arm of Reserve Bank of India, has launched a 5G Use Cases Lab for banking and financial sector.
•The 5G technology, along with blockchain, will be progressively adopted by banks. Department Of Telecommunications had already launched test beds for 5G use in the academia in Hyderabad, Chennai and Bangalore to develop 5G for Indian use.
8)
Banks' Credit Growth Up 13.24% in FY2019: RBI Data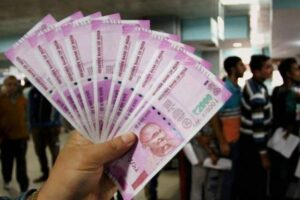 •The financial year 2019 has ended on a relatively robust note for banks. They clocked a 13.23% year-on-year credit growth against 9.85% in FY2018. Deposit growth, at 9.99% year-on-year in FY2019, was also better than the 6.15% logged in FY2018, according to the Reserve Bank of India's scheduled banks' statement of position in India.