1)
World Book Day: 23 April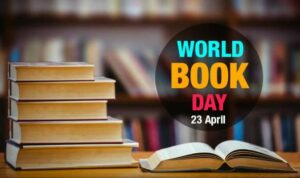 •World Book Day is celebrated every year on 23 April. It is also known as World Book and Copyright Day, or International Day of the Book. It is organized by the United Nations Educational, Scientific and Cultural Organization (UNESCO) to promote reading, publishing, and copyright.
•It was first celebrated on 23 April 1995. For the year 2019, Sharjah, UAE has been declared as the World Book Capital. It will be preceded by Kuala Lumpur, Malaysia in the year 2020.
2)
LSE Names A Professorship After Economist Amartya Sen
•The London School of Economics and Political Science (LSE) has announced the creation of the Amartya Sen Chair in Inequality Studies, named in honour of the India-born economist, philosopher, and Nobel laureate, who was Professor of Economics at LSE from 1971-82.
•Called the "Amartya Sen Chair in Inequality Studies," its holder will also serve as Director of the LSE International Inequalities Institute, which facilitates interdisciplinary work on subjects related to inequality.
3)
Ministry Of Ayush Inked MoU With CSIR
•The Ministry of AYUSH inked a Memorandum of Understanding (MoU) with Council of Scientific and Industrial Research (CSIR) for cooperation in research and education in areas of traditional systems of medicine and its integration with modern science.
•Earlier, CSIR and Ayush Ministry jointly developed the Traditional Knowledge Digital Library (TKDL) which prevents bio-piracy and misappropriation of traditional knowledge.
4)
Cancer Preparedness Index 2019 Released, India Ranks 19th
•India was ranked 19th out of 28 countries in the Index of Cancer Preparedness (ICP)released by the Economist Intelligence Unit (EIU). It was released as part of the report titled "Cancer preparedness around the world: National readiness for a global epidemic" prepared by EIU.
5)
SBI General Insurance Launches Cyber Defence Insurance For Businesses
•SBI General Insurance has launched a product – cyber defence insurance to protect businesses from financial and reputational losses due to cyber attacks. This offers protection against the growing threat of cyber breaches.
•It is designed to protect against major insurable cyber exposures like hacking attacks, identity theft, disclosure of sensitive information and business interruption.
6)
Fabio Fognini Becomes First Italian To Claim ATP Masters 1000 Title
•Fabio Fognini became the first Italian to win an ATP Masters 1000 title at the Rolex Monte-Carlo Masters. He defeated Dusan Lajovic. The Italian defeated World No. 3 Alexander Zverev to reach the quarter-finals and stunned 11-time champion Rafael Nadal in the last four.