1)
World Tuna Day : May 2
•The United Nations (UN) established World Tuna Day on May 2 to raise awareness about the importance of tuna and to promote more sustainable fishing practices. It was observed for the first time in 2017.
2)
Green Number Plates Become Mandatory For All Electric Vehicles
•The Central government has asked the state transport departments to make it mandatory for all EVs to use the green number plates, irrespective of the year in which they were bought.
•The new mandate is supposed to help provide preferential treatment to the vehicles with no carbon emissions, like parking, free entry in congested areas as well as a concessional toll on highways.
3)
Netherlands Becomes The Third Largest Foreign Direct Investor In India
•The Netherlands has emerged as the third largest foreign direct investor in India during 2017-18, with investments pegged at about $2.67 billion across sectors.
•The Netherlands was also the second largest destination for foreign investment by Indian companies, after Singapore, with investments worth $12.8 billion in 2017.
4)
BSE Appoints First Independent Woman Director Jayshree Vyas To board
•BSE, formerly known as the Bombay Stock Exchange, has appointed its first independent woman director Jayshree Vyas. BSE already has two non-executive women directors namely Usha Sangwan and Rajeshree Sabnavis on its Board.
•Vyas is a professionally-qualified chartered accountant, working as the managing director of Shree Mahila Sewa Sahakari Bank, Ahmedabad, since 1986. She helped in launching the first financial literacy programme in Sewa Bank in 2001.
5)
Kumar Sangakkara Named As 1st Non-British President of MCC
•Former Sri Lanka captain Kumar Sangakkara has been named as the next President of Marylebone Cricket Club (MCC), becoming the first non-British President of the club. Sangakkara will take up the post on October 1 and will serve for a period of one year. In 2012, Sangakkara was awarded Honorary Life Membership of the Club.
6)
State Bank of India Links Interest Rates To RBI's Repo Rate
•India's largest bank State Bank of India has moved to a new interest rate regime on large savings account deposits as well as short-term loans. Earlier, SBI had announced that it will link its interest rate on savings account with a balance above Rs1 lakh and short-term loans like overdraft and cash credit facility to Reserve Bank of India's repo rate, effective 1 May 2019.
•The interest rates on large SBI savings account deposits and interest rate on some short-term loans will automatically change as and when RBI changes its repo rate. This will help in better transmission of RBI's policy rates into the banking system.
7)
Apurvi Chandela Ranks World Number 1 In Women's 10 m Air Rifle Event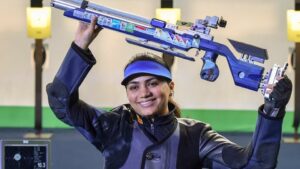 •Indian shooting ace Apurvi Chandela has been ranked the world number one in the women's 10 metres air rifle event while compatriot Anjum Moudgil rose to number twoafter consistent performances. The rifle ace from Jaipur has already secured 2020Olympics quota for the country.