1)
World Press Freedom Day: 3rd May
•World Press Freedom Day (WPFD) is celebrated all over the world on the 3rd of May.The theme for WPFD 2019 is "Media for Democracy: Journalism and Elections in Times of Disinformation". World Press Freedom Day was proclaimed by the UN General Assembly in December 1993.
2)
UK Parliament 1st In World To Declare Climate Emergency
•The UK parliament became the first national legislative body in the world to declare a climate change emergency. The motion was approved without a vote and registers the views of the House of Commons without compelling the government to act on any particular policy proposal.
•It also calls for the government to work towards carbon neutrality before 2050 and for ministers to draft proposals within the next 6 months to restore the country's environment and create a "zero waste economy."
3)
Vladimir Putin Signs Law To Create Independent Russian Internet
•Russian President Vladimir Putin has signed into law a new measure that aims to expand government control over the Internet.
•It would enable the creation of a national network, able to operate separately from the rest of the world. The new law aims to protect Russia from foreign online restrictions by creating a "sustainable, secure and fully functioning" local internet.
4)
Former ISRO Chairman Awarded France's Highest Civilian Honour
•Former ISRO chairman A S Kiran Kumar was conferred with France's highest civilian honour, Chevalier de l'Ordre national de la Legion d'Honneur, for his contribution to India-France space cooperation.
•Kumar was conferred with the prestigious honour by France's Ambassador to India Alexandre Ziegler on behalf of the French President. He currently holds the Chair of the ISRO Committee on Earth Observation Satellites.
5)
BSNL Launches 'Bharat Fibre' Broadband Service In Kashmir Valley
•State-owned telecom firm BSNL has become the first operator to start optical fiber-based high-speed broadband service in Pulwama with the launch of 'Bharat Fibre'.
•This is the first such FTTH (fiber-to-the-home) service deployment in the (Kashmir) Valley. The service has been launched in a business partnership model with the local channel partner of Pulwama area, on a revenue sharing basis.
6)
Bajrang Punia Wins Gold In Ali Aliyev Wrestling Tournament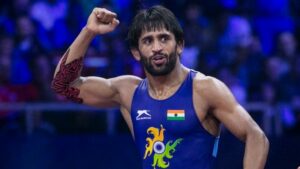 •World number one Bajrang Punia has become the first Indian to win gold at the Ali Aliev wrestling tournament after defeating Viktor Rassadin of Russia in the 65 kg freestyle in Kapiisk. He had also won a gold at the Asian Championships in Xi'an, China.
•Bajrang, who is part of the JSW Sports Excellence Program, will fight at the historic Madison Square Garden arena. He will take on former cadet world champion and two-time NCAA champion Yianni Diakomihalis.