1)
World Red Cross Day: 08th May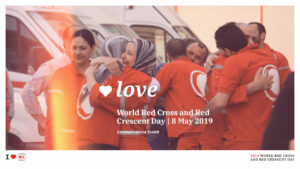 •World Red Cross Day (also known as Red Crescent Day) is observed every year on May 8. It is a gentle nod to all the volunteers who have made an unparalleled contribution to people in duress or need. The 2019 theme chosen by them is, '#Love'.
•Incidentally, the day is also the birthday of Henry Dunant, who had generated the Red Cross Committee of the International (ICRI) in 1863 in Switzerland, Geneva. He was born in May 8, 1828 and was also the recipient of the Nobel Peace Prize.
2)
MNRE Holds 'Chintan Baithak' With Stakeholders of Renewable Energy Sector
•Ministry of New & Renewable Energy (MNRE) held a 'Chintan Baithak' with the stakeholders of the Renewable Energy sector. The 'Baithak' (meet) was chaired by Secretary, MNRE, Anand Kumar and saw good participation from Renewable Energy (RE) sector including the representatives of major RE developers, equipment manufacturers, financers, regulators, think-tanks, industry bodies and skill developers.
•The day long meet deliberated upon various issues pertaining to the RE sector viz. solar, wind, bio-energy, small-hydro, regulatory issues, bidding & pricing, demand forecasting, financing of RE projects, energy storage, Make in India, skilling India's RE work force etc.
3)
Meeting of Regional Heads of Customs Administration of Asia Pacific Region of WCO Held in Kochi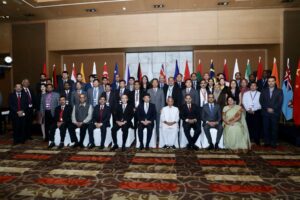 •Central Board of Indirect Taxes and Customs (CBIC) has organised a 2-Day meeting of the Regional Heads of Customs Administration of Asia Pacific Region of the World Customs Organisation (WCO) in Kochi. This meeting was chaired by Mr Pranab Kumar Das, Chairman, CBIC.
•The meeting took stock of the progress being made in carrying forward the programmes and initiatives of WCO to promote, facilitate and secure the cross-border trade in the region and the capacity building and technical assistance required to achieve this goal.
4)
15th Finance Commission's Meeting With RBI Held In Mumbai
•The 15th Finance Commission headed by Chairman, N.K. Singh held a detailed meeting with the Governor and Deputy Governors of RBI in Mumbai. Key issues raised by RBI Governor, Shaktikanta Das and Finance Commission Chairman, N.K. Singh were discussed in detail at the meeting.
These issues included the following:–
•The necessity of setting up State Finance Commissions for respective State Governments.
•Public Sector Borrowing Requirements.
•Continuity of the Finance Commission.
•Need for Expenditure Codes, especially given that expenditure norms vary from state to state.
•Role of States in Growth and Inflation, for instance, role of states in Ease of doing Business.
5)
India's Jagjit Pavadia Re-Elected To International Narcotics Control Board
•India's Jagjit Pavadia has been re-elected with the highest number of votes by the UN Economic and Social Council to a five-year term on International Narcotics Control Board (INCB), while China's candidate Hao Wei lost.
•She posted the highest number of votes at 44. Ms Pavadia has been a member of the INCB since 2015 and her current term is set to expire in 2020. The Economic and Social Council (ECOSOC) held elections by secret ballot yesterday, with 15 candidates in the fray for five seats.
6)
Indian Boxers Win 6 Medals At 36th Feliks Stamm International Boxing
•Indian boxers finished with a rich haul of six medals, including two gold at the 36th Feliks Stamm International Boxing Tournament in Warsaw, Poland. Gaurav Solanki and Manish Kaushik bagged one gold each. Indian boxers also clinched a silver and three bronze.
•The 22-year-old Solanki out-punched England's William Cawley 52 kilogram on his way to the coveted yellow metal. In 60-kilogram weight category, Kaushik beat Morocco's Mohamed Hamout.