1)
International Day for Biological Diversity: 22 May
•The UN General Assembly proclaimed 22 May, the date of the adoption of its text, as the International Day for Biological Diversity on 20 December 2000. The theme for International Day for Biological Diversity 2019 is 'Our Biodiversity, Our Food, Our Health'.
2)
2019 Lok Sabha Polls Record Highest Ever Voter Turnout In History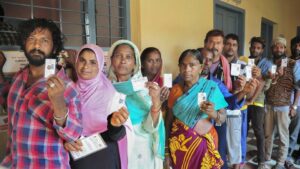 •As per Election Commission of India, the 2019 Lok Sabha elections witnessed a voter turnout of 67.10% (interim), which is the highest ever voter turnout in the history of general elections.
•The previous highest voter turnout of 66.44% was recorded in 2014. The seven-phase 2019 elections began on April 11 and concluded on May 19, with counting scheduled for Thursday.
3)
ISRO Successfully Launched Earth Observation Satellite 'RISAT-2B'
•Indian Space Research Organisation (ISRO) has successfully launched the 'RISAT-2B' Satellite from the Sriharikota's, Satish Dhawan Space Centre, SHAR. The Polar Satellite Launch Vehicle (PSLV-C46) lifted-off from the First Launch Pad and injectedRISAT-2B into an orbit of 556 km, about 15 minutes and 25 seconds after lift-off.
•The RISAT-2B is a radar imaging earth observation satellite, weighing about 615 kg. The satellite is intended to provide services in the field of agriculture, forestry and disaster management. The all-weather, radar imaging satellite has the capability to observe and image the earth from about 500 kms.
Important Abbreviations Used-
•RISAT- Radar Imaging SATellite.
•ISRO- Indian Space Research Organization.
•RADAR- RAdio Detection And Ranging.
•PSLV- Polar Satellite Launch Vehicle.
4)
India To Grow At 7.1% In FY'20: UN Report
•As per the report by the United Nations, India's economy is projected to grow at 7.1% in the fiscal year 2020 on the back of strong domestic consumption and investment. Indian economy expanded by 7.2% in 2018.
•According to the report, GDP growth is a downward revision from the 7.4% estimated in January 2019. The World Economic Situation and Prospects (WESP) 2019 Mid-year Update noted that growth projections for 2019 have been revised downward in all major developed economies.
5)
Taiwan Expo 2019 Begins In New Delhi
•Taiwan Expo 2019 began in Pragati Maidan, New Delhi. The representative of Taipei Economic and Cultural Centre Tien Chung-Kwang and Chairman of Taiwan External Trade Development Council, TAITRA James CF Huang inaugurated the three-day event in the presence of Joint Secretary Praveen Bonigala and ITPO Chairman LC Goyal. There are 10 theme pavilions at the expo focusing on green products, health care, agriculture, tourism, biotechnology and electrical equipment.
6)
Oman Author Jokha Alharthi Wins Booker International Prize
•An author from Oman, Jokha Alharthi has won the prestigious Man Booker International Prize for "Celestial Bodies", the story of three sisters of a desert country confronting its slave-owning past and a complex modern world.
•Jokha Alharthi, the first Arabic-language writer to take the prize, will split the 50,000 pounds or 64,000 US dollar purse with her UK-based translator, Marilyn Booth. The prize is a counterpart to the Man Booker Prize for English-language novels and is open to books in any language that has been translated into English.
7)
TAPI Pipeline Meeting Held In Turkmenistan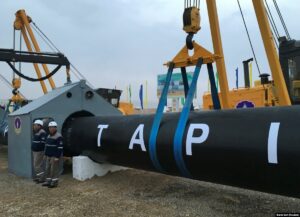 •The Turkmenistan-Afghanistan-Pakistan-India (TAPI) gas pipeline meeting was held in Ashgabat, Turkmenistan. The groundbreaking of the TAPI gas pipeline will be held in Pakistan in October 2019.
•The TAPI gas pipeline project is expected to be completed by 2022 in Pakistan. Once completed; Pakistan is expected to receive 1.320 billion cubic meters (bcm) of natural gas. The TAPI project, supported by the United States and the Asian Development Bank (ADB), has been touted by Turkmenistan since the 1990s.
8)
Saray Khumalo Becomes 1st Black SA Woman To Conquer Mount Everest
•South African Saray Khumalo has reached the highest point on the planet becoming the first black African woman to scale Mount Everest. This was her fourth attempt at climbing Mount Everest. In a previous attempt in May 2017, Khumalo had to be rescued from Mount Everest by helicopter.