1)
Goa celebrates its statehood day
•Goa celebrates its statehood day on 30th May. It was on this day in 1987 Goa became the 25th state of the Indian Union.2 It was a Union Territory along with Daman and Diu from December 1961 onwards when Goa was liberated from the colonial rule.
•Once Goa was liberated there was a controversy regarding merging Goa with the neighbouring state of Maharashtra or Mysore. However, an opinion poll of 1967 suggested that Goa, Daman, and Diu be Union Territory.
2)
Jagan Reddy sworn in as Andhra Pradesh CM
•YSR Congress party president YS Jagan Mohan Reddy has taken oath as Chief Minister of Andhra Pradesh. Governor ESL Narasimhan administered him the oath of office and secrecy at Indira Gandhi Municipal Stadium in Vijayawada. Mr. Reddy is the second Chief Minister of the bifurcated Andhra Pradesh.
•In the presence of a large number of his followers who came there to witness his swearing-in-ceremony, Jagan Mohan Reddy has put his first signature on the file hiking social security pensions from next month.
3)
Nepal celebrates its 12th Republic Day
•Nepal is celebrating its 12th Republic Day on 29th May 2019. A number of programmes are being organized in different parts of the country to mark the occasion. The main function was held at Army Pavilion in Kathmandu, which was attended by the President Bidya Devi Bhandari, Prime Minister K.P.Sharma Oli, cabinet ministers, senior government officials, heads and representatives of various diplomatic missions and other dignitaries.
4)
James Marape elected new Papua New Guinea PM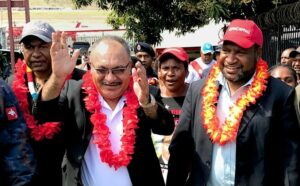 •James Marape, a former finance minister and critic of a major global gas development deal, has been elected by parliament as the prime minister of Papua New Guinea.
•His election came after weeks of political turmoil that saw his predecessor, Peter O'Neill,resign having lost the support of the House after more than seven years in power.
5)
US-UAE defense agreement comes into force
•The United States and the United Arab Emirates have announced that mutual defense cooperation agreement had come into force, amid increasing tensions between Washington and Tehran. The DCA (Defense Cooperation Agreement) will enhance military coordination between the United States and the United Arab Emirates, further advancing an already robust military, political, and economic partnership at a critical time.
•US President Donald Trump bypassed Congress to sell USD 8.1 billion in arms to Saudi Arabia and other Arab allies, citing the alleged threat from Iran.
6)
SC extends tenure of NCDRC's judicial member by one year
•The Supreme Court has extended the tenure of Justice VK Jain, a judicial member of the National Consumer Disputes Redressal Commission (NCDRC), which was expiring on 30th May 2019. A vacation bench comprising Chief Justice Ranjan Gogoi and Justice Aniruddha Bose stated the extension of tenure would be for one year or till the process of fresh appointment is completed.
•Justice Jain was appointed as a judicial member of the NCDRC on 30th May 2014.
7)
Military tribunal allows Karambir Singh to take charge as new Navy Chief
•The Armed Forces Tribunal cleared the way for Vice Admiral Karambir Singh to become the next Navy Chief, while it deferred for four weeks the matter of Vice Admiral Bimal Verma which seeks to quash Singh's appointment.
•Karambir Singh, who is the Commander-in-Chief of the Eastern Naval Command, will take over as the Navy Chief on 31st May 2019.
8)
RBI sets up committee on corporate loans
•RBI has constituted a six-member committee on the Development of Secondary Marketfor Corporate Loans to come up with recommendations to increase the efficiencies of the debt market and aid in the resolution of stressed assets.
•The committee, headed by TN Manoharan, Chairman, Canara Bank, will make recommendations on required policy/regulatory interventions for facilitating the development of the secondary market in corporate loans, including loan transaction platform for stressed assets.