1)
Nirmala Sitharaman To Present First Union Budget On 05th July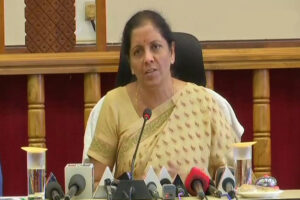 •The first session of the newly-elected Lok Sabha has been convened from 17th June to 26th July 2019 and the new government of Prime Minister Narendra Modi will present its first Budget on 05th July 2019 by Nirmala Sitharaman, who is Minister of Finance and Minister of Corporate Affairs. The 40-day session will have 30 sittings.
2)
First session of 17th Lok Sabha from June 17th
•The first session of the 17th Lok Sabha will commence on 17th of this month. The Rajya Sabha will have its sitting from 20th onwards. Information and Broadcasting Minister Prakash Javdekar stated the session will continue till 26th of next month (July).
•The election for the Speaker of the Lower House will be held on 19th of June. The President will address the Joint sitting of both the Houses of Parliament on the 20th. The Economic Survey will be tabled on the 4th of July and the Union Budget will be presented on the 5th of July.
3)
Union Cabinet approves extension of PM-KISAN scheme
•The newly-sworn in NDA government at the Centre has taken four major decisions related to farmers' and traders welfare in the first meeting of the Union Cabinet. It has approved the extension of Pradhan Mantri Kisan Samman Nidhi (PM-KISAN) to all the farmers in the country. Earlier the benefit of the scheme was applicable to farmers having two hectares of land.
•Agriculture Minister Narendra Singh Tomar stated that nearly 14 crores 50 lakh farmerswill be now covered under the revised scheme. Total burden on the exchequer will be over 87,000 crore rupees for the year 2019-20. Over three crore farmers have been benefited so far. Six thousand rupees per year is being given in three installments to the farmers, under the scheme.
4)
India removes restriction on air space usage
•The Indian Air Force (IAF) has removed all the temporary restrictions on all air routes in the Indian air space. The Indian Air Force had put temporary airspace restrictions on Indian air space on February 27.
•Incidentally, Pakistan had extended the restriction on Indian aircraft overflying its territory till June 15 earlier this week.
5)
Assam govt hikes parental income limit under fee waiver scheme
•Assam government has waived admission fees for students taking admission up to Post Graduate level whose parental income is less than 2 lakh rupees per year.
•All provincialized government colleges and 5 universities are incorporated under the scheme.
6)
PM Modi hikes National Defence Fund scholarship assistance
•Prime Minister Narendra Modi has approved changes to the Prime Minister's Scholarship Scheme for wards of deceased defense personnel under the National Defence Fund. The quota of new scholarships for children of state police officials will be 500 in a year. The rates of scholarship have also been increased from Rs. 2000 per month to Rs. 2500 per month for boys and from Rs. 2250 per month to Rs. 3000 per month for girls.
•Under the scheme, every year new scholarships are given for 5500 wards of armed forces controlled by Ministry of Defence, for 2000 wards of paramilitary forces controlled by Ministry of Home Affairs and for 150 wards of forces controlled by Ministry of Railways.
7)
Kasturirangan committee submits new draft education policy to HRD Ministry
•Former ISRO chief Dr. Kasturirangan led Committee submitted the draft National Educational Policy (NEP) to HRD Minister Ramesh Pokhriyal Nishank in New Delhi. The policy draft recommends incorporation of Indian knowledge systems in the curriculum, constituting a National Education Commission and curbing arbitrary fees hikes by private schools.
•The existing NEP was framed in 1986 and revised in 1992.
8)
Indian-origin Anita Bhatia appointed UN Deputy Executive Director
•Indian-origin Anita Bhatia, a veteran in strategic partnerships, resource mobilization, and management, has been appointed by UN Secretary-General Antonio Guterres as the Deputy Executive Director in the global body's agency focused on women empowerment and gender equality.
•Ms. Bhatia holds a Bachelor of Arts in History from Calcutta University, a Master of Arts in Political Science from Yale University and a Juris Doctor in Law from Georgetown University.