1)
Cabinet approves ISRO Technical Liaison Unit at Moscow
•Cabinet has approved the setting up of ISRO Technical Liaison Unit (ITLU) at Moscow in Russia. The unit will collaborate with Space agencies and industries in Russia and neighbouring countries for mutually synergetic outcomes. ITLU will support the ongoing bilateral programmes of cooperation in space technology and will act on behalf of ISRO.
2)
Lok Sabha to become paperless from next session
•Lok Sabha Speaker has announced that the Lower House will become paperless from the next session. This move will save crores of rupees to the exchequer.
3)
Dharmendra Pradhan launches Atal Community Innovation Centre
•Minister of Petroleum and Natural Gas & Steel has launched Atal Community Innovation Centre (ACIC) in New Delhi, to encourage the spirit of innovation at the community level.
•This initiative aim is to provide solution-driven design thinking to serve society. Atal Innovation Mission has a key role to perform in order to achieve the target of five trillion dollar economy by 2025.
4)
DD News channel bagged Champions of Empathy Award
•DD News is awarded with "Champions of Empathy Award" for spreading awareness about hepatitis. Director General of DD News, Mayank Agrawal received the Award from Lok Sabha Speaker Om Birla.
•DD News to aware people about various diseases and preventives by showing health related programmes, reports and policies that help to spread awareness towards health in society.
5)
Former Cricketer Kapil Dev honoured with Bharat Gaurav Award
•East Bengal club will officially start the centenary celebrations on its foundation daywith a glittering ceremony at the Netaji Indoor Stadium.
•East Bengal club will be awarded India's first cricket World Cup-winning captain Kapil Dev with its highest honour, Bharat Gaurav. Kapil is no stranger to football as he had donned the club's colours in an exhibition match against Mohun Bagan in 1992.
6)
IFSG appoints Justice A.K. Sikri as ombudsman
•The Indian Federation of Sports Gaming (IFSG), country's self-regulatory industry body for the online fantasy sports gaming sector, announced the appointment of Justice Arjan Kumar Sikri as its ombudsman and ethics officer.
•Justice A.K. Sikri will be responsible for investigating queries/complaints raised by the users of the online fantasy sports gaming platforms.
7)
Ruhan Rajput honoured with 'Entrepreneur of the Year Award, 2019'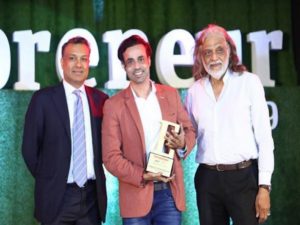 •Ruhan Rajput, a renowned entrepreneur, co-founder and Director of Einfolge Technologies Pvt Ltd was awarded the prestigious Entrepreneur Award 2019 at New Delhi.
•Ruhan was acknowledged for his contributions and achievements in the business industry. His company, is one of the leading players in the knowledge process outsourcing (KPO) industry. The company operates to provide comprehensive research, analysis and expert solutions to its clients.
8)
Foreign Ministers from South East Asia attend 52nd ASEAN summit
•Foreign Ministers from South East Asia are attending the 52nd ASEAN summit in Bangkok. The annual meeting opened with a call from the host Thailand for deeper integration to expand trade and bolster prosperity in the region amid rising global challenges.
9)
London named the world's best city for students
•London has named the world's best city for students for the 2nd consecutive year, beating Tokyo and Melbourne that came 2nd and 3rd, respectively, on a new worldwide ranking. According to the rankings, India's best student city is Bengaluru (81st), followed by Mumbai (85th), Delhi at 113th and Chennai at 115th, out of a total of 120th cities in the list.
•The QS Best Student Cities Ranking compiled by global education consultancy QS Quacquarelli Symonds highlights each city's performance across different categories.