1)
International Day of the World's Indigenous Peoples: 9 August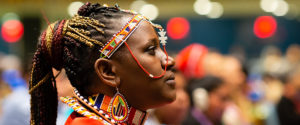 •United Nations observes 9th August every year as International Day of the World's Indigenous Peoples. The day is celebrated to raise awareness of the needs of these population groups. This year's observance is dedicated to Indigenous Peoples' Languages in view of 2019 being marked as the International Year of Indigenous Languages.
•Theme for year 2019: Indigenous Languages.
2)
Nagasaki Day: 9th August
•Japan commemorates the 9th August every year as the Nagasaki day. On August 9, 1945, the United States dropped an atomic bomb on Nagasaki, Japan. It was code named "Fat Man" due to the design of the bomb as it had a wide, round shape. This happened 3 days after dropping an atomic bomb on Hiroshima.
•An area of about 5 square miles was completely obliterated and around 65,000 people were killed in the bombing. Nagasaki and Hiroshima continue to feel the impact of the destructive bombing even today.
3)
NITI Aayog to launch the 4th Edition of WTI Awards
•The NITI Aayog will launch the 4th Edition of Women Transforming India (WTI) Awards. The WTI Awards is being organized in collaboration with the United Nations to recognize women entrepreneurs from across India.
•This year's theme is 'Women and Entrepreneurship', in continuation of the theme for WTI Awards 2018. WhatsApp has collaborated with NITI Aayog for WTI Awards 2019 and will be providing support amounting to US$100,000 to the award winners.
•The Women Entrepreneurship Platform (WEP) is a Government of India initiativeby NITI Aayog to promote and support aspiring as well as established women entrepreneurs in India, assist and handhold them in their journey from starting to scaling up and expanding their ventures.
4)
President signs National Medical Commission Bill into a law
•President Ram Nath Kovind has signed National Medical Commission Bill which was passed by both houses of Parliament. The NMC bill aims at mega reforms in the medical education sector and will replace the nearly 63-year-old Indian Medical Council Act. The bill will ensure probity, quality education and bring down costs of medical education.
•National Medical Commission Bill will also simplify procedures and provides wider access to people for quality healthcare. The NMC will have eminent medical personalities as members who will be appointed for only one term of four years and will not be eligible for any further extension.
5)
Union HRD Minister to launch 'Samagra Shiksha-Jal Suraksha' drive
•Union HRD Minister will launch 'Samagra Shiksha-Jal Suraksha' to create awareness about Water Conservation among all school students in the country. So that they can become competent, conscientious and committed water citizens of our nation. The department has prepared a detailed outline to implement this programme in all the schools in the country.
Five Major Objectives:
•To educate students learn about conservation of water.
•To sensitize students about the impact of scarcity of water.
•To empower students to learn to protect the natural sources of water.
•To help every Student to save at least one litre of water per day.
•To encourage Students towards judicious use and minimum wastage of water at home and school level.
6)
India & Bangladesh to set up committee for optimum use of water resources
•India and Bangladesh have agreed to set up a Joint Technical committee for optimum use of Ganges water. The river Ganga's water is being received by Bangladesh under the Ganga Water Sharing Treaty 1996.
•Both the countries have also agreed to prepare a framework for interim water-sharing agreement for 8 rivers including Feni, Gumti and Teesta.
7)
Iran unveils three new precision-guided missiles
•Iran unveiled 3 precision-guided missiles. The new line-up of air-to-air missiles named the "Yasin", "Balaban" and a new series of the "Ghaem" were developed jointly by the ministry and Sa Iran, also known as Iran Electronics Industries.
8)
Rohingya refugees get identity cards in Bangladesh
•5 lakh Rohingya refugees living in Bangladesh have been issued identity documents by the United Nations High Commissioner for Refugees (UNHCR). UNHCR's Bio-metric Identity Management System (BIMS) fraud-proof cards are being issued jointly by Bangladeshi authorities and UNHCR to all verified refugees over the age of 12.
•These cards will help in establishing and safeguarding the right of Rohingya refugees to return to their homes in Myanmar. UNHCR's (BIMS) captures bio-metric data, including fingerprints and iris scans, which secure each refugee's unique identity as well as other important information such as family links.
9)
SpaceX launches Falcon 9 loaded with Israel's AMOS-17
•US carrier rocket Falcon 9 loaded with Israeli AMOS-17 communication satellitesuccessfully lifted off from a space centre in Florida, spacecraft manufacturer SpaceX.
•Amos-17, built by Boeing, will provide Ka, Ku and C-band signal transmission and expand Israeli communications satellite operator Spacecom's coverage in Africa, the Middle East and Europe.
10)
Virasat-e-Khalsa Museum in Punjab sets record
•The Virasat-e-Khalsa Museum in Punjab's Anandpur Sahib town is all set to find a place in the Asia Book of Records for becoming the most visited museum in the Indian sub-continent in a single day.
•The museum had witnessed a record footfall of 20,569 visitors on a single day on March 20, becoming the most visited museum in the Indian sub-continent in a single day.
11)
Manipur tops in Breastfeeding, Infant & Young Child Feeding Practices
•Manipur has topped the rankings in Breastfeeding and Infant and Young Child Feeding Practices in the country. Health and Family Welfare Minister released a report on Breastfeeding. Uttar Pradesh, Rajasthan and Bihar are at the bottom positions in the report card.
•The Breastfeeding report card has been developed by devising a composite score based on 3 indicators namely early initiation of breastfeeding, exclusive breastfeeding for six months and complementary feeding at 6-8 months of child's age.
12)
ISRO announces Vikram Sarabhai Journalism Award 2019
•Centenary year celebrations of Dr Vikram Sarabhai, father of Indian space programme, ISRO institutes two categories of awards in journalism.
•ISRO has announced its "Vikram Sarabhai Journalism Award in Space Science, Technology and Research" to recognize and reward journalists who have actively contributed towards the field of space science, applications, and research.