1)
Centre launches Swachh Nagar app
•Swachh Nagar app was launched by the Union Housing and Urban Affairs Ministry. An app that will allow users to have waste — solid, wet or construction and demolition (C&D) — collected by their urban local bodies along with a new protocol on wastewater treatment that would become a part of cleanliness rankings of cities.
2)
'Panchamirtham' of Palani temple gets GI tag
•The Panchamirtham is an 'abhishega prasadam' of the Murugan temple has been bestowed with the Geographical Indication tag. The Murugan temple is situated in Tamil Nadu. The panchamirtham is a combination of five natural substances — banana, jaggery, cow ghee, honey and cardamom. Dates and diamond sugar candies are added for flavour. It is served in a semi-solid state.
3)
J&K will host Global Investors Summit 2019
•Jammu and Kashmir administration will host a 3 days global investors summit from October 12 in Srinagar.
•The summit will provide J&K with an opportunity to showcase its strengths, strategies and potential. It will also provide an opportunity to allay fears and apprehensions in the minds of outside trade and the business community.
4)
Japanese Maritime Self Defence Ship visits Kochi
•Japanese ship "JS Sazanami", visited Kochi on a 2 day goodwill visit. JS Sazanami, a Japanese Maritime Self Defence Force Ship is a missile destroyer. The visiting team was given a conducted tour of the Anti-Submarine Warfare School and the Naval Offshore Patrol Vessel, INS Sunayna. A visit of Indian Navy personnel was also conducted onboard JS Sazanami.
5)
Priyam Chatterjee becomes 1st Indian chef to win French honour
•Priyam Chatterjee became the 1st Indian chef to be awarded the 'Chevalier de l'Ordre du Mérite Agricoleto' by the government of France to recognise his contribution towards reinventing the gastronomic scene in India.
•Chatterjee is best known for revisiting the traditional dishes from his native state of West Bengal and giving it a French twist.
•'Ordre du Mérite Agricole' (Order of Agricultural Merit) is a distinction bestowed by the French Republic for outstanding contributions, to agriculture, agro-food industry and gastronomy.
6)
Government rolls out scheme for liquidity support to NBFCs
•The Central government has rolled out scheme for liquidity support to NBFCs. The partial guarantee scheme will allow state-run banks (PSBs) to purchase assets of non-banking and housing finance companies (NBFCs and HFCs).
•The partial guarantee scheme aims at providing liquidity support to avoid distress sale of assets in a sector facing a shortage of cash due to asset-liability mismatch. NBFCs will be able to sell 20% of standard assets, worth up to Rs 5,000 crore, as on March 31.
•The Department of Economic Affairs will provide government guarantee of up to 10%of the fair value of assets purchased by a bank from a stressed NBFC or HFC. The scheme is capped at Rs 1,00,000 crore and will be open for up to 6 months. The government will settle claims by banks within 5 working days. The one-time guarantee on the pooled assets will be valid for 24 months from the date of purchase and can invoked in specified circumstances.
7)
Wg Cdr Abhinandan Varthaman to be honoured with Vir Chakra
•Wing Commander Abhinandan Varthaman will be honoured with the Vir Chakra on Independence Day. Wg Cdr Abhinandan became the face of a tense military confrontation between India and Pakistan when his MiG-21 was shot down during the aerial combat between Indian and Pakistani air forces on February 27 after the February 26 Balakot airstrike. Before his jet was hit, he downed an F-16 fighter of Pakistan.
8)
P.T. Usha appointed as a member of AAA's Athletes Commission
•Legendary Indian sprinter P.T. Usha, one of India's greatest athletes, has been appointed as a member of the Asian Athletics Association's (AAA) Athletes Commission. This is the 2nd time P.T. Usha has been appointed a member of the Asian Athletics Association's Athletes Commission
•P.T. Usha will be one of the six members of the AAA Athletes Commission, to be headed by 1992 Olympics gold medallist hammer thrower Andrey Abduvaliyev of Uzbekistan.
9)
Rajasthan bags award at World Education Summit 2019
•Rajasthan wins the "best innovation and initiative leadership award" for its achievements in higher education in the World Education Summit-2019 held in New Delhi.
10)
Simone Biles makes history with a "triple-double" twist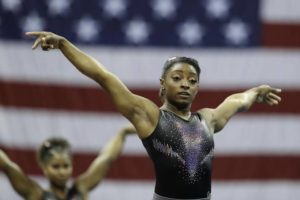 •Simone Biles makes history with a never-before-seen "triple-double" floor exercise landing. She performed the landing featuring "two flips and three twists" in U.S. Gymnastics Championships held in Kansas City.