1)
Govt Launched mobile app "Janaushadhi Sugam"
•Union Minister for Chemicals and Fertilizers launched a mobile application "Janaushadhi Sugam". This app will enable people to search for Janaushadhi generic medicines and the stores at the tip of their fingers.
•"Janaushadhi Sugam" mobile application would have user-friendly options like- to locate nearby Janaushadhikendra, direction guidance for the location of the Janaushadhikendra through Google Map, search Janaushadhi generic medicines, analyse product comparison of Generic vs Branded medicine in form of MRP & overall Savings, etc. The mobile application is available on both Android & iOS platforms.
2)
Tamil Nadu govt launches Education TV for school students
•Tamil Nadu government launched its exclusive 24×7 education channel for school students. This TV channel, aimed at benefiting students of classes I to XII. This is an initiative of the School Education Department. The name of the channel is 'Kalvi Tholaikkatchi' (Education TV). The channel's content will include shows aimed at school children, besides those on jobs and related issues.
3)
App launched to help Paralympians in Tokyo
•A mobile app was launched to help para-athletes to look up accessible places in Tokyo during their visit to the city for the 2020 Paralympics Games. The application "IndTokyo"which was launched by Arhan Bagati, Awareness and Impact Ambassador of Paralympic Committee of India, at the 'Countdown to Tokyo 2020'.
4)
NOAPS-single window clearing system of NMA launched
The Minister of State for Culture & Tourism (Independent Charge) has launched an integrated NOC online Application Processing System for National Monuments Authority in New Delhi. This will help in online processing of applications requesting NOC for construction related work in prohibited and regulated area of ASI protected monuments.
6 new states will be part of this Integrated Online Application Portal with Urban Local Bodies Count. The details of States and Urban Local Bodies are as follows:
•Madhya Pradesh (378)
•Andhra Pradesh (110)
•Haryana (15)
•Punjab (10)
•Jharkhand (3)
•Telangana (1)
Earlier this system was available only for five urban local bodies of Delhi and one urban local body of Mumbai.
5)
IAF's Shalija Dhami becomes first female flight commander
•Indian Air Force's Wing Commander Shalija Dhami has become the first female officerin the country to become Flight Commander of a flying unit. Dhami took over as Flight Commander of a Chetak helicopter unit at Hindon airbase. Flight Commander is the second in command of the unit after the commanding officer.
6)
ONGC's CMD honoured with Distinguished Fellowship of IOD, 2019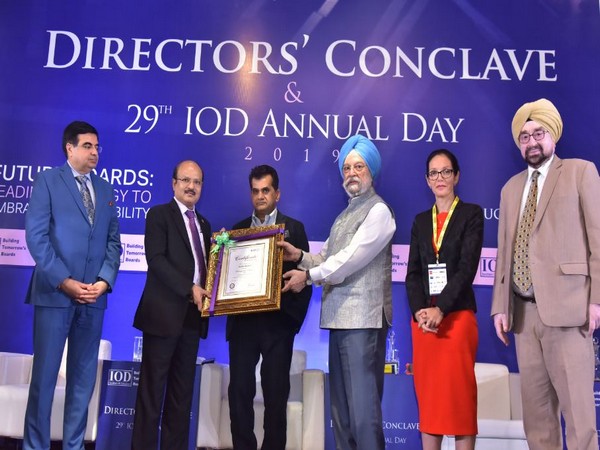 •Oil and Natural Gas Corporation (ONGC) Chairman and Managing Director (CMD), Shashi Shanker was honoured with the Distinguished Fellowship of the Institute of Directors (IOD) 2019. He was honoured during the 29th Institute of Directors (IOD) Annual Day Ceremony.
•The prestigious Fellowship honour was conferred to Shanker in appreciation of his distinguished contribution to business and society. The theme of this year's IOD Annual Day Ceremony was 'Future Boards: Leading Strategy to Embrace Sustainability'.
7)
Indian documentary 'I'm Jeeja' wins award at We Care Film Festival
•Indian documentary film "I'm Jeeja" has won the award at the 14th edition of the 'We Care Film Festival on Disability Issues'. "I'm Jeeja" has won the award in the 'Under 30 minute' category. The documentary directed by Swati Chakraborty attempts to explore the lives and battles of people living with the disability. Another Indian film "Post Dark" received a jury mention in 'Under 5 minutes' category.
8)
Eric Cantona to be honored with UEFA President's Award
•Former Manchester United forward player Eric Cantona will be honoured with the 2019 UEFA President's Award. The award recognises outstanding achievements, professional excellence and exemplary personal qualities of the player. Cantona won four Premier League titles in five years with United in the 1990s and scored 64 goals for the Old Trafford club in 143 appearances.