1)
ISRO loses contact with Moon lander "Vikram"
•Indian Space Research Organisation has announced that it lost contact with the Moon lander "Vikram" which was scheduled to land on the moon between 1.30 a.m. and 2.30 a.m. (IST). Further the roll out of the rover "Pragyan" was scheduled between 5.30 a.m and 6.30 a.m. Lander "Vikram" started its descent at about 1.38 a.m. from an altitude of 30 km at a velocity of 1,680 metres per second, but lost its communication with the Chandrayaan-2 Orbiter when it was at an altitude of 2.1 Km from Moon's surface.
•According to ISRO, the performance of the lander was as per the plan till it was 2.1 km from the moon surface. Although, the 2,379 kg Chandrayaan-2 orbiter continues to fly around the moon. Its mission life is of one year.
•ISRO launched the Chandrayaan-2 (on July 22, 2019) into the space from India's heavy lift rocket Geosynchronous Satellite Launch Vehicle-Mark III (GSLV Mk III). The Chandrayaan-2 spacecraft comprised three segments: the Orbiter, lander 'Vikram' and rover 'Pragyan'.
2)
UNESCO ties up with Rajasthan to promote state's intangible cultural heritage
•UNESCO and Rajasthan government joined hands to promote music, art and craft forms, and other intangible cultural heritage of the state to spur socio-economic growth of several artist communities.
•It is a partnership agreement to promote community-based responsible tourism based on the rich intangible cultural heritage of Rajasthan. The project will be implemented in Jodhpur, Barmer, Jaisalmer and Bikaner districts.
3)
Vice president releases book titled 'Glorious Diaspora – Pride of India'
•A Coffee Table Book titled 'Glorious Diaspora- Pride of India' on Pravasi Bharatiya Samman awardees was released by Vice President of India, M. Venkaiah Naidu in New Delhi.
•The book contains the brief profiles of recipients of Pravasi Bharatiya Samman Awards (PBSA) from 2003 to 2019. It has been brought out by Indian Diaspora Club. It includes an inspiring profile of Distinguished Overseas Indians who have made their indelible mark in various fields.
4)
4th Indian Ocean Conference 2019 held in Male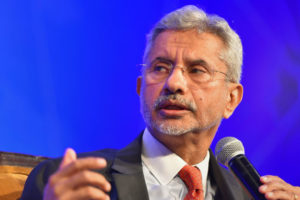 •4th Indian Ocean Conference 2019 was recently held in Male, Maldives. Indian External Affairs Minister S. Jaishankar was one of the speakers at the Indian Ocean Conference 2019 event.
•The theme for 4th Indian Ocean Conference 2019 was: 'Securing the Indian Ocean Region: Traditional and Non-Traditional Challenges'. This edition of the conference will provide yet another opportunity for stakeholders of the Indian Ocean Region to deliberate on building an institutional framework for managing the threats to regional peace and human security.
5)
Gujarat Govt, Delaware State of America sign MoU for sister state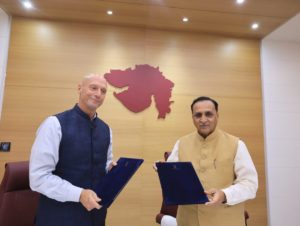 •Gujarat Government and the Delaware State of America signed Memorandum of Understanding(MoU) for sister state. This is the first sister-state MoU signed by Gujarat with any state of America.
•The cooperation in the field of services and investment opportunities in GIFT-IFSC (Gujarat International Finance Tec-City – International Financial Services Centre) discussed during the meeting. The sectors like Biotechnology University, biosciences, financial services, animal husbandry and dairy, port services are the fields related to which the cooperation.
6)
India to host 6th India-China Strategic Economic Dialogue
•The 6th India-China Strategic Economic Dialogue (SED) begins in New Delhi. India will host the dialogue that will focus on collaboration between two countries on areas of infrastructure, energy, high-tech, resource conservation, pharmaceuticals policy coordination.
•From the Indian side, it will be chaired by NITI Aayog vice-chairman Rajiv Kumar and the Chinese side will be led by the chairman of the National Development and Reforms Commission (NDRC).
7)
India Pavilion inaugurated at 44th TIFF 2019
•High Commissioner of India to Canada Vikas Swarup inaugurated the India Pavilion at the 44th Toronto International Film Festival (TIFF) 2019.
•The Inauguration of India Pavilion at TIFF 2019 will provide a platform to showcase Indian Cinema in the overseas market and facilitate new business opportunities. TIFF also provides the ideal platform for the global outreach of the 50th International Film Festival of India 2019.
8)
B Bala Bhaskar appointed as next Indian Ambassador to Norway
•Senior diplomat B Bala Bhaskar was appointed as the next Indian Ambassador to Norway. He will replace Krishan Kumar, who has been heading the Indian mission in Norway since July 2018. Formerly he served as a Joint Secretary of the WANA division of the MEA that deals with all the matters relating to India's trade with WANA region comprising 19 countries.