1)
A book titled 'Fortune Turners: The Quartet That Spun India To Glory' launched
•'Fortune Turners: The Quartet That Spun India To Glory', book on India's spin quartet has been launched. The book on India's 4 spin legends: Bishan Singh Bedi, Erapalli Prasanna, Bhagwat Chandrashekhar and S. Venkataraghavan has been written by Aditya Bhushan and Sachin Bajaj.
2)
Vijay Kumar Chopra, Vineet Jain elected PTI chairman & vice-chairman
•Vijay Kumar Chopra, who is the Chief Editor of the Punjab Kesari Group of newspapers and Vineet Jain, Managing Director (MD) of Bennett, Coleman and Company Limited (BCCL), the publisher of Times of India, is unanimously elected as Chairman and Vice-Chairman of Press Trust of India(PTI) the country's premier news agency.
•Vijay Kumar Chopra was succeeding N Ravi, publisher and former Editor-in-Chief of the Hindu and Vineet Jain earlier served as the chairman of PTI in 2010.
3)
Visakhapatnam railway station sets up 'fun zone'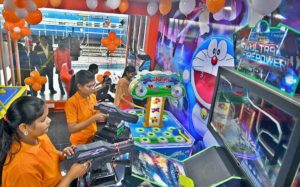 •A fun zone, the first of its kind in India, has been set up by the Railways at the Visakhapatnam Railway Station, Andhra Pradesh. The Gaming zone was inaugurated at platform number 1. The children can enjoy games during their waiting period for trains. The gaming zone has different interesting games for children & adults. The fun zone will have all the high-tech gaming activities at par with game parlours.
4)
Code of Conduct introduced for non-official directors at PSBs
•The Finance Ministry has introduced a Code of Conduct for non-official directors of public sector banks. Under the new rules, the PSBs board will also have to send an annual performance report that rates a director based on professional and ethical conduct, and contribution to the board.
•The performance evaluation by peers will measure the director on various parameters including avoidance of direct or indirect conflict of interest, acting according to rules in the best interest of the bank, avoiding any gain to self or associates and maintaining confidentiality.
•The above measures taken by the department of financial services at the finance ministry aims to improve corporate governance in banks.
5)
SLINEX 2019: Indo-Lanka maritime fleet exercise
•'SLINEX 2019', the bilateral maritime exercise between India and Sri Lanka commenced on 7 September 2019 at Visakhapatnam (Andhra Pradesh). Sri Lankan Navy has sent two offshore patrol vessels SLNS Sindurala and SLNS Suranimala to India to participate in seventh annual Joint Indo-Lanka Maritime Fleet Exercise- SLINEX 2019.
•The exercise signifies the desire of both countries to enhance co-operation and to further strengthen mutual trust and interoperability between the two navies.
6)
Rafael Nadal beats Daniil Medvedev to win US Open men's final
•Rafael Nadal captured his 19th career Grand Slam title by winning the US Open final, outlasting Russia's Daniil Medvedev to seize his fourth crown in New York. The 33-year-old Spanish left-hander moved one shy of Roger Federer's all-time men's record 20 Grand Slam triumphs.
•Nadal, who was in his fifth US Open championship match and 27th Grand Slam final, is the first man to claim five major titles after turning 30.