1)
PM Modi and Nepalese PM to inaugurate Motihari-Amlekhgunj oil pipeline
•Prime Minister Narendra Modi and Nepal's Prime Minister K.P.Sharma Oli will jointly inaugurate Motihari-Amlekhgunj cross border petroleum products pipeline. The 69 km long pipeline from Motihari in Bihar to Amlekhgunj in Nepal has been constructed by India. This is the first transnational petroleum pipeline form India and first South Asian oil pipeline corridor.
•The pipeline will ensure smooth, cost-effective and environment-friendly supply of petroleum products to Nepal. The pipeline will save billions of rupees every year on transportation, leakage and expected to make a significant contribution to the prosperity of Nepal and its people.
2)
1st Helicopter summit 2019 held in Dehradun
•The Ministry of Civil Aviation organised India's first-ever helicopter summit in Dehradun. The Indian Air Force was invited at the summit to talk on the "role of IAF helicopters in MEDEVAC (Medical evacuation) at the national level. The conclave was attended by Uttarakhand Chief Minister Trivendra Singh Rawat, the Aviation Secretary, and the Chief Secretary of Uttrakhand.
3)
Rajiv Kumar appointed as the new MD of Microsoft India (R&D)
•Microsoft has appointed Rajiv Kumar as the new managing director of Microsoft India Research and Development Pvt Ltd (MIRPL). He is currently served as a Corporate Vice-President of Microsoft's Experiences and Devices (E+D) Group. He will replace Anil Bhansali, who held this role for six years.
4)
Justice Vikram Nath appointed as Chief Justice of Gujarat High Court
•Justice Vikram Nath has been appointed as the chief justice of the Gujarat High Court. The Supreme Court Collegium had recommended the name of Justice Nath for the top post in the Gujarat High Court. He is at present posted as a judge in the Allahabad High Court.
5)
Odia Writer Pradeep Dash to receive 40th Sarala Puraskar
•Noted Odia writer Pradeep Dash will be conferred with the 40th edition of prestigious Sarala Puraskar for his poetry work Charu Chibar O Charjya. The annual award, comprising a cash prize of Rs 5 lakh and a citation.
•The annual Sarala Puraskar instituted by eminent Odia industrialist Late Bansidhar Panda and Late Ila Panda in 1979, has been continuously awarded by Indian Metals Public Charitable Trust (IMPaCT). Sarala Puraskar is recognised as the foremost literary award of Odisha. This award is one of the finest contributions of Indian Metals Public Charitable Trust (IMPaCT) to glorify Odia literature.
6)
22nd Session of UN Committee on CRPD at Geneva
•The 22nd Session of UN Committee on Convention on Rights of Persons with Disabilities was held at Geneva. The UN Committee on CRPD took up India's First Country Report for consideration during the session. India ratified this Convention on 01-10-2007 in pursuance of Article 35 of the Convention.
•Shakuntala D. Gamlin, Secretary, DEPwD headed the Indian delegation at the session. She highlighted various initiatives taken by the Government in the recent past for inclusion and empowerment of PwDs in line with the obligations under UNCRPD.
7)
6th India-China Strategic Economic Dialogue held in New Delhi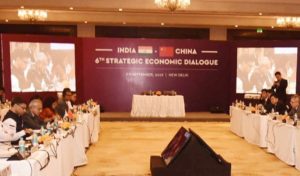 •The 6th India-China Strategic Economic Dialogue was held in New Delhi. The Dialogue comprised of round table meetings of Joint Working Groups on infrastructure, energy, high-tech, resource conservation and policy coordination followed by technical site visits and closed door G2G meetings.
•The Indian side was led by Dr. Rajiv Kumar, Vice Chairman, NITI Aayog and the Chinese side by Mr. He Lifeng, Chairman, National Development and Reforms Commission. The dialogue is held annually alternately at the capital cities of the two countries.
The 2 sides arrived at following mutual agreements:
•They exchanged views on regulatory procedures of ease of doing business, development of artificial intelligence, high-tech manufacturing, and next-generation mobile communications of both countries.
•They also pressed upon the need for promoting cooperation in emergent areas like Waste to Power, co-processing of Septage with Sewage Sludge, storm water management etc.
•They agreed on cooperation in R&D for developing new technology for manufacturing solar cell from alternate material and improvement of efficiency of solar cells.
8)
RBI to launch mobile app for visually impaired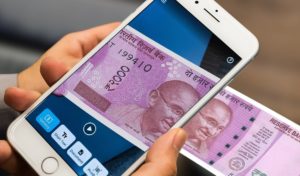 •Reserve Bank Of India (RBI) is to implement the idea to develop a mobile application with an aim to help the visually impaired people to identify currency notes. For this, RBI has selected Daffodil Software Pvt Ltd.
•The application should be able to identify the denomination of legal tender banknotes of Mahatma Gandhi Series and Mahatma Gandhi (New) series by capturing the image of the notes that are placed in front of the mobile camera or scrolled across it. The mobile application should be searchable via voice option in all app stores.
9)
IPPB rolls out Aadhaar-enabled payment services
•India Post Payments Bank (IPPB) rollout of Aadhaar Enabled Payment System Services (AePS). With AePS services, any person with a bank account linked to Aadhaar can perform basic banking services such as cash withdrawals and balance enquiry irrespective of the bank they hold their account with.
•IPPB has become the single largest platform in the country for providing interoperable banking services to customers of any bank by leveraging the last mile unprecedented reach of the Postal network.