1)
Public Premises (Eviction of Unauthorized Occupants) Amendment Bill, 2019 implemented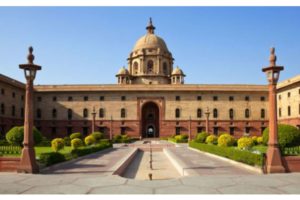 •The Public Premises (Eviction of Unauthorized Occupants) Amendment Bill, 2019 has come into effect. The Bill will facilitate smooth and speedy eviction of unauthorized occupants from Government residential accommodations and ensure retrieval of these residential accommodations from unauthorized occupants. The Act confers powers upon the Estate Officers to evict such unauthorized occupants from public premises in a smooth, speedy and time-bound manner.
•As per the Amendment Act, the Estate officer will issue short Show cause notice of three days before eviction of the unauthorized occupant from Government accommodation.
2)
India's 1st National Antimicrobial Resistance Hub set up in Kolkata
•India's first National Antimicrobial Resistance Hub was recently inaugurated in Kolkata. The Kolkata centre would be the hub for research on antibiotic resistance not only for the country but for the entire South Asia.
•The centre was jointly inaugurated by the ICMR, in association with the U.S. Consulate of Kolkata and the U.S. Department of Health and Human Services.
3)
ECGC launches scheme "Nirvik" to ease the lending process
•Ministry of Commerce & Industry through Export Credit Guarantee Corporation has introduced a new Export Credit Insurance Scheme called NIRVIK. The Niryat Rin Vikash Yojana has been launched to enhance loan availability to exporters and to ease the lending process. Under the new scheme NIRVIK, up to 90 per cent of the principal amount and interest will be covered through insurance.
•During the launch, Commerce Minister Piyush Goyal revealed that Central government will give support of Rs 8,500 crore to Export Credit Guarantee Corporation of India in the next 5 years.
4)
Bangladesh School project wins Aga Khan Architecture Award
•Arcadia Education Project which involves construction of floating school for marginalised children in South Kanarchor of Bangladesh, has been awarded the prestigious Aga Khan Architecture Award 2019. The award ceremony was held in Kazan, republic of Tatarastan.
•The architect of the project Saif Ul Haque designed a school which remains on the ground during dry season and floats when the area is submerged in water during monsoon. He utilised only the local material-bamboo, used tyres and steel drums for constructing the amphibious structure for school.
5)
GSTN makes Aadhaar verification mandatory for new dealers from Jan 2020
•The Goods and Services Tax Network has decided to make Aadhaar authentication or physical verification mandatory for new dealers from January 2020. Those who do not want Aadhaar authentication, physical verification will be carried out, which will be completed in three days.
•The step has been taken to check malpractices in Goods and Services Tax. In the first phase, Aadhaar authentication will be mandatory for new dealers. Afterwards, all those enrolled on GSTN would be asked to provide their Aadhaar numbers.
6)
Trilateral Exercise "SITMEX" Commences at Port Blair
•A maiden trilateral exercise SITMEX, involving Republic of Singapore Navy (RSN), Royal Thailand Navy (RTN) and Indian Navy (IN) started at Port Blair. The exercise aims to bolster the maritime inter-relationships among the Singapore Thailand and India, and contribute significantly to enhance the overall maritime security in the region. This would also strengthen the mutual confidence amongst three navies in terms of interoperability and development of a common understanding of procedures.
7)
Agnes Kharshiing conferred the 11th International Hrant Dink Award
•Meghalaya-based rights activist Agnes Kharshiing, who survived an assault by the coal mafia almost a year ago, received the 11th International Hrant Dink Award. She received the award along with Turkish activist against male violence, Nebahat Akkoc.
•The two activists were presented the award that commemorates the memory of Turkish-Armenian journalist Hrant Dink, who was killed in 2007, in Istanbul. The Hrant Dink Award is presented every year to individuals, organisations or groups that work for a world free from discrimination, racism and violence.
8)
Bangladesh PM receives Dr Kalam Smriti International Excellence Award
•Bangladesh Prime Minister Sheikh Hasina received the Dr Kalam Smriti International Excellence Award 2019 in Dhaka. The award citation lauded Prime Minister Hasina for her vision of a peaceful and prosperous South Asia, free of tension, conflicts and terrorism.
•The award has been instituted in the memory of former President Dr. A.P.J. Abdul Kalam. The award is given every year to honour statesmen or leaders who have shown excellence in respective fields to achieve the best for their countries.
9)
Ramkumar Ramamoorthy appointed as CMD of Cognizant India
•Cognizant Technology Solutions has appointed Ramkumar Ramamoorthy as Chairman and Managing Director of Cognizant India. Ramkumar Ramamoorthy has played a leading role marketing and communications, market research and intelligence, public affairs, and knowledge management in his 21 plus years of experience in the company.