1)
Maharashtra, Haryana Assembly Elections held on 21st October
•Maharashtra and Haryana Assembly (Vidhan Sabha) Election 2019 Date, Scheduled on 21st October, while counting of votes will be held on October 24. Both Maharashtra and Haryana are the first states to go to polls after the Lok Sabha elections earlier this year. With the announcement, the Model Code of Conduct has come into effect in the two states. Maharashtra, which has a total of 288 assembly seats. Whereas, in Haryana has 90 assembly seats.
2)
Ladakhi Shondol dance creates history by entering into Guinness book of World Records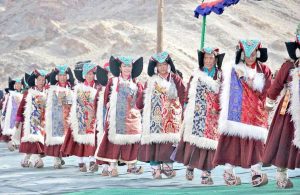 •Shondol dance, which is known as the royal dance of Ladakh, has created history by entering into the Guinness Book of World Records as the largest Ladakhi dance. Shondol is a famous dance, which artistes used to perform for the king of Ladakh.
•The event was held on the concluding day of the ongoing Buddhist carnival Naropa festival near the Hemis Monastery in Ladakh. As many as 408 women attired in traditional dresses and beautiful headgears performed the dance, which broke the previous record of 299 artists dance of Shondol in the 2018 festival.
3)
Kerala Tourism receives three PATA Gold Awards
•Kerala Tourism has won three prestigious Pacific Asia Travel Association (PATA) Gold awards in Nur-Sultan (Astana), Kazakhstan. The awards are given for an ethnic food restaurant run by women at Kumarakom(Kerala) under its Responsible Tourism(RT) mission, the second one for Kerala tourism campaign advertisement 'Come Out and Play' and the third one was for its website www.keralatourism.org. This year(2019), Kerala Tourism won the highest number of PATA awards in the South Asia region.
4)
Zoya Akhtar's 'Gully Boy' India's official entry to Oscars 2020
•The Film Federation of India (FFI) has chosen 'Gully Boy' as India's official entry to the Oscars. "Gully Boy", produced by Ritesh Sidhwani and Farhan Akhtar and directed by Zoya Akhtar', featured Ranveer as an up-and-coming rapper who sets out to achieve his dream by rhyming about his life on the Mumbai streets. Assamese film "Village Rockstars", directed by Rima Das, was India's official submission to the Oscars last year.
5)
Actor Govinda appointed as the brand ambassador of Madhya Pradesh
•Madhya Pradesh government will appoint filmstar Govinda as brand ambassador to promote the state's traditions and tourist places. It is Kamal Nath government's intention that the message about the state's traditions and tourist destinations should reach the masses. The government also has plans to set up a film city in the state and plans to promote Madhya Pradesh as a destination for film making.
6)
Divij Sharan bags St. Petersburg Open doubles title
•Indian tennis player Divij Sharan clinched the men's doubles title in ATP Tour tennis tournament in St. Petersburg, Russia. Divij Sharan Open with partner Igor Zelenay, defeating Matteo Berrettini and Simone Bolelli 6-3, 3-6, 10-8.