1)
World Teachers' Day: 5 October
•World Teachers' Day or International Teachers' Days is celebrated on October 5. The aim of World Teacher'ss Day is to acknowledge the significant role of educators across the world. It commemorates the anniversary of the adoption of UNESCO's 1966 recommendation concerning the status of teachers.
•This year's theme: 'Young Teachers: The future of the Profession'.
•The UNESCO adopted the recommendation concerning the Status of Higher-Education Teaching Personnel in 1997 to complement the 1966 recommendation by covering teaching and research personnel in higher education. UNESCO's recommendation sets benchmarks regarding the rights and responsibilities of teachers and standards for their initial preparation and further education, recruitment, employment, and teaching and learning conditions.
2)
Goa Maritime Conclave 2019 inaugurated
•The Goa Maritime Conclave (GMC)-2019 was inaugurated by the National Security Advisor, Shri Ajit Kumar Doval, at Goa. This conclave was conducted by the Naval War College. The subjects of the conclave are Opportunities and Challenges in the Indian Ocean Region, Forging Common Maritime Priorities, Regional Constructs and Strategies in the region.
•The theme for the conclave is "Common Maritime Priorities in IOR and need for Regional Maritime Strategy".
3)
HP Chief Minister Jai Ram Thakur launched the Pragati Rath of the HDFC bank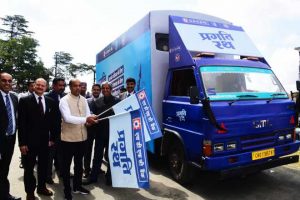 •Himachal Pradesh Chief Minister Jai Ram Thakur launched the Pragati Rath of the HDFC bank. Pragati Rath will provide financial and digital literacy to the people during a month-long initiative by moving to different parts of Himachal Pradesh. During the launching occasion, the bank provided a cheque Rs.1 crore to the Chief Minister's Relief Fund. The bank has also announced that it is to launch the Sustainable Livelihood Initiative in the State.
4)
Chief Minister of Andhra Pradesh launches 'YSR Vahana Mitra'
•Chief Minister of Andhra Pradesh Y.S. Jagan Mohan Reddy will launch the "YSR Vahana Mitra scheme" in Eluru, Andhra Pradesh. Under which the government will provide financial assistance of Rs 10,000 per annum to owner-driver of an auto-rickshaw, or taxicab with the aim to meet their insurance premium, licence fee and other recurring expenses.
5)
President Kovind appoints Chief Justices to 7 high courts
•President Ramnath Kovind appoints Chief Justices to seven high courts. Those chief justices have been appointed to Kerala, Andhra Pradesh, Punjab and Haryana, Gauhati, Rajasthan, Himachal Pradesh and Sikkim High Courts
| | |
| --- | --- |
| | |
| | Himachal Pradesh High Court |
| | Punjab and Haryana High Court |
| | |
| | Andhra Pradesh High Court |
| | |
| | |
| | |
6)
India's first floating basketball court opens in Arabian Sea, Mumbai
•The National Basketball Association (NBA) brought to India the first-ever Floating Basketball Court in the Arabian Sea in Mumbai, Maharashtra.
•NBA India on December 20, 2018, had announced that the first-ever NBA game in the country would be organized on October 4 and 5 in Mumbai. The NBA India Games 2019 will feature the Sacramento Kings and Indiana Pacers, who will play two pre-season games on October 4 and 5.