1)
World Statistics Day: 20 October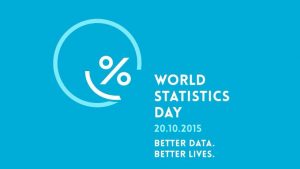 •World Statistics Day is observed on October 20, once every 5 years. The next World statistics Day celebrates on 20 October 2020. The day acknowledges the fundamental importance of sustainable national statistical capacity. This year World Statistics day theme is "Better Data, Better Lives".
•The first World Statistics Day was celebrated in 2010, as decided in resolution 64/267, and was deemed an overwhelming success, with activities organized in more than 130 Member States and by at least 40 international and regional organizations and entities.
2)
Col. Chewang Rinchen Setu inaugurated in Ladakh
•Defence Minister Rajnath Singh inaugurated Col. Chewang Rinchen Setu (Bridge) which has been constructed at an altitude of 14,650 feet in the forward area of Ladakh region. It is named in honour of Colonel Chewang Rinchen who was one of the highly decorated officers in Indian Army from Ladakh. He was also a Maha Vir Chakara awardee (1952).
•The Bridge, which is 1400 feet span, is constructed by the Border Road Organization. According to BRO, micropile technology was used during the foundation of the bridge to overcome the technological challenges in this remote area of Ladakh. The construction of the Bridge was completed within 15 working months using 6900 cubic meters of concrete and 1984 metric tons of steel.
3)
Sri Lanka has removed from FATF's Grey List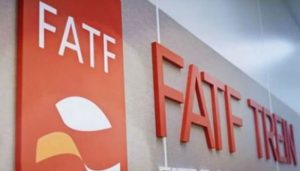 •Sri Lanka has been removed from the "Grey List" of the international terror financing watchdog FATF. The Financial Action Task Force (FATF), whose five-day plenary concluded in Paris, France stated that Sri Lanka made significant progress in addressing the strategic AML/CFT deficiencies identified earlier.
•In October 2016, the FATF announced that Sri Lanka will be subjected to a review of the International Cooperation Review Group (ICRG) of the terror financing watchdog to assess the progress of AML/CFT effectiveness in the country.
4)
IIT Kharagpur graduate develops unique device "PM 2.5" to curb vehicular air-pollution
•IIT Kharagpur graduate Debayan Saha has invented a device called "PM 2.5" which he claimed when fitted near the silencer pipe in vehicles will curb air pollution. The technology developed by uses a combination of electric energy and wave energy to influence the pollutants like PM 2.5 such that they act like a magnet attracting other particulate pollutants from the ambient atmosphere to get attached to it. This device can neutralise the pollution emitted from 10 cars in its vicinity.
5)
India-Myanmar Naval Exercise: IMNEX-2019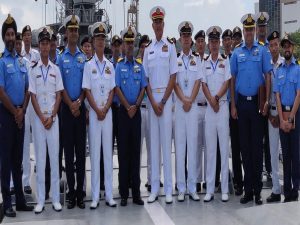 •The India-Myanmar Naval Exercise called IMNEX-2019 is being organised in Visakhapatnam, Andhra Pradesh. The opening ceremony of the second edition of Indo-Myanmar joint naval exercise was conducted onboard INS Ranvijay. Myanmar naval ships UMS Sin Phyu Shin (F-14) and UMS Tabinshweti (773) arrived at Visakhapatnam. The exercise would be conducted in two phases: Harbour phase and Sea Phase.
•The joint exercise will encompass a variety of operations including anti-air and surface firing exercises, flying exercises using integral helicopter and seamanship evolutions at sea.
6)
PM Modi releases book titled 'Bridgital Nation'
•Prime Minister Narendra Modi unveiled a book titled 'Bridgital Nation' in New Delhi. The book has been authored by N Chandrasekaran, Chairman, Tata Sons and Roopa Purushothaman Eminent industrialist. He presented books' first copy to eminent industrialist and philanthropist Ratan Tata.
•The book presents a powerful vision of the future where technology and human beings co-exist in a mutually beneficial ecosystem. The cutting edge digital tools can act as a bridge between aspirations and achievements – hence the term 'bridgital'.
7)
Vice President M Venkaiah Naidu presents Most Eminent Senior Citizen Award to K Parasaran
•The Vice President Shri Venkaiyah Naidu presented the "Most Eminent Senior Citizen Award" to the scholar, legal luminary and former Attorney General of India K Parasaran. He was honoured with the award on the occasion of Elder's Day celebration organized by Age Care India. He was awarded Padma Bhushan in 2003 and Padma Vibhushan in 2011.
8)
Sudarshan Chakra Vahini War exercise begins in Jaisalmer
•Two-day long manoeuvres by Sudarshan Chakra Vahini of Indian Army Started at Jaisalmer, field firing range in Rajasthan. In this war exercise, the army is going to exhibit its strength regarding Agni Missile and artillery.
•Artillery, Arms and mechanized forces, Army air defence and helicopters of army aviation are participating in this exercise to test mutual coordination. Endogenously manufactured light helicopter Rudra and self-propelled artillery gun system K-9 vajra are also taking part in this exercise.
9)
Upender Singh Rawat elected as the next Ambassador of India to the Republic of Nicaragua
•The Ministry of External Affairs appoints Upender Singh Rawat (IFS: 1998), Ambassador of India designate to the Republic of Panama will be concurrently accredited as the next Ambassador of India to the Republic of Nicaragua. He will replace Yogeshwar Varma.
10)
SBI chairman Rajnish Kumar elected as the new chairman of IBA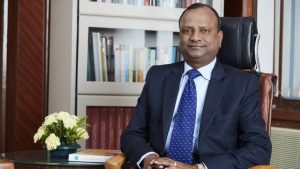 •SBI chairman Rajnish Kumar has been appointed as the new chairman of Indian Banks' Association. He will succeed Sunil Mehta, who was the MD & CEO of Punjab National Bank. The MD & CEO of IDBI Bank Rakesh Sharma will be honorary secretary of IBA for 2019-20.