1)
Justice Sharad Arvind Bobde Appointed as 47th Chief Justice of India
•Justice Sharad Arvind Bobde was appointed as the 47th Chief Justice of India. Justice Bobde will take oath as the CJI on November 18th, a day after incumbent Ranjan Gogoi demits office. He will have a tenure of 17 months and would demit office on 23rd April 2021.
•A judge since 2000, Justice Bobde joined the Bombay High Court as an additional judge. He was appointed as the chief justice of the Madhya Pradesh High Court on October 2012. In April 2013, he was elevated to the Supreme Court.
2)
President confers first National CSR Awards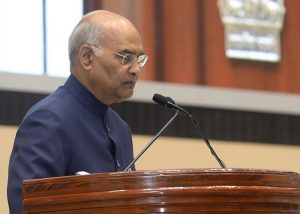 •President Ram Nath Kovind conferred the first National Corporate Social Responsibility Awards to the companies for their outstanding contribution in the area of Corporate Social Responsibility (CSR). The first National CSR Awards ceremony in New Delhi. The CSR provisions under the Companies Act, 2013 came into force from April 1, 2014.
3)
RBI Fined Rs 35 lakh penalty on Tamilnad Mercantile Bank
•The Reserve Bank has imposed a penalty of Rs 35 lakh on Tamilnad Mercantile Bank for violating norms on fraud classification and notification. It stated that the bank has been penalized for non-compliance with certain provisions of directions issued by RBI on fraud classification and reporting by commercial banks and select FIs directions 2016.