1)
'Aarambh', common foundation course for IAS probationers held in Statue of Unity
•The Centre's first-ever common foundation course "Aarambh" (Beginning) for 2019 batch probationer civil servants has begun at the Statue of Unity in Kevadia, Gujarat. There are around 500 newly recruited bureaucrats are undergoing six-day training. The theme this year is 'How to achieve the goal of making India a 5 trillion dollar economy'.
2)
Odisha govt inks LoU for 'drink from tap mission' with UNICEF
•Odisha has inked a Letter of Understanding (LoU) on "drink from tap mission" with the United Nations Children's Fund (UNICEF). The main objective of the mission is to provide piped quality drinking water supply to each household on a 24-hour basis. UNICEF will provide technical cooperation to the government of Odisha. The community-based water management system will be adopted at ward-level and in the first phase 1.20 lakh people will be the beneficiaries.
3)
CM Patnaik launches 'Odisha Mo Parivar' programme
•Chief Minister of Odisha Naveen Patnaik launched "Odisha Mo Parivar" (Odisha, My Family) programme. It is a social service initiative aimed at encouraging environment protection, blood donation and the welfare of Odias in distress.
4)
9th edition of Bangladesh-India Friendship Dialogue
•The 9th edition of Bangladesh-India Friendship Dialogue will be held at Cox Bazar in Bangladesh from November 1, 2019. The dialogue aims to draw from learning and experiences in these sectors between India and Bangladesh. The two-day dialogue will cover a wide range of issues like trade and investment, connectivity, technology, energy, regional security, extremism, and sustainable development among others.
•The event will be organized jointly by the India Foundation and Bangladesh Foundation for Regional Studies.
5)
Finance Minister releases Commemorative Coin on Paramahansa Yogananda
•The Union Minister for Finance & Corporate Affairs Nirmala Sitharaman has released a special commemorative coin on Paramahansa Yogananda. The coin has been released to mark Paramahansa Yogananda's 125th birth anniversary.
•Paramahansa Yogananda is known as the Father of Yoga in the West. He was the founder of two organisations: Yogoda Satsanga Society of India and Self-Realisation Fellowship, belongs to the line of gurus whose message is universal transcending nations and religions.
6)
G C Murmu and R K Mathur appointed as new Lt Governors of J&K and Ladakh respectively
•The Union Government has appointed former Indian Administrative Service (IAS) officers Girish Chandra Murmu and Radha Krishna Mathur as the first Lieutenant (Lt) Governors of Jammu and Kashmir (J&K) and Ladakh respectively. These newly appointed governors succeed Satya Pal Malik. These Union Territories will come into existence on October 31, 2019.
•Satya Pal Malik has been transferred and appointed as Governor of Goa, succeeding Mridula Sinha. Bharatiya Janata Party (BJP) Kerala state president P S Sreedharan Pillai was appointed as the 15th governor of Mizoram succeeding Jagdish Mukhi.
7)
Birender Singh Yadav to be next Ambassador of India to the Republic of Iraq
•Birender Singh Yadav has been appointed as the next Ambassador of India to the Republic of Iraq. The 1997 batch Indian Foreign Service (IFS) officer, Birender Singh replaced Pradeep Singh Rajpurohit as the ambassador.
8)
Nirmal Purja climbs world's 14 highest peaks in record-breaking 189 days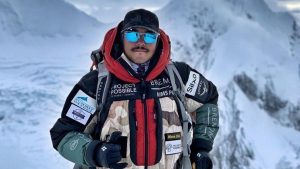 •The mountaineer from Nepal, Nirmal Purja, created a new speed record by climbing the world's 14 highest peaks over 8,000 metres (26,250 feet) in just 189 days. The 14th peak which he climbed was Shishapangma, located at Nyalam County, China. The other 13 peaks are Annapurna, Dhaulagiri, Kanchenjunga, Everest, Lhotse, Makalu, Nanga Parbat, Gasherbrum I, Gasherbrum II, K2, Broad Peak, Cho Oyu and Manaslu.
9)
Facebook launches healthcare tool for check-up reminders
•Facebook has unveiled a 'Preventive Health' tool that connects people to health resources and sends check-up reminders. Facebook has launched the tool in the United States. The tool is designed to help users of the social networking giant to find affordable places to receive care, set reminders to schedule tests and mark when tests are completed. The recommendations to the users will be provided on the basis on their age and sex.
•The resources available in the tool are provided by the American Cancer Society, the American College of Cardiology, the American Heart Association and the Centres for Disease Control and Prevention.
10)
Lewis Hamilton wins Mexico Grand Prix 2019
•Mercedes' driver and 5-time world champion Lewis Hamilton clinched his 10th win of the season for Mercedes at the Mexican Grand Prix 2019. Ferrari's Sebastian Vettel, a German racing driver, and Mercedes' Valtteri Bottas, a Finnish racing driver, finished second and third respectively.