1)
PM Modi inaugurates 5th India International Science Festival
•Prime Minister Narendra Modi inaugurates 5th India International Science Festival (IISF) at Biswa Bangla Convention Centre, Kolkata through video conferencing. The theme of the festival is "RISEN: Research, Innovation and Science Empowering the Nation" reflects the aspirations of 21st century India. The aims of IISF is to build a strategy for inclusive advancement of Science and Technology.
•The India International Science Festival (IISF) was launched in 2015 to promote Science and Technology. The goal of the Science festivity is to help youth, develop 21st-century skills, with a focus on scientific knowledge, creativity, critical thinking, problem-solving, and teamwork.
2)
Agriculture Minister releases 5th edition of Wastelands Atlas 2019
•Agriculture Minister Narendra Singh Tomar released the 5th edition of Wastelands Atlas 2019. The Atlas, published jointly by Department of Land Resources and National Remote Sensing Centre, provides robust geospatial information on wasteland.
•It is helpful in rolling back the wastelands for productive use through various land development programmes and schemes. Wastelands Atlas-2019 also provides State and district wise distribution of different categories of wastelands area in the country and will be helpful in addressing land degradation.
3)
Union Home Minister inaugurates SCO joint exercise on urban earthquake search, rescue
•Union Home Minister inaugurated the Shanghai Cooperation Organisation (SCO) joint exercise on urban earthquake search and rescue 2019 at the Ambedkar International Center in New Delhi. The 4-day exercise is being hosted by the National Disaster Response Force (NDRF) to rehearse disaster response mechanisms and share knowledge, experience, and technology. The main focus of the joint exercise will be to test the region's preparedness to activate intergovernmental interaction for an immediate response.
4)
China launches Sudan's first ever satellite "SRSS-1"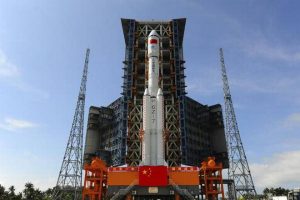 •Sudan's first-ever satellite for conducting research in military, economic and space technology has been launched by China. Sudan's remote-sensing satellite (SRSS-1), was developed by the Shenzhen Aerospace Oriental Red Sea Satellite Co. The satellite was launched aboard China's Long March-4B rocket along with other Chinese satellites including Gaofen 7, Xiaoxiang-1 08, Whampoa 1 from the Taiyuan Satellite Launch Center in northern China.
•The Sudanese satellite has been mainly designed for civil and military remote sensing over Sudan. The remote-sensing satellite aims to advance research in space technology. Its main objective is to acquire the required data as well as discover natural resources for the country's military needs. The satellite aims to generate a comprehensive, cost-effective and reliable database on the topographic, mapping and natural resources of Sudan.
5)
Shripad Naik inaugurates DRDO's Igniter Complex at HEMRL, Pune
•Union Minister of State for Defence Shripad Naik inaugurated the Defence Research & Development Organisation (DRDO) Igniter Complex at High Energy Materials Research Laboratory (HEMRL) in Pune, Maharashtra.
•HEMRL, a premier laboratory of the Defence Research and Development Organisation (DRDO), is primarily engaged in developing rocket and gun propellants, pyrotechnic devices, high-explosive systems and synthesis of high-energy molecules. The laboratory has developed several ignition systems to ensure reliable initiation of rocket motors of various tactical as well as strategic missiles.
•The ignition system for Agni, Prithvi, Akash, Nag, Pinaka, Long RangeSurface-to-Air Missile (LRSAM), etc. have been designed and developed in HEMRL. Technology for AKASH, Nag missiles and Pinaka Mk-I Rocket has been transferred to Ordnance Factory, Dehu Road, Pune and private industries.
6)
Vice President releases monograph of 'Musical Excellence of Mridangam' in Chennai
•Vice-President M. Venkaiah Naidu released a monograph, 'Musical Excellence of Mridangam', a rare fusion of art and science of an ancient South Indian instrument on the CSIR-Central Leather Research Institute (CLRI) campus in Chennai, Tamil Nadu.
•The book, an outcome of research and development on standardisation of fabrication, tonal characterisation and new innovations in the design of the percussion instrument, was authored by mridangam maestro and Padma Vibhushan awardee Umayalpuram K. Sivaraman and former scientists T. Ramasami (former Secretary of the Department of Science and Technology) and M.D. Naresh.
7)
Biggest US-Bangladesh Navy exercise starts in Chattogram, Bangladesh
•The second phase of the biggest US- Bangladesh Navy exercise named 'Cooperation Afloat Readiness and Training (CARAT)- 2019' started in Chattogram, Bangladesh. CARAT is one of the U.S. Navy's longest continually running exercise in South Asia and Southeast Asia. The exercise provides an opportunity to gain a better understanding of the operational activities of the Navies of two countries and to get acquainted with advanced technology through various theoretical and practical training.
8)
MSDE, IBM jointly launch SkillsBuild platform
•The Ministry of Skill Development & Entrepreneurship (MSDE) launched the SkillsBuild platform in collaboration with IBM. As part of the programme, a two-year advanced diploma in IT, networking and cloud computing, co-created and designed by IBM, will be offered at the Industrial Training Institutes (ITIs) & National Skill Training Institutes (NSTIs). The platform will be extended to train ITI & NSTI faculty on building skills in Artificial Intelligence (AI).
•The digital platform will provide a personal assessment of the cognitive capabilities and personality via MyInnerGenius to the students. They will then learn foundational knowledge about digital technologies, as well as professional skills such as resume-writing, problem solving and communication. Students will also receive recommendations on role-based education for specific jobs that include technical and professional learning.
9)
Harsh Vardhan inaugurates global Mega Science Exhibition 'Vigyan Samagam'
•Union Minister of Science & Technology and Minister of Earth Science has inaugurated India's 1-ever multi-venue Mega science exhibition, 'Vigyan Samagam 2019', in Kolkata, West Bengal.
•The exhibition organized by Department of Atomic Energy (DAE), Department of Science and Technology (DST), and the National Council of Science Museums(NCSM), Ministry of Culture, the exhibition will be open till December 31, 2019 for public display and will showcase the world from micro to macro, unveiling the efforts of the international community in understanding the Universe.
10)
Serbia's Sara Damnjanovic wins "Miss Asia Global title 2019"
•The 5th Edition of 'Miss Asia Global Title 2019' was organized at Gokulam Convention centre in Kochi, Kerala. Sara Damnjanovic from Serbia has been crowned 'Miss Asia Global 2019'. The title is given to the winner from the Asian region. Nguyen Thi Yen Trang from Vietnam was awarded the Miss Asia title given to the winner from the rest of the world. Samiksha Singh from India won the sub-title of 'Miss Beautiful Face' Title. The Next 'Miss Asia Global Title 2020' will be held in Malaysia.