1)
Central Govt extends deadline for FASTags to 15th December
•The Transport Ministry has extended the 01st December deadline for 100% electronic toll collection across National Highways in the country by two weeks (15th December). This comes as the government wants to allow a 15 days' breather for vehicle owners to switch to FASTags.
•FASTag is a sticker that has to be put at the front windshield of your vehicle. This sticker becomes the radio frequency identity of your car which is automatically read by the sensors placed at the toll plazas.
2)
India's GDP growth further dips to 4.5% in July-Sept
•India's GDP growth hit an over six-year low of 4.5 percent in July-September 2019, dragged mainly by the deceleration in manufacturing output and subdued farm sector activity. The Gross Domestic Product (GDP) growth was recorded at 7 percent in the corresponding quarter of FY 2018-19. In the previous quarter of the ongoing fiscal, economic growth was 5 percent.
•This GDP growth data for the September 2019 quarter is the lowest since January-March of 2012-13 when it was registered at 4.3 percent.
3)
Former PM of Japan, Yasuhiro Nakasone Passed Away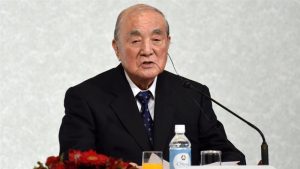 •Yasuhiro Nakasone, one of Japan's longest-reigning Prime Ministers and known for his friendship with Ronald Reagan, has passed away at the age of 101. Nakasone, Prime Minister from 1982 to 1987, shared the world stage with Reagan and Margaret Thatcher while battling with bureaucrats over domestic reforms.
•In 1983, he became the first Japanese premier to officially visit South Korea, mending fences with a country that Japan had brutally colonized from 1910 to 1945.
4)
RBI Imposes Rs 1.50 crore penalty on Corporation Bank
•The Reserve Bank of India (RBI) has imposed a monetary penalty of Rs. 1.50 crore on Corporation Bank for non-compliance with certain provisions of directions issued by RBI. The penalty has been imposed in the exercise of powers vested in the RBI under the provisions of Section 47 A (1) (c) read with Section 46 (4) (i) and 51 (1) of the Banking Regulation Act, 1949. This action is based on the deficiencies in regulatory compliance and is not intended to pronounce upon the validity of any transaction or agreement entered into by the bank with its customers.
5)
Australian Steve Smith becomes fastest Cricketer to reach 7,000 Test runs
•Steve Smith became the fastest cricketer to score 7,000 Test runs, shattering a record that had stood since 1946, while moving past Donald Bradman to become Australia's 11th highest scorer. The 30-year-old took a single off Muhammad Musa during the second Test against Pakistan in Adelaide to reach the milestone and take possession of a record held for 73 years by English great Wally Hammond.
•Hammond reached the mark in 131 innings, while Smith, who played his first Test nine years ago, made the grade in his 126th. India's Virender Sehwag is the third fastest in 134 innings.