1)
PM Modi addresses ASSOCHAM Annual Conference
•Prime Minister Narendra Modi addresses Associated Chambers of Commerce and Industry of India (ASSOCHAM) annual conference in Delhi. The theme of the event was 'New India Aspiring for a USD 5 trillion economy'. The event was organised on the completion of 100 years of ASSOCHAM.
2)
Indian-American computer scientist to lead National Science Foundation in USA
•US President Donald Trump has picked Indian-American computer scientist Sethuraman Panchanathan to lead the prestigious National Science Foundation (NSF) in USA. The NSF is a US government agency that supports fundamental research and education in all the non-medical fields of science and engineering. Panchanathan would succeed France Cordova when her six-year term as the NSF Director ends in 2020.
•Panchanathan is currently the Executive Vice President and the Chief Research and Innovation Officer at Arizona State University. He is also the Founding Director of the Centre for Cognitive Ubiquitous Computing at the ASU.
3)
Ethiopia launched its first space satellite
•Ethiopia launched its first satellite, a landmark achievement for the country's space program that caps a banner year for the African space industry. The launch of the Ethiopian Remote Sensing Satellite (ETRSS) took place at a space station in China. The launch makes Ethiopia the 11th African country to put a satellite into space. Egypt was the first in 1998.
•Data provided by Ethiopia's satellite is expected to paint a fuller picture of the country's agriculture, forestry and mining resources and improve responses to flooding and other disasters.
4)
5th Edition of ARTECH to be held in New Delhi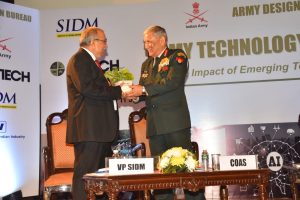 •The 5th edition of ARTECH is being organised by Indian Army on 'Technologies for Non-Contact Warfare' which will be organised on 23 December 2019 at Manekshaw Centre, Delhi Cantonment. The seminar is the flagship event of the Indian Army which sets the agenda for focus areas of harvesting indigenous capabilities in the Defence sector.
•ARTECH Seminar was launched in 2016 as part of the overall vision of 'Make in India' of Hon'ble Prime Minister and is conducted every year as part of events leading to Army Day celebrations.
•ARTECH platform provides an opportunity to practitioners of military operations, policymakers in Ministry of Defence, industry and academia to put forth their contemporary Defence-related capabilities. It is also a forum for innovators in uniform to showcase their products and offer these to industry to refine & productions.
5)
Google searches for 'Operation Twist' surge in India
•Google searches for "Operation Twist" surged in India after the central bank announced its version of the U.S. Federal Reserve's unconventional monetary policy. Most searches for the term came from Delhi followed by Maharashtra. The central bank will buy long-term bonds, while simultaneously selling short-term government securities in an effort to cheapen long-term borrowing and boost bank lending.
•The Reserve Bank of India will buy longer-tenor bonds while selling shorter debt. The concept is similar to Operation Twist used by the Fed in 2011-2012 in an effort to cheapen long-term borrowing and spur bank lending.
6)
ICC continues partnership with UNICEF for Women's World T20
•The International Cricket Council (ICC) has announced that it has extended its partnership with UNICEF through to the Women's T20 World Cup 2020 with the focus on empowering women and girls through cricket. The partnership and public donations continue to bring positive change to children through the programs in cricket playing nations focused on empowering women and girls in cricket.
•The money raised during the Women's World T20 will go to similar projects in cricket playing nations, including an innovative program to promote girls" participation in cricket in Sri Lanka and build peace in communities.
•The ICC and UNICEF partnership commenced in 2015, as part of the ICC"s global community outreach program "Cricket 4 Good". During the Men's 50-over World Cup held in England and Wales earlier this summer, UNICEF raised $180,000 as part of 'One Day 4 Children' and this money will go directly to fund a girls' cricket project in Afghanistan.
7)
Mirabai Chanu wins Gold in 6th Qatar International Cup
•Indian weightlifter Mirabai Chanu won the women's 49kg category gold medal to open India's account at the 6th Qatar International Cup in Doha. She bagged gold with an effort of 194kg in the Olympic qualifying event, with the points which will come in handy when the final rankings for Tokyo 2020 cut are done. She lifted 83kg in snatch and 111kg in clean and jerk to finish on top of the podium.
8)
Belgium crowned FIFA Team of the Year
•Belgium has been crowned FIFA 'Team of the Year' for the second successive time after a record-breaking year for the global ladder. World champions France remains in the second place ahead of Brazil in third. Besides accumulating the biggest points haul, Qatar has also jumped a year-high 38 places, followed closely by fellow climbers Algeria (up 32 ranks) and Japan (up 22 places).