1)
National Farmers Day: 23 December
•Kisan Diwas or National Farmers' Day is observed across India on December 23. The day honours Chaudhary Charan Singh, the 5th Prime Minister of India whose was born on this day. It was in the year 2001, the Government of India decided to observe December 23 every year as Kisan Diwas. Kisan Diwas is being celebrated every year to promote awareness among people about the importance of the farmers to the society and overall economic and social development of the country.
•Chaudhary Charan Singh introduced a slew of policies to improve the lives and conditions of farmers in the country. He also played a leading role in the agricultural sector of the country by introducing bills for farmers' reforms.
2)
Prez Kovind releases mobile app of Red Cross Society of India
•President Ram Nath Kovind released the mobile app of the Red Cross Society of India in Hyderabad. This app is developed by the Telangana Centre for Good Governance in less than three months, the mobile app is accessible in all languages. The developers informed that the access to blood bank and Red Cross membership will become easy with the launching of the mobile app.
3)
Urban India declared Open defecation free
•Swachh Bharat Mission-Urban has achieved its target of creating Urban India Open Defecation Free. Urban areas of 35 states and Union Territories have become ODF. In all, 4,320 cities out of 4,372 have declared themselves ODF, of which 4,167 cities have been certified through third-party verification.
•This has been achieved by the construction of nearly 65.81 lakh individual household toilets against Mission target of 59 lakhs and 5.89 lakh seats of public toilets against Mission target of 5.08 lakh seats.
4)
Rajasthan government starts its first Janta Clinic
•Rajasthan Chief Minister inaugurated its first "Janta clinic" at in the Malviya Nagar area of Jaipur. This clinic open to provide free primary health care to people living in slums. In its first phase, 12 Janta Clinics will be opened in Jaipur where people would get free medicines and free medical examination in some cases. Later, in the second and third phases of this scheme, Janta Clinics will be opened in other areas.
5)
Andhra Pradesh CM launched 'Netanna Nestham' welfare scheme for weavers
•Andhra Pradesh chief minister YS Jaganmohan Reddy launched the 'YSR Nethanna Nestham' scheme at Dharmavaram in Anantapur district. Under the scheme, the state government of Andhra Pradesh will provide financial assistance of Rs 24,000 annually to handloom weavers across the state.
6)
'Oxygen Parlour' at Nashik Railway Station to combat air pollution
•In a unique initiative to battle rising air pollution in cities, an 'Oxygen Parlour' has been opened at Nashik railway station to provide an experience of breathing clean air to the commuters. The initiative comes with the efforts of Airo Guard in collaboration with the Indian Railways.
•The concept of Oxygen Parlour is based on the recommendation of the National Aeronautics and Space Administration (NASA). There are around 1500 plants here, so, these plants can directly and effectively bring down the pollution in the air at the railway station and allow the people to breathe cleaner air.
7)
India test fires QRSAM System
•Quick Reaction Surface to Air Missile (QRSAM) system developed by Defence Research and Development Organisation (DRDO) was successfully flight-tested from Integrated Test Range, Chandipur off the Odisha coast. The missile was flight-tested with the full configuration in deployment mode intercepting the target mid-air, meeting the mission objectives. With this mission, the developmental trials of the weapon system are successfully completed and the weapon system is expected to be ready for induction by 2021.
•The QRSAM weapon system, which operates on the move, comprises of fully automated Command and Control System, Active Array Battery Surveillance Radar, Active Array Battery Multifunction Radar and Launcher.
8)
Indian Coast Guard conducts 'Swachchh Samundra NW-2019'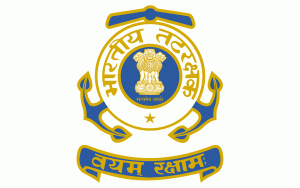 •The Indian Coast Guard (ICG) conducted a two-day regional level pollution response exercise named 'Swachchh Samundra NW-2019' at sea off Vadinar in Gulf of Kutch. The exercise was conducted to validate and reinforce the response mechanism for oil pollution incidents and enable the Indian Coast Guard to fine-tune the actions required in such eventualities. The exercise was conducted in two phases. The Gulf of Kutch (GoK) region handles 70 per cent of the oil imported by India and 11 Single Point Moorings (SPMs) out of total 27 SPM.
9)
India world's 3rd largest producer of Scientific Articles
•India has emerged as the world's third-largest publisher of science and engineering articles, according to a latest US report. In 2008, India published 48,998 science and engineering articles. This increased to 1,35,788 articles in 2018 and the country now accounts for 5.31 per cent of the total world publications in science and engineering.
•China, which accounts for 20.67 per cent of all global publications in scientific articles, is at the top position, followed by the US at 16.54 per cent, as per the statistics compiled by the US National Science Foundation (NSF).
10)
Harsh Vardhan Shringla appointed new Foreign Secretary
•Senior diplomat Harsh Vardhan Shringla, India's Ambassador to the US, has been appointed as the new Foreign Secretary. He is a 1984-batch officer of the Indian Foreign Service. He will take over the charge of the foreign secretary on January 29 from incumbent Vijay Gokhale. The appointment has been cleared by the Appointments Committee of the Cabinet headed by Prime Minister Narendra Modi.
11)
Sangita Reddy appointed as the President of FICCI for 2019-20
•Sangita Reddy, Joint Managing Director, Apollo Hospitals Group, has taken over as the President of the Federation of Indian Chambers of Commerce & Industry (FICCI) for 2019-20. She succeeds Sandip Somany, Vice-Chairman and Managing Director, HSIL.
•President of The Walt Disney Company APAC & Chairman of Star & Disney India, Uday Shankar has been elevated as Senior Vice President of FICCI. Similarly, Chairman and Managing Director (CMD) of Hindustan Unilever Limited (HUL), Sanjiv Mehta was appointed as the Vice President of FICCI.
12)
WHO 1st time approved Biosimilar of "Trastuzumab" for breast cancer treatment
•The World Health Organization (WHO) announced that for the 1st time it had approved a "biosimilar" medicine of Trastuzumab named "Ontruzant" to make cheaper breast cancer treatment at an affordable rate to women globally. The medicine is derived from living sources rather than chemicals. The biosimilar medicine of the Trastuzumab drug was supplied by Samsung Bioepis co Ltd.