1)
National Consumer Day: 24th December
•Every Year 24th December is observed as National Consumer Day with a specific theme in India. The theme of this year is " alternate consumer grievance/dispute redressal". The objective is to highlight the importance of the consumer movement and the need to make every consumer more aware of their rights and responsibilities.
•On this day the Consumer Protection Act, 1986 was enacted. The Act aims to provide consumers with effective safeguards against different types of exploitation, such as defective goods, deficiency in services and unfair trade practices.
2)
Good Governance Day: 25 December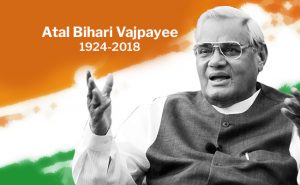 •Good Governance Day is observed in India annually on the 25th of December. In this day nation celebrates the birth anniversary of Bharat Ratna and former-Prime Minister Atal Bihari Vajpayee. Good Governance Day was established in 2014 to honour Prime Minister Vajpayee by fostering awareness among the Indian people of accountability in government. In keeping with this principle, the Good Governance Day has been declared to be a working day for the government.
•Atal Bihari Vajpayee served as the Prime Minister of India for three times. His first term was for only 13 days in 1996. He served his second term for a period of thirteen months from March 1998 to April 1999 and then a full term from 1999 to 2004. His first entry into parliament was in 1962 through the Rajya Sabha. He was elected to the Lok Sabha seven times. In 2015, Mr Vajpayee was conferred the Bharat Ratna, India's highest civilian award.
3)
Rohtang tunnel in Himachal Pradesh named as Atal tunnel
•Prime Minister Narendra Modi named Rohtang passageway in Himachal Pradesh as Atal Tunnel to mark the 95th birth anniversary of former Prime Minister Atal Bihari Vajpayee. The tunnel has been named as a tribute to the former Prime Minister who took the historic decision of constructing this strategic tunnel. It will provide all-weather connectivity to remote areas of Lahaul and Spiti Valley and also reduce the distance between Manali and Leh by 46 Kilometres.
4)
Petroleum Minister unveils India's first long distance CNG bus
•Petroleum and Natural Gas Minister unveiled India's first long-distance CNG bus fitted with CNG cylinders in New Delhi. It can travel around 1000 kilometres in a single fill. The first long-range interstate CNG bus will ply from Delhi to Dehradun. This type of buses will soon ply between Delhi to Jaipur, Chandigarh and Agra. The project has been executed by Indraprastha Gas Limited, the largest CNG distribution company in the country.
5)
Hemant Soren to take oath as Jharkhand CM on Dec 29
•In Jharkhand, Grand Alliance leader Hemant Soren will take oath as Chief Minister on the 29th of this month. He was formally elected the Jharkhand Mukti Morcha (JMM) legislature party leader. He was projected as the chief ministerial candidate by the JMM, Congress and RJD Alliance that gained the majority in the recently concluded Assembly polls.