1)
Women Science Congress begins in Bengaluru
•The Women Science Congress was inaugurated at the ongoing Indian Science Congress in Bengaluru. DRDO Aeronautical Systems Director-General Dr Tessy Thomas who is known as Missile Woman of India graced the occasion as the Chief Guest.
•The women's science congress aims to provide a single platform for women working in different arena of science and technology to showcase their achievements and experiences. It will also prepare a vision document or a road map for women in science and technology and recommend policies to enhance the role and utilize the full potential of women in science and technology. In this session, women are invited to share ideas and experiences to motivate younger women to actively participate in science to identify and find simpler solutions through Science and Technology.
2)
Kolkata Police begins 3rd edition of 'Sukanya' project
•Kolkata Police has started the 3rd edition of 'Sukanya' project. The project aims to provide self-defence training to girls studying in schools and colleges in the city. The third batch of 'Sukanya' started at 100 city-based schools and colleges situated in Kolkata Police jurisdiction. Sukanya project is an initiative of the Kolkata Police's Community Policing Wing to provide self-defence training to girl students of city-based schools, colleges and universities. The initiative is funded by Women and Child Development and Social Welfare Department of the state government.
3)
Neutral pronoun 'they' voted Word of the Decade
•Neutral pronoun 'they' has been voted word of the decade by US language experts. "They" is used in English by a growing number of non-binary individuals, people who do not identify as either male or female. They prefer the plural neutral pronoun to bypass using the pronouns "he" or "she".
•The selection of "they" is an indication that how a personal expression of gender identity has become an increasing part of our shared discourse. The recognition comes after US dictionary Merriam-Webster in December named "they" as word of the year. The American Dialect Society had previously named "they" word of the year in 2015. Other contenders in the decade category included #BlackLivesMatter, #MeToo, climate, emoji, meme, the opioid crisis and woke.
4)
International team of astronomers finds farthest galaxy group EGS77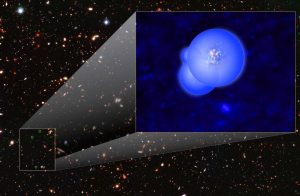 •An international team of astronomers funded in part by NASA has found the farthest galaxy group identified as "EGS77". EGS77, the trio of galaxies dates to a time when the universe was only 680 million years old, or less than 5% of its current age of 13.8 billion years. EGS77 is the farthest group of galaxies to have ever been sighted. EGS77 was discovered as part of the Cosmic Deep And Wide Narrowband (Cosmic DAWN) survey. The team of astronomers was led by an Indian-origin Goa-born scientist, Vithal Tilvi.
•Vithal Tilvi is currently a visiting researcher at the School of Earth & Space Exploration, at the Arizona State University, US.
5)
CSC inks pact with Paytm Payments Bank for sale of FASTags
•Common Service Centres (CSC) e-Governance Services India has signed a memorandum of understanding with Paytm Payments Bank Ltd (PPBL) for sale of FASTags. The agreement will facilitate the sale of PPBL FASTags through the last mile network of 3.6 lakh CSCs, helping realise the government's vision of cashless and smooth transit at all toll plazas across the country.
•FASTags which work on Radio Frequency Identification (RFID) technology have been made mandatory at toll gates on national highways. The FASTag process allows toll payments directly from the prepaid or savings account linked to it, thus doing away with the need for waiting in queues, saving time and fuel.
6)
Saurabh Chaudhary wins gold at 63rd National Shooting C'ship
•Indian shooter Saurabh Chaudhary has won the men's 10 metres air pistol gold medal at the 63rd National Shooting Championship in Bhopal, Madhya Pradesh. Second-placed Sarabjot Singh of Haryana, while world number two Abhishek Verma settled for bronze in a high-quality final. Abhishek and Sarabjot together won the team gold for Haryana. Sarabjot also won the junior men's gold.