1)
Vikram Sarabhai Children Innovation Center to be set up in Gujarat
•The Vikram Sarabhai Children Innovation Center (VSCIC) will be set up in Gujarat. The Vikram Sarabhai Children Innovation Center (VSCIC) will identify, nurture and promote innovative abilities of children in the state. The above announcement was made during the Children's Innovation Festival (CIF) taking place in Gandhinagar, Gujarat. Only School-going children up to 18 years old were allowed to participate in the Children's Innovation Festival (CIF).
•The CIF is being organized by Gujarat University Start-ups and Entrepreneurship Council (GUSEC). GUSEC is an incubation centre created by Gujarat University in collaboration with UNICEF.
2)
Himachal Pradesh Gov. launches "Himachal MyGov" portal & "CM App"
•The Himachal Pradesh Government has introduced a portal "Himachal MyGov" and become 11th state in India to have this facility. The portal aims to boost public participation in the governance process. With the help of portal, public will be able to communicate their views, suggestions, feedback as well discontentment to the state government. This will help the government to formulate policies and programs and make them more effective and result oriented.
•State also launched "CM App" which is a platform through which people of the state can write directly to the Chief Minister regarding their complaints.
3)
4th 'Buxa Bird Festival' kicks off in West Bengal
•The 4th edition of 'Buxa Bird Festival' has started in Buxa National Park in West Bengal's, district Alipurduar. More than 50 birdwatchers from pan India and abroad have registered in the festival. Over 300 rare species including the Sultan Tit, Greater Spotted Eagle and Great Hornbill visit the national park during this festival.
4)
31st International Kite Festival begins in Ahmedabad
•The 31st International Kite Festival has been launched at Sabarmati river front in Ahmedabad, Gujarat. Ahmedabad is hosting this festival since 1989. A large number of kite artists from across the world are participating in the festival to exhibit their skills. The festival is also taking place at nine other places across the state including Statue of Unity-Kevadiya, Surat and Vadodara.
5)
J&K has registered highest IPD care in the country
•Jammu and Kashmir has registered the highest Inpatient Department, IPD care in the country. According to the report released by the National Health Systems Resource Centre (NHSRC), New Delhi. As per the report, the 96% IPD care in rural areas of J&K is provided by Public Health Facilities. This facility is highest against the country's average of 85%.
6)
Indian High Commission organizes "Art Exhibition" in Bangladesh
•The Indian High Commission has organized the "Art Exhibition" in Dhaka, Bangladesh. The "Art Exhibition" has been organized to commemorate the 150th birth anniversary of Mahatma Gandhi. The art exhibition constituted unique photographs of Mahatma Gandhi from his initial days in South Africa to numerous movements he participated in India.
7)
UAE Cabinet validates Multi-entry Tourist Visa valid for 5 years
•The UAE Cabinet has validated the Multi-entry Tourist Visa which would be valid for 5 years. The Multi-entry Tourist Visa facility would be available for all nationalities visiting the UAE. The decision was taken in the UAE's Cabinet meeting which was held at the Presidential Palace in Abu Dhabi. The decision has been made to boost the UAE's tourism economy. It also aims to stabilise UAE's position as a global tourist destination. "Visa waiver" for Mexican citizens visiting the UAE was also introduced during the meeting. The above decisions taken during the meeting will be made effective during the first quarter of 2020.
8)
India and Oman conduct bilateral naval exercise 'Naseem Al Bahr'
•India and Oman will conduct 12th edition of bilateral maritime exercise 'Naseem Al Bahr' in Mormugao Port, Goa. 'Naseem-Al-Bahr' (or sea breeze) is a naval exercise between the Indian Navy and the RNO, being conducted since 1993. Indian Navy ships Beas and Subhadra and Oman Navy ships RNOV Al Rasikh and RNOV Khassab are participating in this exercise.
9)
Indian Navy start 1st 'Maha-Navy Connect 2020'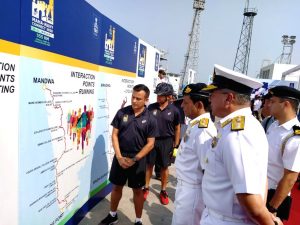 •Indian Navy starts 1st Maha-Navy Connect 2020 Tri-Dimensional Expedition started from Mumbai, Maharashtra. The aim of the expedition is to promote the maritime heritage of India and spread awareness about Coastal Security amongst the coastal communities in Maharashtra. The tri-dimensional expedition consisting of yachting, running and cycling teams of 50 naval personnel. This expedition will cover more than 555kms from Maharashtra's northernmost fort Arnala to its southernmost Sindhudurg fort.
10)
RBI allows to offer 24×7 rupee trading via select banks
•The Reserve Bank of India (RBI) has enabled select banks in India to offer round-the-clock (24×7) trading in the Indian rupee to allow Indians to safeguard their foreign exchange (Forex) risks at any time. The select banks in India offered Indian customers foreign exchange rates only in inter-bank market hours from 9 am – 5 pm. This decision will also make the offshore currency markets in countries like Dubai & Singapore less attractive for Indian investors.
11)
NSO projects India's GDP growth rate for 2019-20 at 5%
•National Statistical Office (NSO) projects India's GDP growth rate for 2019-20 at 5%. The decline has been mainly on account of deceleration in manufacturing sector growth, which is expected to come down to 2 per cent in 2019-20 from 6.2 per cent in the year-ago fiscal. The deceleration was also witnessed in sectors like agriculture, construction and electricity, gas and water supply.
12)
'Karmayoddha Granth': A book on the life of PM Narendra Modi launched
•Union Home Minister released a book 'Karmayoddha Granth' on the life of Prime Minister Narendra Modi. A 'Karmayoddha' is a man with a beating heart for people, a statesman, a hard taskmaster, an able administrator and an ideal leader who leads by example. All these qualities have been personified by Narendra Modi.