1)
World's largest meditation centre inaugurates in Telangana
•World's largest meditation centre was inaugurated at Kanha Shanti Vanam in Hyderabad, Telangana. This centre is built to mark the 75th anniversary of the formation of Shri Ram Chandra Mission (SRCM) and Heartfulness Institute. The meditation centre with a central hall and eight peripheral halls to accommodate 1,00,000 people will offer meditation training free.
2)
SC allows introduction of African cheetah in India
•The Supreme Court allowed the Centre to introduce the African cheetah to suitable habitat in India. The rare Indian cheetah is almost extinct in the country, the National Tiger Conservation Authority (NTCA) had filed an application seeking permission for the introduction of the African cheetah from Namibia. The government's plan is to import the Cheetah from African countries like Namibia and reintroduce them in India.
3)
16th Mumbai International Film Festival begins
•The 16th Mumbai International Film Festival-2020 for Documentary, Short Fiction and Animation films), inaugurated at Nehru Centre Auditorium, Worli, Mumbai. The oldest and largest film festival for non-feature films in South Asia, which began in 1990 is organized by the Films Division, Ministry of Information & Broadcasting, Government of India.
•The festival directorate has received 874 entries, with 144 entries from 24 countries in the International competition and 730 entries in the National competition. Apart from films in various competition categories, best documentary short fiction and animation films produced in India and abroad will be screened under special packages including Jury retrospectives and Oscar films, best of festivals.
•Special packages like European Union films, Irish films, Films from North-East India, Student film packages, Art Sanctuary films, and a retrospective of Satyajit Ray and PSBT are being organized. Animation packages from Russia, Finland and Balkans will also be showcased. There will be a screening of films in Homage section too. A special exhibition on stalwarts like Ram Mohan, V G Samant, Bhimsain Khurana and Manjira Dutta.
4)
EU Parliament approves UK Brexit deal
•The European Union parliament has approved United Kingdom Brexit deal. European Parliament has voted overwhelmingly to approve the Brexit deal with London, clearing the final hurdle for Britain's departure from the EU.
•The vote was 621 to 49 in favour of the Brexit deal that British Prime Minister Boris Johnson negotiated with the other 27 EU leaders. UK will not have any say in policy as it will not be a member of the EU anymore. Britain is the first country to leave the EU.
5)
Nepal creates Guinness World Record for highest altitude fashion show event
•Nepal has created a new Guinness World Record for organizing highest altitude Fashion Show on the earth. The Mount Everest Fashion Runway was held at 5340 meters (17515 feet) elevation at Kala Patthar, near Everest base camp. 18 supermodels from 10 different countries walked the ramp to create history.
•The event was part of Nepal Government's Visit Nepal Year 2020 campaign. The Guinness world record registered the title and awarded a certificate to the organizers including Dr Pankaj Gupta from India and Ms Ramila Nemkul and Mr Riken Maharjan from Nepal.
•The main objective of the fashion show was to create awareness about climate change and also to give a message to the world that Nepal is the destination for all activities. The designs, patterns and apparel used in the fashion show were biodegradable. The models also used probiotic detergent to lessen the carbon footprint.
6)
Assam Rifles builds war memorial in Nagaland
•The Assam Rifles has constructed a combined war memorial in Nagaland. The memorial has been built for the 357 Army and Assam Rifles personnel killed while fighting insurgency in the northeastern state.
•The memorial has been built at Mokokchung, which is also the cultural and intellectual centre of Nagaland. This memorial is the first of its kind in Nagaland, which also has the famous Second World War Cemetery at Kohima. Assam Rifles operate under Home Ministry. Since 2000, they are guarding the Indo-Myanmar Barrier under "one border one force" policy of Government of India.
7)
ICG commissions interceptor boat C-448 in Mangaluru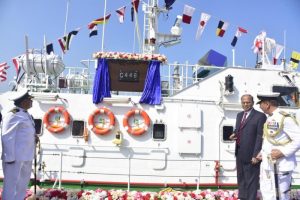 •Indian Coast Guard (ICG) has commissioned a high-speed interceptor boat C-448 in Mangaluru, Karnataka. This interceptor boat built by L&T (Larsen & Toubro) shipyard will have a crew of 12 personnel commanded by Assistant Commandant Apoorva Sharma.
•The boat will be used for patrolling and rescue operations. The boat is equipped with an infrared system for night surveillance can perform high-speed interception, low-intensity maritime operations etc. It has an endurance of 500 nautical miles at 20 knots and can reach a maximum speed of 45 knots.
8)
Indian Navy launches 'Opt Vanilla' on humanitarian mission in Madagascar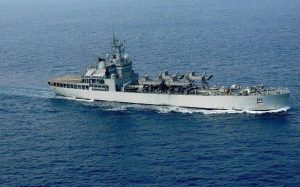 •Indian Navy has launched "Operation Vanilla" to provide humanitarian assistance and disaster relief at Madagascar. 'Operation Vanilla' has been launched to provide assistance to the affected population of Madagascar post devastation caused by Cyclone Diane.
•According to the Indian Navy "INS Airavat, which was mission deployed has been diverted for the same". The Indian Navy Ship is geared to set up medical camp and provide food, water and other necessary relief material.
•The assistance of India to Madagascar is in consonance with the Indian Navy's Foreign Cooperation initiatives in line with the Prime Minister's vision of 'Security and Growth for all in the Region (SAGAR)'. In the Indian Ocean Region, the Indian Navy has been the first responder for Humanitarian and Disaster Relief (HADR).
9)
TERI organized World Sustainable Summit 2020 at New Delhi
•The World Sustainable Summit 2020 is an annual event organized by The Energy and Resources Institute (TERI) at New Delhi. This year theme of the event is: 'Towards 2030: Making the Decade Count'. The Summit includes Sustainable Action Dialogues, Regional dialogues, corporate conclaves, IFAT Delhi 2020 (Exhibition of Clean Technologies), Youth Volunteer Programmes. The event has become a premier international event focusing on developing actions.