1)
MoFPI approves Rs 162 cr under Operation Greens scheme
The Ministry of Food Processing Industries(MoFPI) has approved Rs 162 crore under Operation Green scheme which has an outlay of Rs 500 crore to stabilize the supply of tomato, onion and potato (TOP) crops and to ensure their availability round the year without price volatility. The aim of the scheme is to enhance TOP Crops value chain & promote Farmer Producers Organizations (FPOs), agri-logistics, processing facilities and professional management.
Totally 5 projects have been sanctioned under OG scheme with a total cost of Rs 426(425.83) crore & the grant to be given is Rs 162(161.17) crore. The sanctioned 5 projects are:
•Food Processing Society( Anantapur, Andhra Pradesh)
•Nedspice Dehydration India (Bhavnagar, Gujarat)
•Hindustan Agro Co-op Ltd & Khemanand Dudh & Krishi Producer Company Ltd (Ahmednagar, Maharashtra)
•Banaskantha District Coop Milk Producers Union Ltd (Banaskantha, Gujarat)
The Sanctioned projects will benefit more than 50,000 farmers & create 10,000 jobs, the daily processing capacity of over 3.64 Lakh tonne & storage of over 90,000 will also be created.
2)
Niti Aayog & Nasscom roll out AI modules in schools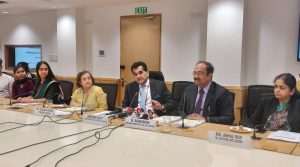 •The National Association of Software and Services Companies (Nasscom), in collaboration with Niti Aayog's Atal Innovation Mission (AIM), launched an artificial intelligence (AI) based module for students of Indian schools.
•The AI-Base Module will be implemented across 5,000 Atal Tinkering Labs (ATL), empowering 2.5 million students. The module contains activities, videos and experiments that enable students to work through and learn the various concepts of AI. This is the first-ever industry-government academia initiative on such a scale to keep the school students abreast of latest technologies. It has been estimated that by 2030, the global AI market is likely to be in the range of $15-15.5 trillion, out of which India's share will be close to $1 trillion.
3)
Ministry of Corporate Affairs launches SPICe+ web form
•Ministry of Corporate Affairs has been launched 'SPICe+' Web Form (pronounced 'SPICe Plus') to offer 10 services by 3 Central Government Ministries/ Departments and of State Government of Maharashtra in a single web form.
•The three department/govt ministries are the Ministry of Corporate Affairs, Ministry of Labour & Department of Revenue in the Ministry of Finance. Apart from this, the forms of Maharashtra State Government would also be available on the SPICe+ web form. Registration for EPFO and ESIC shall be mandatory for all new companies to be incorporated through SPICe+ and no EPFO & ESIC registration nos. shall be separately issued by the respective agencies.
4)
UP cabinet renamed Khwaja Moinuddin Chishti Urdu, Arabi-Farsi University
•The Uttar Pradesh Cabinet has approved a proposal to change the name of Khwaja Moinuddin Chishti Urdu, Arabi-Farsi University in Lucknow. The Cabinet has decided to rename the university as Khwaja Moinuddin Chishti Languages University. For this, the State University Act – 1973 will be amended.
•According to the Cabinet, the decision is based on the belief that French, German, Japanese are essential for employment & development of knowledge besides English & Foreign languages.
5)
Mumbai Airport launches 'Export Cold Zone' to Store Agro, Pharma Products
•The Mumbai International Airport Ltd (MIAL) has launched the world's largest airport-based temperature-controlled facility known as the 'Export Cold Zone' for processing and storage of agro and pharma products.
•The exclusive terminal can hold over 700 tonnes of such cargo at one time with a combined annual capacity of 5.25 lakh tonnes. Mumbai airport, run by a joint venture between Airports Authority of India and GVK.
•Mumbai airport is the largest gateway for the movement of pharma and agro products in the country. It connects to over 500 cargo destinations across 175 countries through 60 airlines. The export cold zone is equipped with 12 truck docks with dock- levellers, spacious acceptance and examination area, automated workstations, X-Ray machines, unit load device (ULD) storage, ballmat system for ULD transfer and cold rooms.
•Mumbai airport is the first airport in the country and the third in Asia to obtain "IATA CEIV Pharma" accreditation, a global industry recognition supporting the air transport industry and is in full compliance with pharmaceutical manufacturers requirements.
6)
Kerala High Court bans all forms of strikes in schools, colleges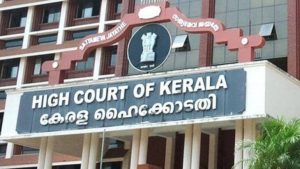 •The Kerala High Court recently passed an order and banned all types of political movements in the college and school premises. Banning various forms agitations like gherao and sit-in in the campuses, the High Court also said no one can be persuaded to participate in such protests.
•It observed that those who are not participating in the strike have every right to attend their classes and no one should force them to participate in agitations that affect the smooth conduct of classes. The court said that "the right to education is a fundamental right and no one has the right to violate that right."
•The court said educational institutions can be made a venue for peaceful discussions. The judgment was delivered on a batch of petitions filed by various college and school managements against agitations in campuses disrupting the peaceful atmosphere prevailing there.
7)
Abhishek Singh becomes India's next Ambassador to Venezuela
•Abhishek Singh has been appointed as the next Ambassador of India to the Bolivarian Republic of Venezuela. He is currently serving as Deputy Chief of Mission, Embassy of India in Kabul, Afghanistan. He will succeed Rajiv Kumar Napal, who passed away recently. He is a 2003-batch Indian Foreign Service (IFS) officer.
8)
Jadav Payeng honoured with Swami Vivekananda Karmayogi Award 2020
•Forest Man of India Jadav Payeng will be awarded Swami Vivekananda Karmayogi Award 2020 in New Delhi. He was awarded the 6th Karmayogi Award for his consistent efforts in creating a real man-made forest through massive reforestation. The award is composed of a trophy, a recitation and a reward of Rs 1 lakh.
•Payeng is famously known as the Forest Man of India. He was also honoured with a Padma Shri a few years ago. He is an environmental activist and forest worker from Jorhat, Assam. In the past several years, he has planted and tended trees on a sandbar of the river Brahmaputra turning it into a forest reserve.
•Swami Vivekananda Smriti Karmayogi Award is organized by My Home India in New Delhi. The award was conferred for the first time in 2013. Karmayogi Award is presented to great personalities from North-Eastern India who dedicate their lives to Nation and promote Nationalism through art & culture, sports, education, etc. for their contribution to respective fields.