1)
UNAIDS observes Zero Discrimination Day
•Zero Discrimination Day is observed globally on March 1st. On Zero Discrimination Day this year, United Nations Programme on HIV/AIDS (UNAIDS) is challenging the discrimination faced by women and girls in all their diversity and raising awareness and mobilizing action to promote equality and empowerment for women and girls. The day also aims to protect human's rights, remove discriminatory laws to achieve the Sustainable Development Goals and ensure equity and equality for all.
•Theme 2020: ZERO DISCRIMINATION AGAINST WOMEN AND GIRLS
•A butterfly is the symbol of the Zero Discrimination Day and it is widely used by people to share their stories and photos as a way to end discrimination and work towards positive transformation.
•Zero Discrimination Day is celebrated to promote and celebrate everyone's right, regardless of age, gender, sexuality, nationality, ethnicity, skin colour, etc. Zero Discrimination Day aims to raise the voice for the right to live life with dignity, despite one's choices, beliefs, profession, education, disability or even illness. Zero Discrimination Day was first celebrated on March 1, 2014, and was launched by UNAIDS Executive Director at Beijing after UNAIDS launched its Zero Discrimination Campaign on World AIDS Day in December 2013.
2)
Union Minister inaugurates 'Pension Adalat' in Jammu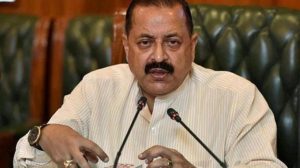 •The Union Minister of State PMO, Personnel, Public Grievances & Pensions, Jitendra Singh inaugurated the 'Pension Adalat' and National Pension System (NPS) Awareness and Grievance Redressal Programme in Jammu.
•This is the first time that Pension Adalat is being conducted outside Delhi as the government wants to reach out to every part of society and every part of the country to get the grievances redressed in the real-time as aspired by the Prime Minister. The Pension Adalats will help in on-the-spot redressal of pensioners' grievances which has given the right of 'Ease of Living' to the pensioners. The Minister also launched 'Do You Know' Twitter Series on Family Pension, along with a booklet highlighting case studies with the interpretation of Pension Rules.
3)
Om Birla launches 'Suposhit Maa Abhiyaan' in Kota
•Lok Sabha Speaker Om Birla has launched "Suposhit Maa Abhiyan" in his constituency Kota, Rajasthan. This Abhiyan is to provide nutritional support to pregnant women and adolescent girls.
•Om Birla appealed to every section of the society to cooperate in the malnutrition-free India campaign. Under this Abhiyan, 1,000 pregnant women would be given food items for one month. At the same time, the health of the child, including medical examination, blood tests, medicines, delivery, would be covered. It is a campaign to preserve and maintain the health of our future generations.
4)
Madhya Pradesh: Chilli Festival begins in Khargone district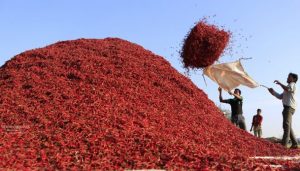 •In Madhya Pradesh unique Chilli Festival begins at Kasrawad in Khargone district. Chilli Festival is a big business opportunity for traders, investors and exporters. It will also help in fulfilling the Central Government's goal of doubling the income of farmers.
•Chilli-based cuisine stalls will also be set up on the occasion. Thousands of farmers from many districts of the state are participating in this festival being held in Kasrawad in Khargone district. State Agriculture Minister Sachin Yadav has said that the festival aims to promote the Nimari brand of chillies.
•Nimar and Malwa regions are the highest chilli producing regions of the state. The red chillies of these regions are exported to China, Pakistan, Malaysia and Saudi Arabia. This year too, 5 lakh 41 thousand 740 MT of green chillies and more than 63 thousand MT of red chillies have been produced in Dhar district.
5)
Indian Railways launches its 1st "Restaurant On Wheels"
•Indian Railways has launched its first "Restaurant on Wheels" at the circulating area of Asansol railway station, West Bengal. This restaurant is for the use of passengers as well as the general public. The Restaurant on Wheels was developed by refurbishing two over-aged MEMU coaches.
•This unique effort will not only improve the facilities at Asansol station but will also generate non-fare revenue earnings approximately Rs 50 lakh in the next five years. Union Minister and Asansol MP Babul Supriyo inaugurated the restaurant. He also inaugurated two new air-conditioned Retiring Rooms and Electronic Reservation Chart Display System and a battery-operated car at Asansol station.
6)
Muhyiddin Yassin becomes new Prime Minister of Malaysia
•Former Home Affairs Minister, Muhyiddin Yassin, was sworn in as Malaysia's new Prime Minister. He was appointed following the abrupt resignation of 94-year-old Mahathir Mohamad, who had been in office since the general elections of 2018.
•The decision on February 29 by the monarch to pick Muhyiddin was greeted with shock as Mahathir's allies claimed he had enough support to return as leader, and sparked widespread anger that the democratically elected government was being abruptly ejected. The king appoints the country's prime minister, who must show he has the support of most MPs.
7)
AAI & Tripura Govt sign MoU for construction of equipment hiring centers
•Airport Authority of India & Tripura State Government has signed a memorandum of understanding for the construction of 6 equipment hiring centres in Manu Block under the Dhalai District, Tripura.
•The project has been taken by the Airport Authority as part of its Corporate Social Responsibility scheme. The equipment hiring centres, equipment related to agriculture, animal husbandry and fisheries will be kept. The types of equipment will be rented out to the needy farmers, Self Help Groups and to any other needy at a minimal cost. The project will be benefited to 6000 families.
8)
New explosive detection device "RaIDer-X" unveiled at NWED-2020
•The National Workshop on Explosive Detection (NWED-2020) was held at Pune, Maharashtra. The NWED workshop was organised by High Energy Materials Research Laboratory (HEMRL), Pune. During the workshop, a new explosive detection device known as "RaIDer-X" was also unveiled. The workshop featured the participation of delegates from different DRDO laboratories, Army, CRPF, CISF, State Police, academic Institutes, industries and other security agencies.
About "RaIDer–X":
•RaIDer-X has been jointly developed by Indian Institute of Science, Bangalore and High Energy Materials Research Laboratory (HEMRL), Pune. HEMRL Pune is a premier laboratory of Defence Research & Development Organisation (DRDO). The explosive detection device "RaIDer-X" is capable of detecting the explosives from a stand-off distance. The capability of the device can be enhanced by building a data library, to detect a number of explosives in pure form as well as with the contaminants. The device has also the capability of detecting bulk explosives in concealed conditions.
9)
IAF & Savitribai Phule Pune University to establish 'Chair of Excellence'
•The Indian Air Force and Savitribai Phule Pune University has signed an MoU to establish a "Chair of Excellence". The "Chair of Excellence" has been planned to be established at Department of Defence & Strategic Studies under this unique initiative of Indian Air Force. The IAF & Savitribai Phule Pune University has entered into an academic collaboration for the establishment of "Chair of Excellence" which will be named as "Marshal of the Air Force Arjan Singh Chair of Excellence". The name has been chosen to pay tribute to the legend and commemorate the centenary birth year of the Marshal of the Indian Air Force Arjan Singh.
About the "Marshal of the Air Force Arjan Singh Chair of Excellence":
•The Chair of Excellence will enable the Air Force officers to pursue Doctoral Research and higher studies in Defence & Strategic Studies as well as in allied fields. It will also enable the research and higher studies in the domain of National Defence and allied fields of Air Force officers along with inculcating a strategic outlook and building a pool of strategic thinkers.
10)
Rafael Nadal wins Mexican Open title 2020
•World Number 2 Rafael Nadal wins his first title of the year, defeating unseeded Taylor Fritz in straight sets, 6-3, 6-2, in the final of the ATP Mexico Open. He secured his 85th ATP Tour title. Nadal won the ATP 500 title for the third time and first since the event changed from clay to hard-court in 2014.
•In the women's final, seventh-seeded Heather Watson captured her first WTA title in three years by grinding out a 6-4, 6-7, 6-1 win over Canadian teen Leylah Fernandez.