1)
Health Ministry organizes workshop to manage COVID-19
•A national level Training Workshop on COVID-19 Management for all the states and hospitals was organized in New Delhi. The workshop was organized by the Health Ministry. The workshop aims to train the trainers on various aspects to tackle the situation related to novel Coronavirus. Aspects on which training will be provided includes infection prevention, hospital preparedness, disinfection and biomedical waste management, community engagement, non-pharmaceutical interventions etc.
•The national level Training Workshop on COVID-19 Management was inaugurated by Health Secretary Preeti Sudan. The workshop featured the participation of health officials from all states and hospitals of railways, defence and para-military forces.
2)
Janez Jansa becomes new Prime Minister of Slovenia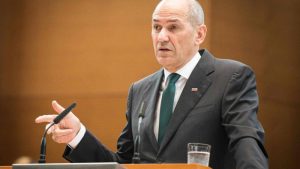 •Leader of Slovenian Democratic Party, Janez Jansa becomes new Prime Minister of Slovenia. He will replace centre-left Prime Minister Marjan Sarec, who resigned from his post in January 2020. Slovenia's parliament confirmed Janez Jansa as its new prime minister. Previously Jansa led the Slovenian government from 2004 to 2008 and from 2012 to 2013.
3)
4th Global Ayurveda Festival to be held at Kochi
•The 4th Global Ayurveda Festival will be held at Kochi, Kerala from 16th to 20th May. The theme of the event is Ayurveda Medical Tourism: Actualizing India's credibility. GAF2020 is being organised by the Centre for Innovation in Science and Social Action (CISSA).
•It will be the largest Ayurvedic event ever to be held anywhere across the world. More than 500 stalls, the participation of over 5,000 international delegates, ethnic food carnivals, the exhibition of rich medicinal plants and workshops on Panchkarma to be the key highlights of GAF-2020. Ayurveda Tourist Centres and Spas giving rejuvenation therapy and their potential curative aspects will be showcased. GAF-2020 will bring together the world of Ayurveda wellness providers and it's seekers to one platform.
4)
Sebi launches "Sebi SCORES" mobile app for investors to lodge grievances
•Markets regulator Sebi has launched a mobile application 'Sebi SCORES' for convenience of investors to lodge grievances in Sebi Complaints Redress System (SCORES). "SCORES' mobile app will make it easier for investors to lodge their grievances with Sebi, as they can now access SCORES at their convenience of a smartphone.
•The mobile app will encourage investors to lodge their complaints on SCORES rather than sending letters to Sebi in physical mode. SCORES is a platform for investors to lodge online complaints with Sebi against listed companies, registered intermediaries and market infrastructure institutions. According to Sebi norms, entities against whom complaints are lodged need to file an action taken report with the regulator within 30 days of receipt of the complaint.
5)
Google cloud announces to open Delhi Cloud Region
•Google Cloud announced its plans to open a Delhi Cloud Region. This will be the company's second cloud region in India since it launched one in Mumbai three years ago in 2017. The new cloud region will expand Google's existing network which stands at 8 regions in the Asia Pacific and 22 regions globally.
•Google cloud regions bring Google Cloud Platform services to global organisations in industries like media and entertainment, retail and manufacturing. The Delhi cloud region will have three zones to protect against service disruptions. The project to be launched in 2021. In combination with the existing Mumbai cloud region Mumbai, it will also enable in-country disaster recovery for the customers' mission-critical applications.
6)
"Chronicles of Change Champions" book released by Smriti Irani
•Union Minister for Women and Child Development Smriti Zubin Irani has released a book titled "Chronicles of Change Champions" in New Delhi. The book is a compilation of 25 innovative initiatives taken at the state and district levels under the Prime Minister's flagship scheme of Beti Bachao, Beti Padhao. It captures the convergent approach adopted at the grass-root level and provides insight into the unique manner of community engagement by the District Administration and front-line workers.
•The Beti Bachao, Beti Padhao scheme was launched by Prime Minister Narendra Modi on 22nd January 2015 at Panipat, Haryana as a comprehensive programme to address the declining Child Sex Ratio and the related issues of empowerment of women over a life-cycle continuum.
7)
RBI Deputy Governor N.S. Vishwanathan resigns before retirement
•RBI Deputy Governor N S Vishwanathan has announced his resignation due to health problems. He announce his retirement three months before the end of his extended one-year tenure. While the Reserve Bank has accepted his request to be relieved by March 31. He was first appointed as the Reserve Bank's deputy governor for a three-year term in 2016, following which he was reappointed one year.
•After being appointed as the deputy governor on June 28, 2016 for a three-year-term, Vishwanathan has served under three governors Raghuram Rajan, Urjit Patel and Shantikanta Das. Before he became the deputy governor, he was on a three-year deputation to the Bank of Mauritius, the central bank of Mauritius, as director of supervision. He born in June 1958, he did his Master's in economics from the Bangalore University and joined the central bank in 1981.
8)
Philippine will host the Badminton Asia Championships
•The Badminton Asia Championships will be held in the capital of Philippine i.e. Manila. The Badminton Asia Championship was earlier scheduled to be held in Wuhan, China. Due to Novel Coronavirus outbreak in China, the Badminton Asia has took a decision to move the Badminton Asia Championships from Wuhan to Manila.
•The Novel Coronavirus outbreak has caused cancellation, postponement or shifting of the several badminton tournaments as well as other tournaments in recent weeks all over the world.
9)
SAI announces 1st edition of Khelo India Women's Hockey League
•The Sports Authority of India (SAI) has announced the first edition of the Khelo India Women's Hockey League Under-21 in association with Hockey India. The inaugural edition of the Khelo India Women's Hockey League Under-21 will be organized by the Hockey India. The league will be organised in three phases.
•First phase of the league will be held at the Major Dhyan Chand National Stadium in New Delhi while the second phase will be held at the SAI Centre in Bengaluru. The final phase will be held at the Kalinga Stadium in Bhubaneswar.