1)
India's 1st digital parcel locker service launched in West Bengal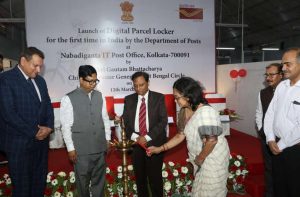 •The Department of Posts, Kolkata (West Bengal circle), has launched free digital parcel locker service in 2 post offices Nabadiganta IT post office of Salt Lake City & post office in New Town's Action Area. Under this service, customers will be able to collect their parcel from the post office according to their convenience.
•This facility is quite popular in European countries but is starting for the first time in India. This service has been done for such people of working-class, who do not have to receive any parcel at home. Such people can take their parcel and letters addressed to them from the kiosks at 24×7.
How Digital parcel locker service works?
•A customer will be given a specific locker number as the address where India Post will drop the parcel. Consignments will be dropped into the digital parcel locker and an SMS will be issued along with an OTP number to the customer concerned. The consignment will remain accessible to customers for seven days during which they can collect the parcel any time of the day.
2)
GoI declares Hand sanitizers & Masks as essential commodities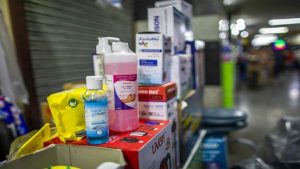 •The government of India has declared face masks and hand sanitizers as essential commodities for the next 100 days. Both masks (2ply & 3 ply surgical masks, N95 masks) and hand sanitisers have been brought under the Essential Commodities Act, 1955. The government has notified order under the Essential Commodities Act to declare these items as essential commodities up to June 30, 2020, by amending the schedule of the Essential Commodities Act 1955.
•The move is aimed at stepping up efforts to boost supply and prevent hoarding of these items in its fight to check the spread of coronavirus disease. The Centre has also invoked the Disaster Management Act to ensure price regulation and availability of surgical and protective masks, hand sanitizer and gloves.
•The decision will empower the government and States/Union Territories to regulate the production, quality and distribution of masks and hand sanitizers for smooth sale and availability of these items. It also empowers to carry out operations against speculators and those involved in overpricing and black marketing.
3)
UP govt launches three schemes for skill development in the state
Uttar Pradesh government has launched three ambitious schemes for skill development and employment generation for youths in the state. The three schemes are Kaushal Satrang, Yuva Hub and apprenticeship scheme in Lucknow. UP government also announced to depute "Arogya Mitras" at all primary health centres to inform people about govt health schemes.
1. Kaushal Satrang Scheme
Kaushal Satrang will have seven components which will provide opportunities to the youth. In this regard, UP govt has inked MoU with IIT (Indian Institutes of Technology)-Kanpur and other placement agencies for the employment of 2 Lakh youth and to train the state's youth for world level competitions.
2. Yuva Hub' Scheme
Yuva Hub' scheme was allocated Rs 1,200 crore in the state budget and it aims at providing employment to thousands of skilled youth by assisting in project concept and financial help for one year of operation. It will also facilitate setting up of 30,000 startups in the state. IIM (Indian Institutes of Management) Lucknow is the knowledge partner of this scheme.
3. CM apprenticeship scheme
CM apprenticeship scheme will provide a stipend of Rs 2500 to the youth of the state.
4)
India's 1st Living Culinary Arts Museum enters Limca Book of Records
•Welcomgroup Graduate School of Hotel Administration (WGSHA) of Manipal Academy of Higher Education (MAHE) entered the Limca Book of Records (LBR) for establishing "India's First Living Culinary Arts Museum" at WGSHA, Manipal, Karnataka. The museum was opened in the year April 2018, spread approximately over 25,000 square feet & the structure of the museum is shaped in the form of a giant pot.
•Chef Vikas Khanna, the founder and curator of this museum, who had this idea of establishing a culinary museum and donated thousands of kitchen tools and equipment worth millions of dollars to this museum for preserving the history of India's rich tradition of culinary arts and to educate the future generations.
•The Museum consists of historical as well as household items such as plates made by the Portuguese in India, an old seed sprinkler, an ancient Kashmiri tea brewer known as 'samovar', a 100-year-old ladle used to dole out food at temples and bowls dating to the Harappan era. The vessels from the Konkan, Udupi & Chettinad regions, apart from a large collection of rolling pins, utensils of all shapes and sizes, tea strainers of different types etc. are found in the museum.
5)
Bill Gates resigns from Microsoft's board
•Microsoft founder Bill Gates stepping down from Microsoft's board of directors. He wants to dedicate more time to his philanthropic priorities including global health, development, education, and his increasing engagement in tackling climate change. He also stepped down from the board of Warren Buffett's Berkshire Hathaway Inc, where he had served since 2004. However, he will continue to serve as a tech adviser to CEO Satya Nadella and other company leaders. Gates had stepped down from his role in Microsoft in 2008.
6)
Saurashtra lift their 1st-ever Ranji Trophy title
•Saurashtra won their maiden Ranji Trophy title after earning a 44-run lead in the first innings against Bengal which eventually ended in a draw in the final in Rajkot, Gujarat. Jaydev Unadkat led the Saurashtra Team. Saurashtra's first-innings total of 425, Bengal fell short by 44 runs on the 5th and final day handing the hosts a firm grip on the title.
•As per the rules, if the final of the Ranji Trophy is headed towards a draw, then the winner is decided on the basis of a first-innings lead. Whoever manages to take the lead in the first innings, is declared as the champion.