1)
National Vaccination Day: 16th March
•India observes National Vaccination Day every year on 16th March. The day is also known as National Immunization Day. The Government of India celebrates National Vaccination Day every year to convey the importance of vaccination to the people of the country. In the year 1995, the first dose of an oral vaccine against polio was given in India. India has been observing the Pulse Polio Programme since 1995. The prime purpose behind the celebration of National Vaccination Day is to make all people aware of arming against polio and eradicating it completely from the world.
Highlights
•On 27 March 2014, India was certified as a polio-free country along with 11 other countries of the South-East Asia Region of the World Health Organisation (WHO). These countries were Bangladesh, Bhutan, Indonesia, Maldives, Myanmar, Democratic People's Republic of Korea, Nepal, Sri Lanka, Timor-Leste, and Thailand. In India, the last case of polio patients was reported on 13 January 2011.
What is Vaccination?
•Vaccination is the most effective method of preventing highly infectious diseases. Extensive immunity due to vaccination is mostly responsible for the worldwide eradication of smallpox and the restraint of diseases such as polio, measles, and tetanus from a large amount of the world. The World Health Organization (WHO) informs that licensed vaccines are currently available to prevent or add to the prevention and control of twenty-five preventable infections.
2)
Cabinet hiked dearness allowance by 4% for central government employees
•The Union Cabinet chaired by Prime Minister Narendra Modi approved a four per cent hike in dearness allowance (DA) for central government employees and Dearness Relief (DR) to pensioners with effect from January 1, 2020. This is over the existing rate of 17 per cent of the Basic Pay/Pension.
•This decision will be beneficial for 48 lakh employees and 65 lakh pensioners; this will benefit 1.13 crore families. Since the decision will be effective from January 1, 2020, central staff will be getting arrears for three months. The increase is in accordance with the accepted formula, which is based on the recommendations of the 7th Central Pay Commission. Apart from central government employees, even central government pensioners and those receiving family pension from the central government will be benefited from this decision.
What is Dearness Allowance?
•Dearness allowance is usually received by government employees to compensate for rising inflation. Dearness Allowance is calculated as a percentage of an basic salary to mitigate the impact of inflation on people.
3)
Traditional "Phool Dei" festival begins in Uttarakhand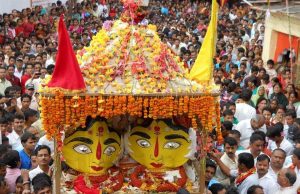 •Uttarakhand Chief Minister Trivendra Singh Rawat celebrated the traditional harvest festival "Phool Dei". The festival also showcases the inner bonding between the communities who all are residing in the hills.
•Phool Dei is celebrated on the first day of Chaitra or in mid-March (according to Gregorian calendar). On this day young girls carry out most of the rituals and they are the most eager participants. On this traditional festival young girls pluck the first flowers of the season to decorate their houses with flowers and the term 'Dei' refers to ceremonial pudding which is the key food in the festival that is made from jaggery, Whiteflour & curd, are offered to everyone.
4)
Manipur CM announces scheme's to encourage athletes & artists
•Manipur Chief Minister N. Biren Singh has announced the biggest ever scheme for the welfare of sportspersons and artists of the State. 'Chief Minister's Akhannaba Sanaroising gi Tengbang (CMAST)' and Chief Minister Artist Sing gi Tengbang (CMAT)' scheme would provide benefits to thousands of sportspersons and artistes of the State who have brought laurels to the State and Country.
'Chief Minister's Akhannaba Sanaroising gi Tengbang (CMAST)'
•Under the CMAST Scheme, suitable employment in government services is going to be provided to sportspersons, who have won medals in notified disciplines in selected International Sports events. The scheme would also support the sportspersons on purchasing of costly sports items. Also, cash awards for Olympic participants are enhanced to 1 crore, 75 lakh, 50 lakh and 10 lakh rupees for various categories. Sportsperson who have represented in National and International tournaments and are unemployed would tend lifetime pension.
'Chief Minister Artist Sing gi Tengbang (CMAT)'
•In the scheme for artists, CMAT is designed with a view to encouraging the artists in different fields and targeted to cover 4000 artistes in a year. The pension will be extended to around 1000 artistes who are 60 years and above. Pensioners include awardees, gurus and non-awardees who have contributed to preserving the tradition, culture and art forms of Manipur. Financial assistance would also be provided for artiste, groups and institutions for participating in international and national festivals.
•The CMAT scheme would also extend monetary support to cultural groups or institutions for training and productions in various fields such as theatre, Shumang Leela, dance, music and visual arts. The scheme would provide financial assistance to award winners in National competitions and festivals. Padma awardees, National Akademi awardees such as Sangeet Natak Akademi, Sahitya Akademi and Lalit Kala Akademi awardees, State Kala Akademi awardees including young awardees will be extended one-time financial support for pursuing their dreams and vision towards preservation and promotion of Manipuri culture successfully.
5)
Niue declared world's first 'Dark Sky nation'
•Niue has become the world's first whole country recognised as a 'Dark Sky Place' by the International Dark-Sky Association's (IDA), which has approved the island's application for the protection of its sky, land and sea. Niue is a small island nation in the South Pacific Ocean.
•Niue to be the first country to become a dark sky nation was a massive accomplishment for a small Pacific nation with a population of just over 1600 people. Niue now has dark-sky status from the southern edge of Mutalau Village to the northern edge of Hakupu Village.
What is Dark Sky Place?
•International Dark Sky Places are spaces recognised for responsible lighting policies that keep the night-time environment naturally dark. There are over 130 of these accredited dark sites across the world, including parks, reserves, and local communities, but never before has the honour been bestowed on an entire country like this.
6)
India ranked 12th globally in 'Women On Board 2020' study
•India has been ranked 12th in the world as per study titled 'Women On Board 2020'. The list was topped by Norway with 40.72% women on board. A study on 'Women On Board 2020' has been done jointly by global recruitment tendering platforms MyHiringClub and Sarkari-Naukri. The 7824 listed companies across 36 countries were considered for the study. From India, 628 listed companies participated in an online study. The study was based on the presence of women in companies' board globally.
7)
Prashant Kumar becomes new MD & CEO of YES Bank
•Prashant Kumar has been appointed as Chief Executive and Managing Director of the Yes Bank. Kumar was earlier appointed as the YES Bank administrator. Sunil Mehta, former non-executive chairman of Punjab National Bank, has been appointed as non-executive chairman of YES Bank.
•Mahesh Krishnamurthy will serve as a non-executive director of the bank, while Atul Bheda as a non-executive director. The investor bank, State Bank of India, will nominate two officers as directors.
8)
GoI nominated Debasish Panda as director on RBI central board
•The Central Government has nominated Debasish Panda as a Director on the Central Board of Reserve Bank of India. He is a Secretary, Department of Financial Services, Ministry of Finance, Government of India, New Delhi. The nomination of Debasish Panda is effective from March 11, 2020, and until further orders. There are two government nominated Directors on the board of RBI. The other one is Atanu Chakraborty.
9)
Microsoft launches website to track COVID-19
•Microsoft has launched a web portal to track the spread of COVID-19 worldwide. The web portal has been launched by Microsoft's Bing team. The portal aims to track the spread of novel coronavirus in the world. The website is accessible at "bing.com/covid" and provides up-to-date infection statistics for each country. A user can click on the country on an interactive map to see the specific number of cases of novel coronavirus infections in the country.
•The web portal displays the information by aggregating data from sources like the World Health Organization (WHO), the US Centers for Disease Control and Prevention (CDC), and the European Centre for Disease Prevention and Control (ECDC).