1)
FM Nirmala Sitharaman announced Economic relief package during Lockdown
•Finance minister Nirmala Sitharaman has announced a mega relief package of 1.7 lakh crore rupees for the migrant workers and poor people affected by the lockdown amid COVID-19 outbreak. The scheme has been named Pradhan Mantri Garib Kalyan Scheme. This food security scheme will assist the economically weaker sections to bridge over the added challenge of lockdown and job loss during the worldwide outbreak of coronavirus.
Here are some important takeaways from Finance Minister Speech:
•PM Gareeb Kalyan Scheme will entail Rs 1.7 lakh crore. It'll include both cash transfer and food security. This scheme will be targetting 80 crore people.
•The government provide insurance cover worth Rs 50 lakh for sanitation workers, ASHA workers, doctors, nurses, paramedics just in case they have it as they're on the frontlines of the corona battle.
•Over and above 5kg of rice/wheat that's already given, another 5 kg per person are going to be given liberally to around 80 crore people through PDS. Besides, one kg of preferred and region-specific choice of the pulse will also be given.
•The first instalment of PM Kisan scheme for farmers of Rs 2,000 will be given in the 1st week of April. Around 8.69 crore farmers will get immediate benefit out of it.
•The wages of MGNREGA workers has been increased from Rs. 182 to ₹202 per day. This will benefit 5 crore families and will result in an additional ₹2,000 given per worker. Social distancing norms must be followed at MGNREGA worksites during this period.
•An additional ex-gratia amount of Rs 1,000 for old age and widows for next three months available in two instalments. It will benefit 3 crore widows and senior citizens.
•Women Jan Dhan account holders will receive Rs 500 in their accounts so that they can take care of their households. This will happen for the next 3 months. This will benefit 20 crore women.
•Women Ujjawala scheme beneficiaries will be given free cylinders for the next 3 months. This will benefit 8.3 crore BPL families.
•Under the Deen Dayal National Livelihood Mission, the collateral-free loan will be given to, Women Self Help Groups up to Rs 20 lakh from Rs 10 lakh earlier. Impact on 7 crore holders through 63 lakh SHGs.
•Government of India will pay the EPF contribution both of the employer and the employee put together 24% for the next three months. This is for those establishments with up to 100 employees, 90% of them earning less than Rs 15,000.
•For the organised sector, EPFO regulation will be amended so that workers can draw up to 75% for their contingency expenditure non-refundable advance or three months of wages in advance whichever is less. This will benefit 4.8 cr workers.
•The state government have been directed to use the welfare fund for building & construction labourers which has around Rs 31,000 crore to help those who are facing economic disruption because of the lockdown.
•Utilise the funds available under the district mineral fund for testing activities, medical screening, providing health attention needed to fight the coronavirus pandemic.
•The Confederation of Indian Industry (CII) lobby group, had sought a stimulus of about 1% of the GDP or Rs 2 lakh crore, has sought a three-month moratorium on all loans and said all repayment obligations should be suspended for this period.
2)
Health Ministry takes indelible ink from EC to stamp people for home quarantine
•Election Commission of India has decided to permit usage of indelible ink on persons for stamping for home quarantine by health authorities insight of COVID-19. The Health Ministry may standardise the mark and therefore the location on the body where the mark has got to be applied in the order that it doesn't are available the way of conducting elections. The authorities shall even be instructed to make sure that the ink shall not be used for the other purpose.
Important instructions of ECI:
•The concerned authorities are going to be instructed to not use the ink on any finger on the left of any persons.
•The ink, thus far used during elections and made by a Mysore-based company just for the EC, will now be made available to the states.
•The ink mark lasts for over a month.
•The choice has been taken publicly interest keeping in sight the demand from states to use an indelible marker on quarantined individuals.
•EC has provided safeguards to make sure that the sanctity of the election procedure is maintained.
•The ink can't be used without EC's permission, because it may be a "proprietary item" during a sense.
•Maharashtra has already begun 'stamping' those in 100% quarantine on St Patrick's Day, after the number of cases within the state spiked.
•The date of isolation is stamped on the left palm of the individual with ink that might last for 14 days.
What is Indelible Ink?
•Indelible ink, electoral ink, electoral stain or phosphoric ink is a semi-permanent ink or dye that is applied to the forefinger (usually) of voters during elections in order to prevent electoral fraud such as double voting. It is an effective method for countries where identification documents for citizens are not always standardised or institutionalised. Election ink uses silver nitrate, and excessive exposure can cause argyria. It was first used during the 1962 Indian general election, in Mysore State, now the modern-day state of Karnataka.
3)
GoI bans export of anti-malarial drug Hydroxychloroquine
•Government of India banned the export of anti-malarial drug Hydroxychloroquine and formulations made up of it within the wake of COVID-19 outbreak. It's aimed toward ensuring sufficient availability of drugs within the domestic market. However, the export of the drugs is going to be allowed on humanitarian grounds on a case-to-case basis as per the advice of the Ministry of External Affairs.
•Earlier, Indian Council of Medical Research had recommended the utilization of hydroxychloroquine for treating healthcare workers handling suspected or confirmed coronavirus cases and also the asymptomatic household contacts of the lab-confirmed cases.
4)
AIIMS to launch Tele-Consultation facility
•All India Institute of Medical Sciences, New Delhi will start Tele-Consultation facility for the non-Covid19 patients. The decision to start Tele-Consultation facility has been taken by AIIMS for its follow-up patients.
•As the out-patient Department along with other medical facilities have come to rest at the All India Institute of Medical Sciences (AIIMS), Delhi amid the lockdown which has taken place as a measure to contain Covid-19 spread. Those patients whose appointments are now cancelled due to lockdown as well as the chronic patients can consult doctors via this facility.
5)
Odisha government launches "Mo Jeeban" programme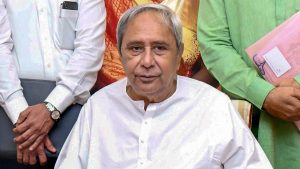 •Odisha's Chief Minister Naveen Patnaik launched Mo Jeeban programme in Odisha. The "Mo Jeeban" programme was launched for the containment of COVID-19 pandemic.
•Through Mo Jeeban programme, the chief minister of Odisha urged the people of the state to take a pledge to stay indoors. He also stated that if people will go outside their home, they may bring the coronavirus at home which will affect their family. He also urged the people of Odisha to wash their hands for at least 20 seconds before entering their house.
6)
Invest India launches "Invest India Business Immunity Platform"
•India's national Investment Promotion & Facilitation Agency, the Invest India has launched "The Invest India Business Immunity Platform". The Invest India Business Immunity Platform has been launched to assist businesses and investors in getting real-time updates on India's active response to COVID-19.
About Invest India Business Immunity Platform:
•Invest India Business Immunity Platform has been launched by Invest India, under the Ministry of Commerce and Industry. This platform tracks the regular developments with respect to the Coronavirus. It aims to help businesses and investors by providing latest information on various initiatives launched by central and state government, facilitates access to special provisions, and answers and also resolves queries via emails as well as on WhatsApp. Through this platform, a team of dedicated sector experts will address various issues faced by the businesses due to Corona crisis. The platform also responds to the frequently asked questions on important aspects such as locations of COVID-19 testing, special permissions including other location-specific information.
Invest India partnership with SIDBI:
•Invest India has teamed up with Small Industries Development Bank of India (SIDBI) for responding and resolving queries for MSMEs. Through the partnership, the platform will also endow the ability to connect the dots in order to find matching suppliers with required supplies and for innovators, startups and MSMEs to show case their solutions.
7)
IMF launches Tracker of Govt. Policies in Response to COVID-19
•The International Monetary Fund has launched a "Tracker of Policies Governments are Taking in Response to COVID-19". The policy tracker outlines the key economic responses taken by the government of various countries in order to contain the COVID-19 pandemic. The policy tracker has the updated data till March 24, 2020.
Tracker of Policies Governments are Taking in Response to COVID-19:
•The policy tracker brings into focus the discretionary measures that supplement existing social safety nets and insurance mechanisms. The tracker do not aim to compare the various measures across the members because the policy responses depends on various parameters such as the nature of the shock and country-specific circumstances.
The policy tracker covers the responses on the basis of three pillars, namely:
•Fiscal
•Monetary And Macro-Financial
•Exchange Rate And Balance Of Payments
8)
NBT launches initiative #StayHomeIndiaWithBooks
•The National Book Trust, India has launched an initiative #StayHomeIndiaWithBooks to encourage people to read books during their stay at home. This initiative has been launched as a preventive measure to contain the spread of Covid-19.
•#StayHomeIndiaWithBooks encourage people to #StayIn and #StayHome and to read books while at home. Through this initiative, NBT is providing people its select and best selling titles for FREE Download. These books are available in various languages including Hindi, English, Odia, Marathi, Bodo, Nepali etc covering various genres such as fiction, biography, popular science and many more.
9)
A book titled "Missing in Action: The Prisoners Who Never Came Back" launched
•Senior Journalist Chander Suta Dogra has launched a book titled "Missing in Action: The Prisoners Who Never Came Back". It is published by Harpercollins. At present, she works as a senior journalist in Outlook & has worked in The Hindu & Indian Express. The book addresses the missing Indian soldiers during the mission of 1965 & 1971 Indo- Pak wars & also attempts to find out what happened to them, hoping to open up a debate on how soldiers are often used as pawns by governments.
•Ms Dogra's book explores the story of the soldiers who went missing in the enemy territory while on daring missions and how the nation has forgotten them, though successive governments continue to make token acknowledgements about their missing status.