1)
World Day for Safety and Health at Work: 28 April
•World Day for Safety and Health at Work is observed globally on 28 April every year. This day is observed to promote the prevention of occupational accidents and diseases globally and raise awareness to ensure health and safety at the workplace.
•The World Day for Safety and Health at Work 2020 will primarily focus on addressing the outbreak of infectious diseases at work, focusing on the COVID-19 pandemic. The theme will explore in-depth various measures to prevent and control the risk of contagion, identify the psychosocial and other work-related risks associated with the pandemic.
2)
UIDAI allows CSCs to offer Aadhaar updation facility
•The Unique Identification Authority of India (UIDAI) has permitted the Common Service Centres that operate as banking correspondents (BCs), to provide Aadhaar updation facility. This permission has been granted by UIDAI to CSCs to make Aadhaar updation easier for citizens.
•After the assent of UIDAI, around 20,000 CSCs will now be able to provide the Aadhaar updation service to citizens. The permission allows the Common Service Centre to only update demographic details such as name, address and date of birth.
•The Common Service Centre is a Special Purpose Vehicle established by the Ministry of Electronics and Information Technology for accessible electronic delivery of services, including e-governance, to citizens in rural India.
3)
KGMU becomes 1st govt hospital to launch plasma therapy for COVID-19
•Lucknow's King George's Medical University (KGMU) has become the 1st government hospital in the country to successfully launch the plasma therapy treatment for COVID-19. A 58-year-old doctor became the first coronavirus patient in Uttar Pradesh to receive plasma therapy as an experimental treatment. Convalescent Plasma Therapy is an experimental procedure for COVID-19 patients.
4)
Australia cancelled "Pitch Black 2020" due to coronavirus
•Australia has cancelled "Pitch Black 2020" premier multilateral air combat training exercise between India and Australia. Australia takes this decision due to the current and anticipated impacts of the worldwide pandemic of COVID-19. The next edition is scheduled in 2022. Its last edition held in 2018.
•Chief of the Royal Australian Air Force (RAAF), Meg Hupfeld informed Air Chief Marshal Rakesh Kumar Singh Bhadauria of Indian Air Force (IAF) about the cancellation through a letter.
5)
SIPRI releases report "Trends in World Military Expenditure, 2019"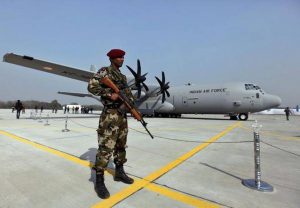 •A swedish think tank Stockholm International Peace Research Institute (SIPRI) has released its report "Trends in World Military Expenditure, 2019". The report released by SIPRI analysed the global military spending in 2019. The report stated that the global military spending in 2019 was 2.2% of the global gross domestic product (GDP) i.e 7.2% higher in 2019 than it was in 2010.
6)
India Ratings slashes India's FY21 GDP growth to 1.9%
•In its latest report, credit rating agency India Ratings and Research (Ind-Ra) has slashed India's Fiscal Year 2021 gross domestic product (GDP) growth to 1.9%. Earlier, the rating agency marked India's Fiscal Year 2021 GDP growth at 3.6% in March 2020.
•The current stats are the lowest for India in the last 29 years. The GDP growth has been slashed by the credit rating agency citing the assumption of the partial lockdown to continue in India till mid-May 2020 due to the COVID-19 pandemic.
7)
Special borrowing scheme launched by IOB for SHGs
•A special borrowing scheme has been launched by the Indian Overseas Bank (IOB) for self help groups (SHGs). IOB has taken this initiative to help the SHGs in order to overcome the difficulties posed by COVID-19.