1)
International Nurses Day observed globally on 12 May
•International Nurse Day is observed globally on 12 May every year. This day is observed to commemorate the birth anniversary of Florence Nightingale. She was also known as Lady with the Lamp. She was the founder of modern nursing and was a British social reformer and statistician.
International Nurses Day 2020 Theme:
•International Council of Nurses has published its theme for the year 2020 around the COVID-19 pandemic on its official website icn.ch "Nursing the World to Health". The World Health Organisation (WHO) has designated the year 2020 as the International Year of the Nurse and the Midwife.
2)
Ministry of MSME launches CHAMPIONS Portal
•"CHAMPIONS" portal has been launched by the Union Ministry of Micro, Small and Medium Enterprises (MSME). It is a technology driven Control Room-Cum-Management Information System. CHAMPION stands for Creation and Harmonious Application of Modern Processes for Increasing the Output and National Strength. This portal is a one-stop-shop solution of the MSME Ministry.
3)
MP govt launches 'FIR Aapke Dwar' Yojana
•Madhya Pradesh government has launched country's 1st ever 'FIR Aapke Dwar Yojana' in Bhopal. 'FIR Aapke Dwar' Yojana has been started as a pilot project in 23 Police Stations including one urban and one rural Police Station at 11 Divisional Headquarters. For this Yojana "Dial 100" vehicle would have trained Head Constables to lodge FIR.
•FIRs in complaints of general nature will be lodged on the spot. In case of serious complaints, guidance will be sought from senior officers. The state government also launched helpline 'Dial 112' on the occasion, to facilitate immediate availability of ambulance, police and fire fighting services wherever needed.
4)
Bruhat Bengaluru Mahanagara Palike launches "Pranavayu" programme
•A programme named "Pranavayu" has been launched by the Bruhat Bengaluru Mahanagara Palike, Karnataka. The programme has been launched by city corporation to create awareness on the need to self examine the respiratory health for Bengaloreans, as the district has 175 confirmed COVID 19 positive cases. Due to large number of cases in the district, it has been ordered to execute quarantine as well as surveillance activities including identifying persons prone to the deadly corona virus infection.
•With the help of this programme, people in Bengaluru will be able to carry out self examination for early detection of any ailment that could aggravate the situation if contracted with the viral infection. hence, this programme is an effort to assist people with low oxygen level in their blood to get themselves examined early before their infection becomes fatal.
5)
HRD Minister launches Central Univ. of Odisha Helpline "Bharosa"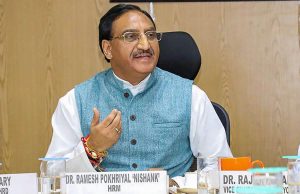 •Union HRD Minister Shri Ramesh Pokhriyal 'Nishank' has launched Central University of Odisha Helpline "Bharosa". This helpline has been launched with an objective of relieving the student community from the distress caused during the troubled time of the COVID-19 pandemic. All University Students of Odisha will be offered Cognitive Emotional Rehabilitation Services via this helpline.
•The Helpline "Bharosa" will address the issue of distress faced by any student of any University in Odisha in the wake of COVID-19 pandemic. During the launch event, HRD Minister encouraged the Central and State Universities as well as other Institutions of Higher Education across the country to imitate the Bharosa initiative in order to address the concerns of the student community.
6)
Israel names street after Rabindranath Tagore on his 159th anniversary
•Israel has named a street in Tel Aviv after celebrated Indian poet Rabindranath Tagore as a tribute on his 159th birthday on 08 May. Israel named it 'Tagore Street' to commemorate the poet's birth anniversary.
•Tagore, who wrote his poetry, novels, stories and plays in Bengali, In 1913 he won the prestigious Nobel prize in literature and till now, he is the only poet from India to have done so.
7)
Indu Shekhar Chaturvedi takes charge as Secretary of MNRE
•Indu Shekhar Chaturvedi has taken the charge as Secretary of the Ministry of New and Renewable Energy. He has succeeded Anand Kumar, who has been appointed as the Secretary of Ministry of Culture.
•Indu Shekhar Chaturvedi is an IAS officer of 1987 batch and belongs to Jharkhand cadre. Earlier, he was serving as the Additional Chief Secretary and Additional Secretary, Climate Change Department, of the Ministry of Climate Change Department, Environment and Forest, Government of Jharkhand.
8)
Prince Harry-Meghan Markle's biography to be published in August
•The first biopic on Prince Harry and Meghan Markle's life, titled 'Finding Freedom: Harry and Meghan and the Making of A Modern Royal Family' would be published on August 11, 2020. The book is a biopic, written by royal reporters Omid Scobie and Carolyn Durand.
•The book aims to portray a couple who continue to inspire many around the world through their humanitarian and charitable work but are often inaccurately portrayed. The book reveals details of the couple who stepped back as frontline royals to settle down in the US in April 2020. The book provides a glimpse into the lesser-known aspects of their romance and decision to go their separate way from Buckingham Palace.
9)
Bengaluru Airport: Voted as best regional airport in India & Central Asia
•The Kempegowda International Airport, Bengaluru has won this year's SKYTRAX Award for Best Regional Airport in India and Central Asia. The airport was voted by customers because of the Best Regional Airport in India & Central Asia for the third time in four years at the 2020 World Airport Awards.
•The Awards have supported the planet Airport Survey questionnaires completed by over 100 nationalities of airport customers during the 6-month survey period. The survey evaluated the customer experience across airport service and merchandise key performance indicators from check-in, arrivals, transfers, shopping, security and immigration through to departure at the gate.
10)
INR-USD Futures & Options contracts launched on International Exchanges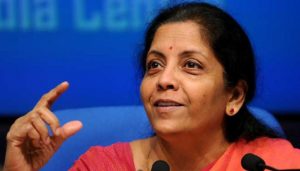 •INR-USD Futures and Options contracts have been launched on International Exchanges by the Union Minister for Finance & Corporate Affairs, Nirmala Sitaraman. The INR-USD Futures and Options contracts have been launched on BSE's India INX and National Stock Exchange, NSE's NSE-IFSC, at GIFT International Financial Services Centre, Gandhinagar, Gujarat.
•INR-USD contracts have been launched at the exchanges in GIFT-IFSC as a significant market share in financial services related to India has moved to other international financial centres. Launching them at the exchanges in GIFT-IFSC will bring this business to India and benefit the country in terms of economic activity and employment gains. It would also bring larger global participation in India through IFSC and will also connect India's IFSC globally as it will be available for 22 hours across all time zones for all global participants from GIFT IFSC.