1)
Anti Terrorism Day 2020: 21st May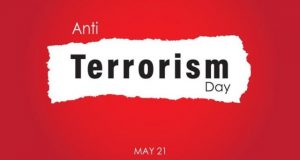 •Anti Terrorism Day 2020 is observed on 21st May every year in India. The day marks the death anniversary of India's seventh Prime Minister Rajiv Gandhi on 21 May 1991. He was killed in Tamil Nadu in a campaign by the Tamil Tigers Eelam (LTTE) a terrorist group. After this assassination, V.P. Singh government has decided to observe 21st May as Anti Terrorism Day.
•The day spread awareness about the violence caused by the terrorists. Anti Terrorism Day is observed to provide knowledge to the youth about terrorism, its impact on human suffering and lives. This day also makes people aware of an anti-social act of terrorism.
2)
International Tea Day observed globally on 21st May
•International Tea Day is observed globally May 21 on the recommendation of India. The purpose of International Tea Day is to try to improve the condition of tea producers and tea workers. Tea producing countries make a lot of profit but the condition of the labourers working in the tea plantations is very bad. Therefore, the purpose of International Tea Day is to encourage the status of tea workers, workers' rights, daily wages, social security, employment security, and health.
3)
World Day for Cultural Diversity for Dialogue and Development: 21 May
World Day for Cultural Diversity for Dialogue and Development is observed globally on 21 May every year. The purpose of the day is to deepen the understanding of the values of cultural diversity and to advance the four goals of the UNESCO Convention on the Protection and Promotion of the Diversity of Cultural Expressions:
•Achieve a balanced flow of cultural goods and services and increase the mobility of artists and cultural professionals
•Integrate culture in sustainable development frameworks
•Promote human rights and fundamental freedoms
•support sustainable systems of governance for culture
4)
World Metrology Day observed globally on 20th May
•World Metrology Day is observed globally on 20th May every year. Many nations on this day, internationally collaborate to create awareness about metrology and its advancement in the respective field.
•This year theme for World Metrology Day: Measurements for global trade. This theme was chosen to create awareness of the important role measurement plays in facilitating fair global trade, ensuring products meet standards and regulations, and satisfying customer quality expectations.
5)
Indian Railways operationalised its 1st 12,000 hp electric Locomotive- WAG12
•Indian Railways has operationalised its 1st 12,000 hp electric Locomotive- WAG12. The loco is named WAG12 with Number 60027. This Locomotive has manufactured by Madhepura Electric Loco Factory in Bihar.
•This locomotive has been put into operation by Indian Railways from Pandit Deen Dayal Upadhyaya Junction. Now, India has become the sixth country within the world to join the elite club of manufacturing high horsepower locomotive indigenously. It is the 1st time that prime horsepower locomotive has been operationalised on railroad track within the world. The locomotive has been produced under the It is the first time.
6)
"Mee Annapurna" initiative launched in Maharashtra
•"Mee Annapurna" initiative has been launched in Maharashtra by an IRDA licensed insurance intermediary "Integrated Risk Insurance". This initiative has been launched by Integrated Risk Insurance as a part of its commitment as a Corporate Social Responsibility towards the welfare of the farmers and agriculture community in Maharashtra. This initiative is based on three commandments namely: Expertise, Engagement and Entitlement.
•"Mee Annapurna" is a commitment of Integrated Risk Insurance to the Bhoomiputra's of Atmanirbhar Maharashtra in order to uplift the farming community by providing them long term sustainable programme for the continuity of their income.
7)
J&K launches an initiative "SUKOON – COVID-19 Beat the Stress"
•Department of Information and Public Relations, J&K has started an initiative "SUKOON – COVID-19 Beat the Stress" programme. This initiative spread awareness about the psychological impact of lockdown and measures to be adopted to overcome them.
•The programme will be telecast on Doordarshan Kashmir Channel every Tuesday at 9.00 PM during which psychiatrists, eminent doctors and scientists will share their knowledge on psychological health. The aim of the programme is to ensure that people stay mentally fit and cope with the fears related to COVID-19 with a sound mind.
8)
"Didi Vehicle Service" launched in Madhya Pradesh
•"Didi Vehicle Service" has been launched by the women of Rural Livelihood Mission in the tribal-dominated Jhabua district of Madhya Pradesh. Didi Vehicle Service has been launched for rural women for the safe delivery, hence proving to be a lifeline for pregnant rural women in tribal areas. The vehicle under the "Didi Vehicle Service" will also be available for other emergency services.
•The women of Rural Livelihood Mission are providing vehicle completely free under the "Didi Vehicle Service" which has been launched in 29 villages of 10 Gram Panchayats of Petlavad development block of Jhabua. The expenses of Didi vehicle service are borne by the women through the interest they are earning on their savings.
9)
Dr Harsh Vardhan to take charge as chairman of WHO Executive Board
•Union Minister of Health and Family Welfare, Dr Harsh Vardhan will take charge as the chairman of the World Health Organization (WHO) 34-member Executive Board. He will replace Dr Hiroki Nakatani of Japan. The WHO is governed by two decision-making bodies, the World Health Assembly and the Executive Board.
10)
Dilip Oommen becomes new President of Indian Steel Association
•Indian Steel Association (ISA) has appointed Dilip Oommen as its new President. He is presently the CEO of Arcelor Mittal Nippon Steel India. He was unanimously appointed as President for the next two years. He will replace Tata Steel CEO TV Narendran, who stepped down as President on May 1. Oommen is a veteran of the steel industry with more than 37 years of experience and an alumnus of Indian Institute of Technology, Kharagpur (IIT-K).
11)
Govinda Rajulu Chintala appointed as chairman of NABARD
•The Appointments Committee of the Union Cabinet has appointed Govinda Rajulu Chintala as the Chairman of National Bank for Agriculture and Rural Development (NABARD). He is presently serving as the Chief General Manager at NABARD and will remain on the post till his superannuation in July 2022. Presently, Dr. Harsh Kumar Bhanwala is serving as the Chairman of NABARD.
•The appointments committee of the union cabinet has also cleared the appointment of Shaji KV as the Deputy Managing Director at NABARD for a period of five years. He is currently serving as the General Manager at Canara Bank. P.V.S. Suryakumar is also appointed as Deputy Managing Director till his superannuation in July 2023. Along with the appointments, the tenure of Vaidya Rajesh Kotecha, secretary in the AYUSH ministry, has been extended on a contract basis for two years.
12)
Carmen Reinhart appointed as Chief Economist of World Bank Group
•World Bank Group has appointed Carmen Reinhart as its new Vice President and Chief Economist. Her appointment will be effective from June 15, 2020. She was a Senior Policy Advisor and Deputy Director at the IMF and Vice President and Chief Economist of the investment bank Bear Stearns.
•Carmen Reinhart has been ranked among the top Economists worldwide based on publications and scholarly citations. She was also awarded the King Juan Carlos Prize in Economics as well as NABE's Adam Smith Award. She has been listed among Bloomberg Markets Most Influential 50 in Finance, Foreign Policy's Top 100 Global Thinkers, and Thomson Reuters' The World's Most Influential Scientific Minds.
13)
DGDE & eGov Foundation partners for Online Management of Cantonment Boards
•The Directorate General Defence Estates (DGDE), Ministry of Defence and eGov Foundation has inked an Memorandum of Understanding (MoU) for Online Management of Cantonment Boards. Both entities will work together to drive e-governance and enhance citizen services across all cantonment boards in the country. These services will be delivered under a cloud-based platform DIGIT (Digital Infrastructure for Governance, Impact & Transformation). These services will be provided under the program named e-Chhawani.
•All the services will be provided through India's Largest Open Source Platform for Urban Governance i.e. DIGIT. This platform includes Dashboards, Web Portals, Miscellaneous Collection, Trade License, Fire NoC system, Public Grievance Redressal System, Property Tax, Water & Sewerage Charges, Online Building Permission System & Finance & Accounting System. Hence, this will lead to improved delivery of services via multiple channels and ease of access of all Cantonment Board-related information online.
14)
NADA provisionally suspends powerlifters Savita Kumari & Ankit Shishodia
•Two Indian Powerlifters namely Savita Kumari & Ankit Shishodia have been provisionally suspended by the National Anti Doping Agency (NADA). The powerlifters have been provisionally suspended for violating the anti-doping rules.
•Both athletes were given a chance to present themselves before the Anti Doping Disciplinary Panel (ADDP) to explain their cases. But because of lockdown amid COVID-19 pandemic, no sitting of panel could take place.