1)
Telangana Formation Day: 2nd June
•Telangana government celebrates 2nd June as the Telangana Formation Day. The idea to formed the state was coined in the year 2013 in both the Parliaments under the Prime Ministership of Manmohan Singh. Finally, it was on 2nd June 2014 when Telangana was inaugurated as a separate State and Sri K Chandrashekhar Rao became its first Chief Minister. E S L Narasimhan became the first Governor of the State. Telangana mainly means the place where the Telugu language is spoken.
2)
IMD Reports 'Cyclone Nisarga' over Arabian Sea
•The India Meteorological Department (IMD) has warned that the cyclonic storm Nisarga, which has turned into a depression in the Arabian Sea, will hit Maharashtra and Gujarat on June 3. At the moment, the storm is brewing in the Arabian sea near Lakshadweep.
•This cyclonic storm could be the first tropical cyclone in 129 years to hit Maharashtra in the month of June. Cyclone Nisarga will bring strong winds and heavy to very heavy rainfall to coastal Maharashtra and Gujarat.
3)
WHO launches 'C-TAP' for equitable access to life-saving tech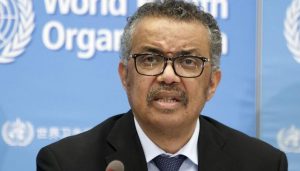 •WHO has launched the 'COVID-19 Technology Access Pool' for equitable access to life-saving tech. This comes after at least 37 countries jointly appealed to the World Health Organisation for common ownership of vaccines, medicines and other diagnostic tools to combat the global health crisis.
•C-TAP aims to accelerate the development of vaccines and medicines through the sharing of research and information and to increase manufacturing capacity for any products that are developed. WHO has also issued a 'Solidarity Call to Action' urging other stakeholders of the UN health agency to join the cause.
4)
PM Modi launches CHAMPIONS: Technology Platform to empower MSMEs
•Prime Minister Narendra Modi has launched the technology platform CHAMPIONS which stands for Creation and Harmonious Application of recent Processes for Increasing the Output and National Strength. The portal is essential for creating the smaller units big by solving their grievances, encouraging, supporting, helping and handholding. It is a real one-stop-shop solution of MSME Ministry.
Detailed objectives of CHAMPIONS:
•Grievance Redressal: To resolve the issues of MSMEs including those of finance, raw materials, labour, regulatory permissions etc particularly within the COVID created a difficult situation;
•To help them capture new opportunities: including manufacturing of medical equipment and accessories like PPEs, masks, etc and provide them in National and International markets;
•To identify and encourage the sparks: i.e. the potential MSMEs who are ready to withstand the present situation and may become national and international champions.
It is a technology packed control room-cum-management data system. In addition to ICT tools including telephone, internet and video conference, the system is enabled by AI, Data Analytics and Machine Learning. It is also fully integrated on real time basis with GOI's main grievances portal CPGRAMS and MSME Ministry's own other web based mechanisms.The entire ICT architecture is made in house with the assistance of NIC in no cost. Similarly, the physical infrastructure is created in one of the ministry's dumping rooms in record time.
5)
SpaceX Crew Dragon capsule carrying NASA astronauts docks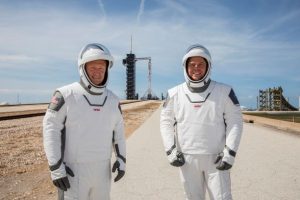 •NASA astronauts Robrt Behnken and Douglas Hurley docked the SpaceX capsule with the International Space Station(ISS). SpaceX's Falcon 9 with Crew Dragon capsule – Endeavour launched from Pad 39A at NASA's Kennedy Space Center, Cape Canaveral, Florida. Now SpaceX became the first private company to fly astronauts into orbit.
•This is the primary mission NASA astronauts launched in the United States since the retirement of the spacecraft in 2011. Falcon9 is that the world's first orbital class, two stage reusable rocket designed and made by SpaceS for the transportation of humans and payloads into Earth orbit.
6)
Virat Kohli only cricketer in Forbes' 2020 list of world's highest paid athletes
•India skipper Virat Kohli is the only cricketer to feature in Forbes' list of the top 100 highest-paid athletes in the world for the year 2020. Kohli is ranked at number 66 with estimated earnings of $26 million. Swiss tennis great, Roger Federer has topped the list of world's highest-paid athlete for 2020 with an estimated $106.3 million.
•Soccer stars Cristiano Ronaldo ($105 million), Lionel Messi ($104 million ) and Neymar ($95.5 million) and NBA's LeBron James complete the top 5 positions in the list. The factors used by Forbes' for calculation were athletes' revenue, including prize money, salaries, contract bonuses, endorsements, royalties, and appearance fees from June 1, 2019, until June 1, 2020.
7)
Pradip Kumar becomes new Secretary in Ministry of Steel
•J&K cadre IAS, Pradip Kumar Tripathi, has taken over as Secretary, Ministry of Steel, Govt. of India. Prior to this, Shri Tripathi has been posted as Special Secretary and Establishment Officer in Department of Personnel and Training (DoPT).