1)
International Albinism Awareness Day: 13 June
•International Albinism Awareness Day is observed on 13th June every year. The day is celebrated annually to bring about awareness among the people about albinism and the human rights of people with albinism. Each year events are held to educate people and celebrate people with albinism who continue to suffer all types of human rights violations.
•The theme of International Albinism Awareness Day 2020: 'Made To Shine'.
2)
Narendra Singh Tomar launched Sahakar Mitra Scheme
•Union Minister for Agriculture & Farmers' Welfare, Narendra Singh Tomar has launched "Sahakar Mitra: Scheme on Internship Programme (SIP)" an initiative by National Cooperative Development Cooperation (NCDC).
•NCDC has been proactive in delivering innovative solutions to the cooperative sector. The scheme will provide the young professionals with an opportunity for practical exposure and learning from the working of NCDC and cooperatives as a paid intern. Sahakar Mitra would also provide an opportunity for professionals from academic institutions to develop leadership and entrepreneurial roles through cooperatives as Farmers Producers Organizations (FPO).
3)
UP govt starts "Bal Shramik Vidya Yojana" to educate child labourers
•Uttar Pradesh Chief Minister, Yogi Adityanath has launched 'Bal Shramik Vidya Yojana' to educate child labourers in the state. This scheme has launched, on the occasion of the International Child Labour Prohibition Day.
Benefits of the scheme:
•The government will give monthly financial assistance of Rs 1,000 and Rs 1,200 to selected boys and girls, respectively.
•If these children pass classes 8, 9 and 10, they will be given an additional amount of Rs 6,000 for clearing each standard.
•A total of 2,000 children from 57 districts of the state will benefit from the first phase of the "Bal Shram Vidya Yojana".
•The families of these children will also get the benefits of all the schemes of the central and state government.
4)
Hyderabad police launches 'STREE' programme for women
•In Telangana, Hyderabad City Police along with Hyderabad City Security Council(HCSC) has launched a programme called "She Triumphs through Respect, Equality, and Empowerment" (STREE) to support and empower women victims of domestic violence and abuse.
5)
MP govt gives 'corona warriors' status to Divyang Anganwadi workers
•Madhya Pradesh government gives 'corona warriors' status to Divyang Anganwadi workers. These divyang Anganwadi workers are playing an important role in the state during the ongoing Corona crisis.
•They are distributing nutritious food from house to house of the beneficiaries. They are also advising people to avoid corona infection. Anganwadi workers advise that stay at home and follow the mantra of social distancing in remote areas.
6)
Odisha becomes 1st state to get ISO for tribal hostels
•Odisha has become the first state in the country to receive ISO certification for hostels meant for tribal students. The ST & SC Welfare Department has launched the 'Mission Suvidya' project to provide all the tribal hostels of the state uniform standards of infrastructure, amenities and human resources.
•In the first phase, hostels of Keonjhar and Sambalpur districts were taken up for assessment. Out of 156 hostels of Keonjhar, 60 were selected for intensive interventions. In March, the audit team for certification visited 32 hostels of Keonjhar and 12 of Sambalpur for final assessment. All the 44 hostels cleared the assessment parameters and were awarded ISO certification.
7)
NHAI becomes 1st construction sector to go 'fully digital'
•The National Highway Authority of India (NHAI) has become the first development division to go "fully Digital". NHAI has propelled cloud-based and Artificial Intelligence-powered Big Data Analytics platform – Data Lake and Project Management Software considering the dangerous coronavirus pandemic. Now NHAI representatives are working with no dread of physical contact and contacting of physical documents.
•The whole venture the executives work process of NHAI is changed from manual to the online entry based, wherein the total task execution activities including 'work process with courses of events' and 'ready system' have been designed. All venture documentation, legally binding choices, and endorsements are currently being done through the entryway as it were. The total undertaking archives and correspondences will be put away in an advanced arrangement in the cloud-based 'Information Lake' connected with GIS labelling and Unique Project ID, so the task information can be effectively recovered as and when required from any area.
8)
Indian-American scientist Rattan Lal wins World Food Prize 2020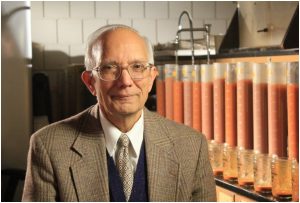 •Indian-American soil scientist, Rattan Lal was named this year's prestigious World Food Prize 2020. He has been awarded for developing and mainstreaming a soil-centric approach to increasing food production that conserves natural resources and mitigates climate change. He will receive USD 250,000 as prize money.
•Lal serves as Distinguished University Professor of Soil Science and founding Director of the Carbon Management and Sequestration Center at The Ohio State University (OSU).
9)
FIFA's latest ranking: India retains 108th slot
•India football team retained its 108th spot in the latest FIFA rankings. While Belgium ranked first and world champion France is in 2nd place and Brazil is at 3rd spot. In the wake of the coronavirus (Covid-19) pandemic, the qualifier tournaments have been postponed for the FIFA World Cup and other major games at the international level.