1)
World Blood Donor Day: 14th June
•World blood donor day is observed globally on June 14th every year. This day is celebrated to create that awareness and make people understand how crucial it is to donate blood. As well as thanking blood donors, it's each day to boost awareness about the worldwide need for safe blood and the way everyone can contribute. To promote and support effective national donor programmes and therefore the elimination of dependency on family/replacement and paid blood donation. To encourage people to donate blood regularly on an unpaid basis.
•The campaign theme for this year's World donor Day is "Safe blood saves lives" with the slogan "Give blood and make the world a healthier place".
The objectives of this year's campaign are:
•To celebrate and thank individuals who donate blood and to encourage those that haven't yet donated blood to start out donating.
•To highlight the necessity for committed, year-round blood donation, to take care of adequate supplies and achieve universal and timely access to safe blood transfusion.
•To focus attention on the contribution donors make to the entire community as a critical factor in improving health.
•To demonstrate the necessity for universal access to safe transfusion and supply advocacy on its role within the provision of effective health care and in achieving the goal of universal health coverage.
•To mobilize support at national, regional and global levels among governments and development partners to take a position in, strengthen and sustain national blood programmes.
2)
World Elder Abuse Awareness Day: 15th June
•World Elder Abuse Awareness Day (WEAAD) is observed on 15th June every year. This day is celebrated to raise voice for the elderly who are abused and victimized. The main objective of this day is to provide an opportunity for communities around the globe to promote a better understanding of abuse and neglect of older persons by creating awareness of the cultural, social, economic and demographic processes affecting elder abuse and neglect.
•The National Center on Elder Abuse (NCEA) and the National Clearinghouse on Abuse in Later Life (NCALL) invite you to join us in "Lifting Up Voices" for World Elder Abuse Awareness Day (WEAAD) in 2020. This theme serves as a platform for unifying Elder Justice and Violence Against Women by sharing the lived experiences of older people.
3)
World Wind Day celebrated on 15th June
•World Wind Day, also known as Global Wind Day, is observed on 15th June every year. The day is encouraging and raises awareness on wind energy, which is a natural form of energy and also sheds light on all the ways that wind energy helps to shape the energy systems and the way it encourages economic and other growth in the society. Global Wind Day began in Europe in 2007 and globally in 2009.
4)
CSIR National Healthcare Supply Chain Portal "Aarogyapath" launched
•A CSIR National Healthcare Supply Chain Portal named as "Aarogyapath" has been launched. "Aarogyapath" is an information platform developed by CSIR in partnership with Sarvodaya Infotech and institutional users and manufacturers / authorized suppliers of healthcare essentials. The portal has been launched with a vision of "providing a path which leads one on a journey towards Aarogya (healthy life)". The platform is expected to fill the critical gaps in last-mile delivery of patient care within India via improved availability and affordability of healthcare supplies.
•The "Aarogyapath" portal will ensure single-point availability of key healthcare goods which would be helpful to customers in addressing various issues such as time-consuming processes to identify good quality products, lack of awareness about the latest product launches, dependence on limited suppliers, etc. The platform would serve manufacturers & suppliers to reach a wide network of customers efficiently by reducing the gaps in connectivity between them and potential demand centers. Hence it will facilitate a real-time availability of critical healthcare supplies.
5)
Flood warning system "iFLOWS" launched in Mumbai
•State of the art flood warning system "iFLOWS" has been launched in Mumbai. The flood warning system was launched by Union Earth Sciences Minister Harsh Vardhan along with Maharashtra's chief minister Uddhav Thackeray. I-FLOWS consists of seven modules: Data Assimilation, Flood, Inundation, Vulnerability, Risk, Dissemination Module and Decision Support System.
•The recently launched system "iFLOWS" will enable Mumbai to predict floods three days before they happen. As a result, administration will be able to save property as well as lives from the flood. Now, the city will become more resilient with the launch of system as it will provide early signs of the forthcoming danger during high rainfall and cyclone events.
6)
Punjab government launches mobile App "Ghar Ghar Nigrani"
•"Ghar Ghar Nigrani" mobile application has been launched by the Punjab government to check the community spread of COVID-19 in the state of Punjab. Under this initiative, state will undertake house to house surveillance in the state, covering the entire rural and urban population of Punjab above 30 years of age and will also cover persons below the age of 30 having co-morbidity or Influenza like Illness/Severe Acute Respiratory Illness until the elimination of the COVID-19 pandemic.
•The mobile application "Ghar Ghar Nigrani", developed and designed in-house by the Health Department, will act as a tool for early detection as well as testing of the people for the novel coronavirus in order to prevent its community spread.
7)
Shambhu S. Kumaran appointed India's next Ambassador to Philippines
•Shambhu S. Kumaran has been appointed as the next Ambassador of India to the Republic of the Philippines. He is presently serving as the Ambassador of India to the Kingdom of Morocco.
•Shambhu S. Kumaran will replace Jaideep Mazumdar as the next High Commissioner of India to the Republic of Philippines.
8)
Imtaiyazur Rahman becomes CEO of UTI Mutual Fund
•UTI Mutual Fund has appointed Imtaiyazur Rahman as its Chief Executive Officer (CEO). Earlier Rahman was serving as the acting Chief Executive Officer of the UTI Mutual Funds. He joined the UTI Group in 1998 and is with the AMC since 2003.
•Imtaiyazur Rahman was made the acting Chief Executive Officer of the UTI Mutual Funds after the completion of 5-years term of Leo Puri whose contract ended in August 2018. Before becoming acting CEO, Rahman was serving as the chief financial officer of UTI Asset Management Company.
9)
Attorney General of India KK Venugopal to get 1-year extension
•Attorney General of India, KK Venugopal will get the 1-year extension of service. The tenure of the is coming to an end on June 30. He has accepted the government's request to serve as the top law officer of the country beyond June 30 when his current three-year tenure expires. He is a leading lawyer of the country was appointed as Attorney General and had succeeded Mukul Rohatgi on June 30, 2017.
•Venugopal has appeared for the Centre in Aadhaar and Rafale cases, among others, in the Supreme Court. He is defending the Union government in other important cases including those related to the Citizenship (Amendment) Act and the abrogation of Article 370 of the Constitution.
10)
Kathryn D. Sullivan becomes 1st woman to reach deepest point of ocean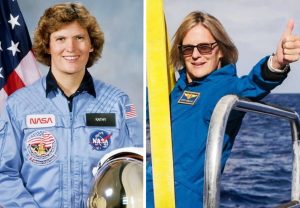 •Former NASA astronaut and Geologist, Kathryn D. Sullivan has become the 1st woman to reach the deepest point of the ocean, Mariana Trench. She is the 1st American woman to walk in space has become the first woman to reach the deepest known spot in the ocean.
•Sullivan has emerged from her 35,810-foot dive to the Challenger Deep, according to EYOS Expeditions, a company coordinating the logistics of the mission. She is the first person to both walk-in space and to descend to the deepest point in the ocean. The Challenger Deep is the lowest of the many seabed recesses that crisscross the globe.
11)
RBI constitutes P K Mohanty led "Internal Working Group"
•An Internal Working Group (IWG) has been constituted by the Reserve Bank of India with a prime objective of reviewing the extant guidelines on ownership and corporate structure for Indian private sector banks. The Internal Working Group (IWG) will be headed by Dr. Prasanna Kumar Mohanty, Director, Central Board of RBI. The Internal Working Group (IWG) is supposed to submit its report by 30th September 2020.