1)
Union HRD Minister virtually launches 'YUKTI 2.0' platform
•"YUKTI 2.0" platform has been virtually launched by the Union Minister of Human Resource Development, Ramesh Pokhriyal 'Nishank'. The platform will help in systematically adopting the technologies having commercial potential and information related to incubated startups in our higher education institutions. The Young India combating COVID with Knowledge, Technology and Innovation (YUKTI) platform seeks to cover the different dimensions of COVID-19 challenges in a very holistic and comprehensive way. The platform has been developed by the Ministry of HRD.
•YUKTI 2.0 is logical extension of earlier version of 'YUKTI' and has been launched to find out ideas relevant in COVID pandemic. With the help of this platform, MHRD aims to identify innovative solutions from India's higher and technical institutions. During the launch, HRD minister encouraged students, faculty members, startups including other stakeholders of higher education institutions to get them registered on the YUKTI portal and share their technologies and innovations.
2)
Union FPI Minister launches "Exclusive Investment Forum"
•The Food Processing Edition of the "Exclusive Investment Forum" has been launched by the Union Food Processing Industries Minister Harsimrat Kaur Badal. It has been designed by the Invest India, the National Investment Promotion & Facilitation Agency of the Government of India. Investment Facilitation Cell of Ministry of Food Processing Industries (MoFPI) was also established during the forum to handhold both domestic and foreign investors for doing business in India.
•The "Exclusive Investment Forum" is a sectoral series to conduct comprehensive conversations among global industry leaders and key decision makers from the highest levels of the Central and State Governments. The senior most policy makers from Union Government and 6 State Governments namely Andhra Pradesh, Assam, Madhya Pradesh, Punjab, Telangana and Uttar Pradesh participated in the forum.
3)
Tamil Nadu CM K. Palaniswami inaugurates compressed biogas plant
•Tamil Nadu Chief Minister, K. Palaniswami has inaugurated compressed biogas (CBG) Plant in Namakkal. They inaugurate this plant through video conference in the presence of Union Minister for Petroleum and Natural Gas, Dharmendra Pradhan. The cost of compressed biogas plant (CBG) is Rs 25 crore. The new plant can make 15 tonnes of CBG per day and 20 tonnes of bio manure per day.
•Chief Minister also inaugurated the five CBG retail outlets in Namakkal, Salem, Puduchathiram and Rasipuram. The CBG plant belongs to IOT, a joint venture between Indian Oil Corporation (IOC) and German company Oiltanking GmbH.
4)
Rajasthan Goverment to launch "Indira Rasoi Yojana"
•Rajasthan state government will soon launch Indira Rasoi Yojana for the poor. This scheme will start to ensure that "no one sleeps hungry" in the state. Under this scheme, pure and nutritious food on concessional rates is going to be provided to the needy twice each day. The State government will spend ₹100 crores every year on the scheme.
•Local NGOs also will be roped certain the successful implementation of the scheme and its effective monitoring are going to be through with the assistance of data technology. He also flagged-off five mobile vans loaded with publicity material and equipment for the notice campaign by the National Health Mission and UNFPA.
5)
India to give USD 10 million to UNRWA for Palestine Refugees
•India has pledged to contribute USD 10 million to the United Nations Relief and Works Agency for Palestine Refugees in the Near East (UNRWA). The amount would be contributed over the coming two years. The contribution of USD 10 million would be an additional amount over and above USD 5 million contribution announced for year 2020.
•India has also pledged to donate life savings drugs to Palestine as a support to in combatting the COVID-19 pandemic. The contribution of USD 10 million was announced by the Indian government during the virtual Ministerial Pledging Conference for UNRWA. In the conference, India was represented by Minister of State for External Affairs V Muraleedharan.
6)
GeM mandates "Information about Country of Origin" for sellers
•"Information about Country of Origin" has been mandated for the sellers by the Government e-Marketplace (GeM), a Special Purpose Vehicle under the Ministry of Commerce and Industry. The sellers have been advised to mention "Information about Country of Origin" while registering all new products on GeM. While those sellers, who had already registered their products before the launch of this new feature on GeM, would be reminded regularly to update the information about Country of Origin. If they fail to update the same, their products shall be removed from GeM.
•Government e-Marketplace (GeM) has launched this new feature with prime objective of promoting the 'Make in India' and 'Aatmanirbhar Bharat'. With this, GeM has also enabled 'Make in India' filter on the portal.
7)
Moody's forecasts India's GDP to shrink 3.1% in 2020
•Moody's Investors Service has released its June update to Global Macro Outlook (2020-21). In its latest release, the rating agency projected the Indian economy to shrink 3.1% in the fiscal year 2020, citing the extent of coronavirus-related disruption. It also forecasts Indian economy to register 6.9% growth in fiscal year 2021.
•Global Macro Outlook also indicated that China would be the only G-20 country to record growth of 1% in fiscal year 2020 and expects it to grow at 7.1% in fiscal year 2021. Moody's also forecasted the growth of G-20 economies and expects it to contract by 4.6% in fiscal year 2020 followed by 5.2% growth in 2021.
8)
GoI brings all cooperative banks under supervision of RBI
•Government of India will bring an ordinance to put all cooperative banks under the Reserve Bank of India supervision. This decision was announced by Union information and broadcasting minister Prakash Javadekar.
•Now 1,482 urban cooperative banks and 58 multi-state cooperative banks came under the supervisory powers of the Reserve Bank of India. The RBI's powers as they apply to the scheduled banks will also apply to cooperative banks. This decision will give an assurance to more than 86 million depositors in these banks that their money amounting to Rs 4.84 trillion will stay safe.
9)
Karnataka Bank rolls out KBL Micro Mitra for Micro entrepreneurs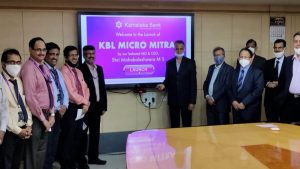 •The Karnataka Bank has rolled out a new product titled "KBL Micro Mitra" for the Micro entrepreneurs. Under the newly launched product, the Micro manufacturing and service enterprises will be offered a financial assistance of up to Rs 10 lakhs. This financial assistance would be provided either for working capital or for investment purposes. The financial assistance facility comes with a simplified procedure and competitive rate of interest.
•KBL Micro Mitra would be available for the Micro entrepreneurs across India through all the branches of Karnataka Bank. This will ensure timely credit assistance to the micro entrepreneurs who are playing an instrumental role in the recovery of the economy both in rural and urban India.
10)
T. Rabi Sankar becomes new Chairman of IFTAS
•Indian Financial Technology & Allied Services (IFTAS) has announced the appointments of T Rabi Sankar as the Chairman of the organization. IFTAS is a wholly-owned subsidiary of Reserve Bank of India.
•T Rabi Sankar, currently serving as Executive Director, Reserve Bank of India for Payment Systems, Information Technology, Risk Management and Fintech has taken over concurrent charge, ex officio, as the Chairman of IFTAS.
•Agency also appoints Dr N Rajendran as the Chief Executive Officer (CEO) of the organization. He is a leading expert in the field of Payments & Banking Systems and holds a PhD in computer science. With an outstanding track record in strategizing, people and technology management, cybersecurity, administration, thought leadership and project & business execution.