1)
Day of the Seafarer celebrated on 25th June
•The International Maritime Organization is observed on 25th June as the Day of the Seafarer. On this day, people pay respect to Seafarers and sailors who help the entire world function by conducting sea transport. This year, the annual Day of the Seafarer (DotS) will be celebrating its 10th anniversary on 25 June.
•The 2020 campaign for the day: Seafarers are Key Workers. The campaign seeks to raise awareness of the work seafarers have done during the pandemic and to thank them for their contribution. It also encourages people to treat them with respect and dignity so they can continue the good work they have been doing.
2)
Cabinet approves setting up of Rs 15000 crore "AHIDF"
•Establishment of Animal Husbandry Infrastructure Development Fund (AHIDF) has been approved by the Union Cabinet chaired by Prime Minister Shri Narendra Modi. The Animal Husbandry Infrastructure Development Fund will be worth Rs 15000 crore and provide incentivisation of investments in the formation of such infrastructure for dairy as well as meat processing, and value addition infrastructure and establishment of animal feed plant in the private sector.
•Farmer Producer Organizations (FPOs), MSMEs, Section 8 Companies, Private Companies and individual entrepreneur would be the eligible beneficiaries under the scheme According to the scheme, minimum 10% margin money would be contributed by the beneficiary while scheduled banks would be responsible for the availability of balance 90% of the loan component. Interest subvention of 3% would be provided by the Government of India to the eligible beneficiaries. There will be 2 years moratorium period for the principal loan amount while 6 years repayment period thereafter.
•A Credit Guarantee Fund of Rs 750 crore would be set up by the Government of India. This fund would be managed by National Bank for Agriculture and Rural Development (NABARD) and will provide Credit guarantee to those sanctioned projects which are covered under MSME defined ceilings. Guarantee Coverage would be provided upto 25% of Credit facility of borrower.
•Both of the above facilities will ensure availability of capital to meet upfront investment required for the above projects and also help enhance overall returns/ pay back for investors.
3)
Cabinet gives International airport status to Kushinagar Airport
•Union Cabinet has given International Airport status to Kushinagar Airport in Uttar Pradesh. The International status to the Airport will end in boosting of domestic/international tourism and economic development of the regions. It will be a crucial strategic location with the international border accessible.
•A 3-km-long runway strip has already been made. Now, even an enormous aircraft of Airbus can land at the airport. Kushinagar is located within the north-eastern a part of Uttar Pradesh about 50 km east of Gorakhpur and is one among the important Buddhist pilgrimage sites.
4)
Jitendra Singh inaugurates Devika and Puneja Bridges in J&K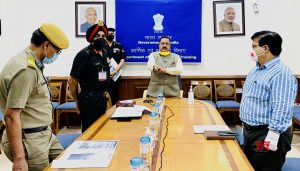 •Union Minister Jitendra Singh has inaugurated two bridges Devika and Puneja at Udhampur and Doda districts respectively in Jammu and Kashmir. The Bridge on River Devika in Udhampur has been completed by Border Roads Organisation within fifteen months time. The Puneja Bridge was also constructed by Border Roads Organisation (BRO) in 36 months.
•The 10-meter-long Devika Bridge construction resolve the traffic issues of the region and this will also help in smooth passage of army convoys and vehicles. While the 50-meter-long Puneja Bridge is strategically very important from defence point of view. It will also provide a vital alternate link to the Doda, Kishtwar and Ramban districts beside Kashmir valley from Pathankot (Punjab) without entering Jammu and Udhampur via Lakhanpur. Doda is the only district in the country where not one but three big tunnels are being built.
5)
Tripura Govt announces 'Ektu Khelo Ektu Padho' scheme
•Tripura government has announced a special initiative for activity-based learning named 'Ektu Khelo, Ektu Padho'. The new scheme was floated aiming at engaging students by disseminating audio and video contents focused on hands-on learning activities and messages of simple projects, fun activities and games among them through WhatsApp or SMS services. "The new scheme can be accessed via smartphones of guardians. In case no smartphone is available, SMS services would be used to teach students".
6)
MPMKVVCL starts Nishtha Vidyut Mitra Scheme for women empowerment
•In Madhya Pradesh, Madhya Kshetra Vidyut Vitaran Company has launched the Nishtha Vidyut Mitra Scheme for women empowerment. Under the scheme, women Self-Help Groups at Gram Panchayat level will work as Nishtha Vidyut Mitra.
•This scheme will the company to increase the revenue collection as well as women will also earn extra. This scheme has been implemented in all the Gram Panchayats of all 16 districts of Bhopal, Narmadapuram, Gwalior and Chambal divisions of the company's jurisdiction.
7)
Union Cabinet approves formation of "IN-SPACe"
•Union Cabinet chaired by Prime Minister Shri Narendra Modi has approved the establishment of Indian National Space Promotion and Authorization Centre (IN-SPACe). It has been approved to encourage the participation of private sector in the entire range of space activities. It will also enable Indian Industry in becoming an important player in global space economy.
•The Indian National Space Promotion and Authorization Centre (IN-SPACe) will offer a level playing field to the private companies by allowing them to use Indian space infrastructure. It will also hand-hold, promote as well as guide the private companies in space activities via encouraging policies along with friendly regulatory environment. These reforms in the Indian space sector will allow Indian Space Research Organisation (ISRO) to focus on research and development activities, new technologies, exploration missions as well as human spaceflight programme.
8)
CCI approves acquisition of stake in Jio Platforms by Jaadhu
•The Competition Commission of India (CCI) has approved the acquisition of stake in Jio Platforms Limited by Jaadhu Holdings LLC. Jaadhu Holdings LLC will acquire approximately 9.99% stake in Jio Platforms.
•Jaadhu Holdings LLC (Jaadhu) is a newly incorporated company and an indirect wholly owned subsidiary of Facebook, which is a publicly traded company listed on NASDAQ, with headquarters in California, United States of America. Jio Platforms Limited is a subsidiary of Reliance Industries Limited and runs digital applications and holds controlling investments in technology related units. It exists under the laws of the Republic of India and aims to provide high-quality and affordable digital services across India.