1)
International Day Against Drug Abuse and Illicit Trafficking: 26 June
•International Day Against Drug Abuse and Illicit Trafficking is observed globally on 26th June every year. The day is observed by the United Nations as an expression of its determination to strengthen action and cooperation to achieve the goal of an international society free of drug abuse.
•The theme of International Day Against Drug Abuse and Illicit Trafficking 2020: "Better Knowledge for Better Care". The main purpose of the theme is to improve the understanding of the world drug problem and at fostering greater international cooperation for countering its impact on health, governance and security.
2)
International Day in Support of Victims of Torture: 26 June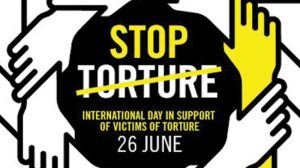 •International Day in Support of Victims of Torture is observed on 26th June every year. This day is observed by the United Nations to raise awareness among the people about the human torture that it is not only unacceptable but it is also a crime.
3)
NITI Aayog launches campaign "Navigating the New Normal"
•A behaviour change campaign called "Navigating the New Normal" has been launched by the NITI Aayog in partnership with Bill and Melinda Gates Foundation (BMGF), Ashoka University, Centre for Social and Behavioural Change (CSBC), and the Ministry of Health, and Ministry of Women & Child Development.
•Campaign "Navigating the New Normal" has been developed under the guidance of Empowered Group 6 constituted by the Government of India. The campaign comprises of 2 parts: first is a web portal and the second is a media campaign. The web portal seeks to increase public participation and encourages people to practise Covid-safe behaviours. It emphasizes on easy implementation of four key behaviours in the unlock phase:
1. mask-wearing
2. social distancing
3. hand hygiene
4. not spitting in public
•While the second part, i.e. the media campaign focuses on the wearing of masks as it is a simple measure which has made a big difference in the fight against COVID-19.
4)
Tripura to launch "Mukhyamantri Matru Pushti Uphaar" scheme
•Tripura government has announced an ambitious scheme "Mukhyamantri Matru Pushti Uphaar". The scheme aims to provide nutrition kits to pregnant and lactating women in order to combat infant and maternal mortality and malnutrition. The scheme is expected to benefit 40,000 women in the state.
•Under the Matru Pushti Uphaar scheme, pregnant women would be tested four times in the Primary Health Centers (PHC), and will be offered a nutrition kit after each test, comprising of food items and grocery supplies like peanuts, soyabeans, mixed pulses, jaggery and ghee.
5)
"Atma Nirbhar Uttar Pradesh Rojgar Abhiyan" launched in UP
•Prime Minister Narendra Modi has virtually launched a path-breaking scheme "Atma Nirbhar Uttar Pradesh Rojgar Abhiyan" in Uttar Pradesh. The scheme aims to generate employment for the migrant workers of the state who recently returned from other states. The scheme has been launched in 31 districts of Uttar Pradesh constituting more than 25,000 returnee migrant workers.
•Atma Nirbhar Uttar Pradesh Rojgar Abhiyan is an unique initiative of the Uttar Pradesh government to generate employment, promote local entrepreneurship and create partnership with Industrial associations and other organizations to facilitate employment opportunities to the returnee migrant workers. The launch event witnessed the participation of villages across all districts of Uttar Pradesh through the Common Service Centers and Krishi Vigyan Kendras while maintaining the rules of social distancing in the wake of the COVID-19 pandemic.
6)
Dharmendra Pradhan inaugurates PADC at Paradip, Odisha
•Union Minister of Petroleum and Natural Gas and Steel, Dharmendra Pradhan has inaugurated a Product Application and Development Centre (PADC) set up by Indian Oil at Paradip, Odisha. PADC at Paradip with a CAPEX of Rs 43 crore (USD 6.10 billion), adjacent to its Refinery and Petrochemicals complex.
There are 4 laboratories in PADC namely:
•Polymer Processing Lab
•Analytical Testing Lab
•Chemical Analysis Lab
•Characterisation Lab
7)
Pakistan to remain on FATF grey list
•Pakistan will remain on the grey list of the Financial Action Task Force (FATF) for failing to suits the worldwide terrorist financing watchdog's deadline to prosecute and penalise terrorist financing in the country. The decision was taken at the Financial Action Task Force's third and final plenary held virtually due to the Covid-19 pandemic. The plenary was held under the Chinese Presidency of Xiang Liu.
•FATF had expressed serious concerns over Pakistan's failure to finish its 27-point action plan in line with the agreed timelines, which led to September 2019. In 2018, FATF had placed Pakistan on the grey list and therefore the watchdog has already granted Islamabad an extension till February 2020 during a gathering in October last year.
8)
World's 1st yoga university outside India launched in US
•The world's first yoga university outside India has been launched in Los Angeles, US. The Yoga University has been named after Swami Vivekananda. The University was launched as a part of the commemorations for the 6th International Yoga Day. The University offering programmes that combine scientific principles and modern research approach to the ancient Indian practice.
•The chancellor of SVYASA- Swami Vivekananda Yoga Anusandhana Samsthana (Deemed University at Bengaluru for the study of yoga), Dr H R Nagendra will be the first Chairman of the Vivekananda Yoga University. The first day of classes for the fall 2020 semester of the University will commence on 24th August 2020. Online Master's Program in Yoga (M.S Yoga) will also be offered by the University.
9)
Priyanka Chopra & Anurag Kashyap named among ambassadors at TIFF 2020
•Bollywood actress Priyanka Chopra and filmmaker Anurag Kashyap named among the 50 ambassadors at 45th edition Toronto International Film Festival (TIFF) 2020. This year 45th edition Toronto International Film Festival is to be held virtually. The 45th edition of TIFF will take place from September 10-19.
•This is the 1st time TIFF will launch a digital platform for the festival, offering new opportunities to connect with audiences beyond Toronto. TIFF has partnered with Shift72 to develop this industry-leading online platform. The selection for 2020 comprises 50 new feature films, 5 programmes of short films, interactive talks, film cast reunions, and Q&As with cast and filmmakers.
10)
BLR becomes India's 1st airport to install AWMS technology on runway
•The Bengaluru International Airport Ltd (BIAL), which operated the Kempegowda International Airport becomes the 1st airport in India, who installed an indigenously-developed Aviation Weather Monitoring System at its new runway on both ends. This new AWMS technology developed by Bengaluru-based CSIR-National Aerospace Laboratories (NAL).
•BIAL has also installed four Drishti transmissometers, which is additionally developed by NAL, in association with the India Metrological Department (IMD) to live the Runway Visibility Range (RVR). With this, BLR Airport now features a total of six Made in India RVRs at both runways.
11)
IMF predicts Indian economy to contract by 4.5% in FY21
•The International Monetary Fund (IMF) has projected that Indian economy will experience a sharp contraction of 4.55% in Fiscal Year 2021, as compared to that of 1.9% expansion projected in the month of April 2020. The international organization has called this a "historic low" for India. The contraction in the Indian economy will be due to the the COVID-19 pandemic.
•IMF has forecasted that Indian economy will recover in the fiscal year 2022 with a growth rate of 6%. These projections has been stated by IMF in its latest World Economic Outlook titled "A Crisis like No Other, An Uncertain Outlook".
12)
England's Clare Connor to become 1st female president of MCC
•Former England women's captain Clare Connor is to become the 1st female president of Marylebone Cricket Club (MCC) in its 233-year history. The 1st non-British MCC president, Kumar Sangakkara has nominated Connor. Connor is presently served as England and Wales Cricket Board's head of women's cricket. She made her England debut aged 19 in 1995 and went on to captain her country in 2000 before retiring six years later.
•Presidents of MCC usually remain in post for one year but Sangakkara's term is about to be extended by an extra 12 months due to the coronavirus pandemic. It was not until 1998 that MCC, which owns Lord's Cricket Ground, voted to permit women to become members.