1)
Micro-, Small and Medium-sized Enterprises Day: 27 June
•Micro-, Small and Medium-sized Enterprises Day is observed globally on 27th June every year since 2017. This day is observed by the United Nations to raise public awareness of their contribution to sustainable development and the global economy.
•Micro, small and Medium-sized businesses celebrate this day in recognition of their work in local and global economies. These enterprises, which generally employ fewer than 250 persons, are the backbone of most economies worldwide.
2)
Maharashtra Govt introduced "Maha Parwana" plan to boost investment
•Maharashtra State Government has introduced "Maha Parwana" plan to attract fresh investment in industries. This plan will offer incentives and a single-window clearance system.
Important points of "Maha Parwana" plan:
•The companies with investment proposals for Rs.50 crore or more will get relaxation on getting clearances from multiple departments with assurance letters (Maha Parwana).
•These companies should apply at the Maharashtra Industry, Trade and Investment Facilitation Cell (MAITRI), single window system and get online permission within 48 hours.
•The industries enrolled under the Maha Parwana will get the 25 odd statutory permissions and clearances from the other state departments within 30 days. If the clearance is not provided within 30 days it will be automatically deemed as cleared.
•For the existing and new industries, the state government has proposed to provide "plug and play" infrastructure to support the investors and reduce the capital investment.
3)
India slips down at 77th place in accounting money in Swiss banks
•Swiss National Bank (SNB) has released 'Annual banking statistics, 2019'. According to the latest SNB data, India has moved down three places to 77th rank in terms of money parked by its citizens. However, many neighbouring countries are below India in the list. Among them, Pakistan is ranked 99th, Bangladesh 85th, Nepal 118th, Sri Lanka 148th, Myanmar 186th and Bhutan 196th.
•India-based branches, accounting for just about 0.06 per cent of the aggregate funds parked by all foreign clients of Switzerland-based banks. While Britain holds the first place in this list with a share of 27 % of the total deposits.
4)
NASA headquarters to be renamed for Mary W. Jackson
•NASA has announced that its headquarters in Washington, D.C., will be named after Mary W. Jackson, one of its history-making engineers. The information was passed by NASA Administrator Jim Bridenstine.
5)
Sachin Bansal's startup "Navi" launches new instant lending app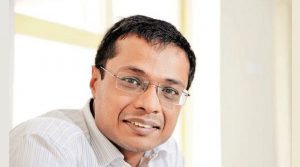 •Flipkart co-founder Sachin Bansal's financial services startup "Navi" has launched a mobile app " Navi lending" to provide instant personal loans targeted at consumers in the middle-income segment.
6)
Australia and New Zealand named as hosts of FIFA Women's World Cup 2023
•The FIFA Women's World Cup 2023™ will be hosted by Australia and New Zealand. The joint offer put together by Football Federation Australia and New Zealand Football got 22 of the 35 substantial votes cast by the FIFA Council individuals in the first voting form, with the Colombian Football Association having acquired 13 votes.
•The FIFA Women's World Cup 2023 will be the first edition to include 32 teams and it will likewise be the first to be hosted by Australia and New Zealand and across two confederations (AFC and OFC).
7)
Rahul Dravid beats Sachin Tendulkar in Wisden India's poll
•According to a poll conducted by Wisden India, Rahul Dravid is the greatest Indian Test batsman of all time. Dravid beats Sachin Tendulkar by a narrow margin of votes in the final round of voting. Dravid got 52 per cent of the votes, with as many as 11,400 fans participating within the final round of voting. Dravid saw off Tendulkar within the final round of the voting by a narrow margin despite trailing at 42 per cent.
•The poll initially had 16 Indian batting greats, with Sunil Gavaskar and Virat Kohli being the 2 others to possess made it through to the 'semi-finals'. Gavaskar beat Kohli within the 'third-place play-off' by a narrow margin.